Pengukuran Tinggi Sebenarnya Objek pada Foto Digital Menggunakan Euclidean Distance
Rakhmad Kuswandhie

STMIK Bina Nusantara Jaya Lubuklinggau

Jufriadif Na'am

Universitas Putra Indonesia "YPTK" Padang

Yuhandri Yuhandri

Universitas Putra Indonesia "YPTK" Padang
Keywords:
Digital photo, Euclidean Distance, Trigonometric
Abstract
Digital photos are generated from the camera. In the photo there are some object that can be observed. The object in images is a representation of the fact that in the real world. The size of an object in a digital image can represent the true size of an image object with a certain size scale. The actual size of the object in the photo can not be known directly. Digital photos used in the research is the image generated from the camera phone with 8MB resolution and the distance of the camera to photo objects as far as 1, 3 and 5 meters with 3 different objects, ie gallons, chairs and legs. The size of objects in a digital image will be measured using an application created with the C # programming language. Measuring objects in photos using Euclidean Distance. Next is calculated the actual size of the object that is in the photo by using trigonometric function. The test result of 3 objects on digital photos with 3 different distances obtained the actual object size with an accuracy are 99,993%.
Downloads
Download data is not yet available.
References
[1] Arsy, L., Nurhayati, O.D. dan Martono, K.T., 2016. Aplikasi Pengolahan Citra Digital Meat Detection Dengan Metode Segmentasi K-Mean Clustering Berbasis OpenCV dan Eclipse. Jurnal Teknologi dan Sistem Komputer, 4(2), pp. 322–332.
[2] Handayani, T. dan Kurniawan, A. T., 2015. Digitalisasi Arsip Foto Universitas Diponegoro Sebagai Landasan Implementasi Kebijakan Keterbukaan Informasi Publik. HUMANIKA, 22(2), pp. 78.
[3] Tjin, E., 2012. Kamera DSLR Itu Mudah! v.2. 1st ed. Jakarta: Bukune.
[4] Mizera-Pietraszko, J., and Grabowski, S., 2016. PORE Algorithm for Object Recognition in Photo Layers Based on Parametric Characteristics of the Object Edges. In: INTECH, 2016 Sixth International Conference on Innovative Computing Technology, pp. 314–319.
[5] C. Li, Y. Xu, Y. Xiao, H. Liu, M. Feng, and D. Zhang, 2017. Automatic Measurement of Garment Sizes Using Image Recognition. In: Proceedings of the International Conference on Graphics and Signal Processing - ICGSP '17, pp. 30–34.
[6] Navastara, D.A., Anggraeni, I.D., dan Arifin, A. Z., 2017. Pengukuran Ketebalan Tulang Kortikal pada Citra Panorama Gigi Berbasis Model. Jurnal Ilmiah Teknologi Informasi, 15(1), pp. 119.
[7] Irawan, J.D., Sumanto dan Prasetio, S., 2015. Pengukur Tinggi Objek Berbasis Perbandingan Piksel. Jurnal Industri Inovatif. 5(1), pp. 40–44.
[8] Putrawansyah, F., 2017. Aplikasi Computer Assisted Test (CAT) Pada Penerimaan Mahasiswa Baru Sekolah Tinggi Teknologi Pagar Alam (STTP). J. RESTI (Rekayasa Sist. dan Teknol. Informasi), 1(1), pp. 1–8.
[9] Rinanto, L., Sugiharto, A., and Indriyati, 2013. Aplikasi Pendeteksi Objek Lingkaran pada Citra Dengan Transformasi Hough. Journal of Informatics and Technology, 2(4), pp. 1–9.
[10] Hidayat A.D. and Afrianto, I., 2017. Sistem Kriptografi Citra Digital pada Jaringan Intranet Menggunakan Metode Kombinasi Chaos Map dan Teknik Selektif. ULTIMATIC, 9(1), pp. 59–66.
[11] Patel, B.P. and Patel, R., 2014. An Analytical Study on Comparison of Different Image Compression Formats. International Journal for Innovative Research in Science & Technology (IJRST), 1(7), pp. 24–31.
[12] Suyatno dan Sasongko, D., 2016. Pembangunan Kamera Pemantau Ruang Teknisi Sekolah Menengah Kejuruan Negeri 1 Karanganyar. J. Speed, 8(3), pp. 11–20.
[13] Limeng Pu, Rui Tian, Hsiao-Chun Wu, and Kun Yan, 2016. Novel Object-size Measurement Using the Digital Damera. In: 2016 IEEE Advanced Information Management, Communicates, Electronic and Automation Control Conference (IMCEC), pp. 543–548, Publisher: IEEE.
[14] Herniaty, A.P., Ningrum, I.P. dan Dewi, A.P., 2015. Estimasi Kecepatan Kendaraan Menggunakan Citra Motion Blur. semanTIK2, 1(1), pp. 43–52.
[15] Banks, M.S., Cooper, E.A. and Piazza, E.A., 2014 Camera Focal Length and the Perception of Pictures. Ecological Psychology, 26(1–2), pp. 30–46.
[16] Purwanto, D., Mardiyanto, R. dan Gangsarestu, M.S., 2015. Sistem Pengukuran Badan Pria untuk Menentukan Ukuran Baju Berbasis Kamera Kinect. JAVA Journal of Electrical and Electronics Engineering, 13(1), pp. 63–66.
[17] Pardede, J., Utami, D.B. dan Rochman, A.C., 2017. Implementasi 'Principal Component Analysis - Scale Invariant Feature Transform' pada Content Based Image Retrieval. JuTISI, 3(3), pp. 565—574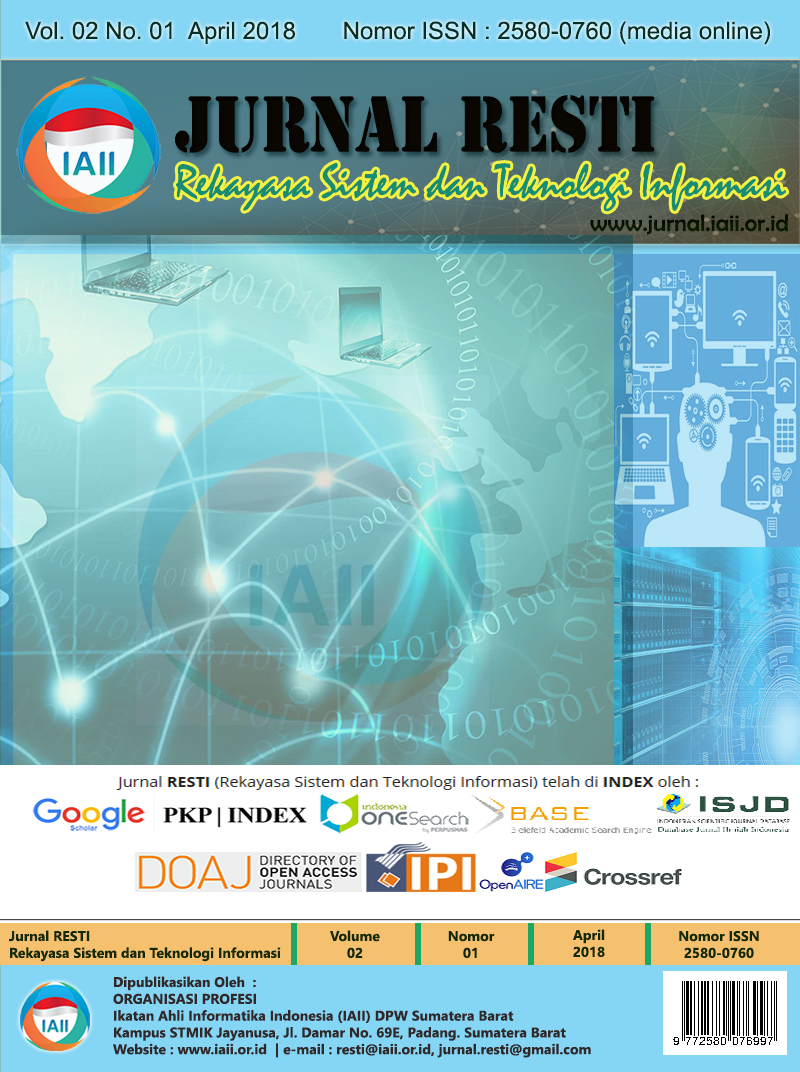 Section
Artikel Teknologi Informasi
This work is licensed under a Creative Commons Attribution 4.0 International License.
Hak cipta pada setiap artikel adalah milik penulis.
Penulis mengakui bahwa Jurnal RESTI (Rekayasa Sistem dan Teknologi Informasi) sebagai publisher yang mempublikasikan pertama kali dengan lisensi Creative Commons Attribution 4.0 International License.
Penulis dapat memasukan tulisan secara terpisah, mengatur distribusi non-ekskulif dari naskah yang telah terbit di jurnal ini kedalam versi yang lain (misal: dikirim ke respository institusi penulis, publikasi kedalam buku, dll), dengan mengakui bahwa naskah telah terbit pertama kali pada Jurnal RESTI (Rekayasa Sistem dan Teknologi Informasi) ;