Application of Static Forensics Method for Extracting Steganographic Files on Digital Evidence Using the DFRWS Framework
Penerapan Metode Static Forensics untuk Ekstraksi File Steganografi pada Bukti Digital Menggunakan Framework DFRWS
Sunardi

Imam Riadi

Muh. Hajar Akbar
Keywords:
Anti-Forensic, Steganography, DFRWS, Hiderman
Abstract
Steganography is one of the anti-forensic techniques that allow criminals to hide information in other messages so that during the investigation, the investigator will experience problems and difficulty in getting evidence of original information on the crime. Therefore an investigator is required to have the ability to be able to find and extract (decoding) using the right tools when opening messages that have been inserted by steganography techniques. The purpose of this study is to analyze digital evidence using the static forensics method by applying the six stages to the Digital Forensics Research Workshop (DFRWS) framework and extracting steganography on files that have been compromised based on case scenarios involving digital crime. The tools used are FTK Imager, Autopsy, WinHex, Hiderman, and StegSpy. The results of extraction of 9 out of 10 files that were scanned by steganography files had 90% success and 10% of steganography files were not found, so it can be concluded that the extraction files in steganographic messages can be used as legal digital proofs according to law.
Downloads
Download data is not yet available.
References
A. Yudhana, I. Riadi, and I. Zuhriyanto, "Analisis Live Forensics Aplikasi Media Sosial Pada Browser Menggunakan Metode Digital Forensics Research Workshop (DFRWS)," vol. 20, no. 2, pp. 125–130, 2019.
patrolisiber, "Statistik Jumlah Laporan Polisi yang dibuat masyarakat," patrolisiber.id, 2019. https://patrolisiber.id/statistic (accessed Mar. 24, 2020).
M. H. Akbar, Sunardi, and I. Riadi, "Analisis Bukti Digital Pada Flash Disk Drive Menggunakan Metode Generic Computer Forensic Investigation Model ( GCFIM )," in seminar Nasional Teknologi Fakultas Teknik Universitas Krinadwipayana, 2019, pp. 715–723.
I. Riadi, R. Umar, and I. M. Nasrulloh, "Analisis Forensik Bukti Digital Pada Frozen Solid State Drive Dengan Metode National Institute of Standards and Technology ( NIST )," J. Insa. Comtech, vol. 2, no. 2, pp. 33–40, 2017.
M. N. Al-Azhar, Digital Forensic : Panduan Praktis Investigasi Komputer. Jakarta: Salemba Infotek, 2012.
B. Rahardjo and I. P. A. E. Pratama, "Pengujian Dan Analisa Anti Komputer Forensik Menggunakan Shred Tool," Lontar Komput. J. Ilm. Teknol. Inf., vol. 7, no. 2, p. 104, 2016, doi: 10.24843/lkjiti.2016.v07.i02.p04.
S. Alharbi, J. Weber-Jahnke, and Traore, "The Proactive and Reactive Digital Forensics Investigation Process: A Systematic Literature Review," Int. J. Secur. its Appl., vol. 5, no. 4, pp. 59–71, 2011, doi: 10.1007/978-3-642-23141-4.
E. S. Wijaya and Y. Prayudi, "Integrasi Metode Steganografi DCS Pada Image Dengan Kriptografi Blowfish Sebagai Model Anti Forensik Untuk Keamanan Ganda Konten Digital," SNATI (Seminar Nas. Apl. Teknol. Informasi), no. June, 2015.
I. W. Ardiyasa, "Implementasi Teknik Data Hidding Untuk Pengamanan Pesan Rahasia Pada Media Digital," in Seminar Nasional Sistem Informasi dan Teknologi Informasi 2018, 2018, pp. 601–605.
A. Fauzan, I. Riadi, and A. Fadlil, "Analisis Forensik Digital Pada Line Messenger Untuk Penanganan Cybercrime," Annu. Res. Semin., vol. 2, no. 1, pp. 159–163, 2017, [Online]. Available: http://seminar.ilkom.unsri.ac.id/index.php/ars/article/view/832/752.
S. Ningsih, I. Riadi, and Y. Prayudi, "Digital Forensics Workflow as A Mapping Model for People, Evidence, and Process in Digital Investigation," Int. J. Cyber-Security Digit. Forensics, vol. 7, no. 3, pp. 294–304, 2018, doi: 10.17781/p002463.
G. Shrivastava, "Forensic Computing Models: Technical Overview," 2012, pp. 207–216, doi: 10.5121/csit.2012.2222.
G. Palmer, "A road map for digital forensic research," in Proceedings of the Digital Forensic Research Conference, DFRWS 2001 USA, 2001, pp. iii–42.
B. Martini and K. K. R. Choo, "An integrated conceptual digital forensic framework for cloud computing," Digital Investigation. 2012, doi: 10.1016/j.diin.2012.07.001.
Y. Yusoff, R. Ismail, and Z. Hassan, "Common Phases of Computer Forensics Investigation Models," Int. J. Comput. Sci. Inf. Technol., vol. 3, no. 3, pp. 17–31, 2011, doi: 10.5121/ijcsit.2011.3302.
R. Umar, A. Yudhana, and M. Nur Faiz, "Analisis Kinerja Metode Live Forensics Untuk Investigasi Random Access Memory Pada Sistem Proprietary," Pros. Konf. Nas. Ke- 4 Asos. Progr. Pascasarj. Perguru. Tinggi Muhammadiyah, no. June 2016, pp. 207–211, 2016.
R. Sudesh, "Digital Forensic Models: a Comparative Analysis," Int. J. Manag., vol. 8, no. 6, pp. 432–443, 2018.
A. P. Saputra, H. Mubarok, and N. Widiyasono, "Analisis Digital Forensik pada File Steganography (Studi kasus : Peredaran Narkoba)," J. Tek. Inform. dan Sist. Inf., vol. 3, no. 1, pp. 179–190, 2017, doi: 10.28932/jutisi.v3i1.594.
Y. B. Utomo and D. Erwanto, "Analisa Teknik Steganografi dan Steganalysis Pada File Multimedia Menggunakan Net Tools dan Hex Editor," Gener. J., vol. 3, no. 1, pp. 16–22, 2019, doi: 10.29407/gj.v3i1.12698.
V. A. Silalahi and I. Sembiring, "Analisis Digital Forensics Investigation pada Bukti Digital Steganography," 2013.
A. Tanner and D. Dampier, "Concept mapping for digital forensic investigations," IFIP Adv. Inf. Commun. Technol., vol. 306, pp. 291–300, 2009, doi: 10.1007/978-3-642-04155-6_22.
A. Syauqi, I. Riadi, and Y. Prayudi, "Validasi Policy Statement pada Lemari Penyimpanan Bukti Digital (LPBD)," J. Educ. Inform. Technol. Sci., vol. 1, no. 2, pp. 27–37, 2019.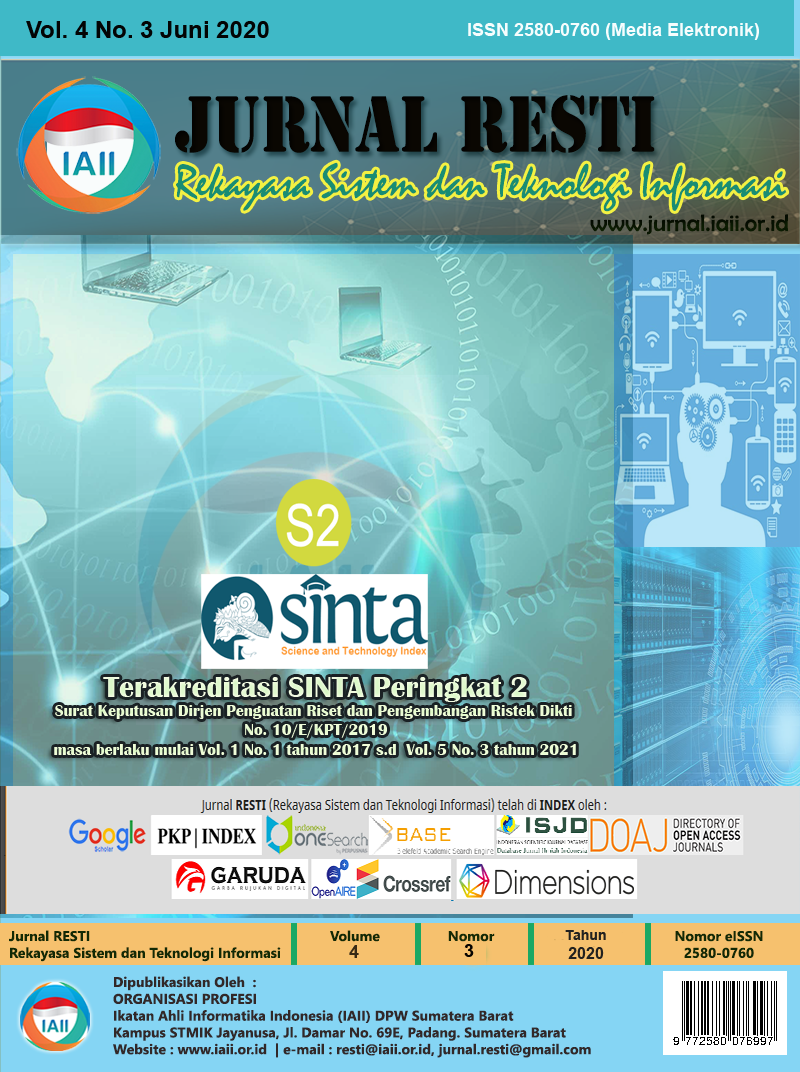 How to Cite
Sunardi, Imam Riadi, & Muh. Hajar Akbar. (2020). Application of Static Forensics Method for Extracting Steganographic Files on Digital Evidence Using the DFRWS Framework. Jurnal RESTI (Rekayasa Sistem Dan Teknologi Informasi), 4(3), 576 - 583. https://doi.org/10.29207/resti.v4i3.1906
Section
Artikel Teknologi Informasi
Copyright (c) 2020 Jurnal RESTI (Rekayasa Sistem dan Teknologi Informasi)
This work is licensed under a Creative Commons Attribution 4.0 International License.
Hak cipta pada setiap artikel adalah milik penulis.
Penulis mengakui bahwa Jurnal RESTI (Rekayasa Sistem dan Teknologi Informasi) sebagai publisher yang mempublikasikan pertama kali dengan lisensi Creative Commons Attribution 4.0 International License.
Penulis dapat memasukan tulisan secara terpisah, mengatur distribusi non-ekskulif dari naskah yang telah terbit di jurnal ini kedalam versi yang lain (misal: dikirim ke respository institusi penulis, publikasi kedalam buku, dll), dengan mengakui bahwa naskah telah terbit pertama kali pada Jurnal RESTI (Rekayasa Sistem dan Teknologi Informasi) ;