Clustering Data Remunerasi Dosen Untuk Penilaian Kinerja Menggunakan Fuzzy c-Means
Putri Elfa Mas`udia

Politeknik Negeri Malang

Farida Arinie

Politeknik Negeri Malang

Lis Diana Mustafa

Politeknik Negeri Malang
Keywords:
clustering, fuzzy c-means, remunerasi
Abstract
Remuneration of lecturers is closely related to the performance of lecturers as stated in Tri Dharma Perguruan Tinggi. The Three critera of Tri Dharma  are teaching, research and devotion. The remuneration data will be clustered into some clusters to analyze the lecturers group. Each remuneration data consists of seven attributes such as teaching, research, textbook, training, community service, presence and certificate. For case study, the remuneration data of lecturers of telecommunication engineering will be used.Fuzzy c-means is the clustering method that will be implemented on this system.Different with K-Means, in Fuzzy c-means data will be mapped on each cluster with varying degrees of membership from 0-1. Based on the test results, there are 3 clusters formed with the number of lecturers who enter cluster 0 are 4 lecturers, 10 lecturers in cluster 1 , and 14 lecturers in cluster 2. Based on the analysis of the test result data, cluster 0 has a better value than other clusters because it has the highest cluster center point so that the lecturer's performance value included in cluster 0 is also high close to the cluster center point value.
Downloads
Download data is not yet available.
References
Cox, E. 2005. Fuzzy Modeling and Genetic Algorithm for Data Mining and Exploration, Morgan Kaufmann Publisher, San Francisco.
[2] Khoiruddin A.A., 2007, Menentukan Nilai Akhir Kuliah Dengan Fuzzy c-means,In : Seminar Nasional Sistem dan Informatika, Bali 16 november 2007, SNS107-041
[3] Fevin, Indah . 2015. Clustering Data PNS Status Tugas Belajar dan Ijin Belajar Menggunakan Medote Fuzzy c-means.In : Prosiding Seminar Sains dan Teknologi FMIPA Unmul Vo.1 No.2 Desember 2015 Samarinda, Indonesia. ISBN : 978-602-72658-1-3
[4] Luthfi E.T., 2007. Fuzzy c-means untuk Clustering Data (Studi Kasus Data Performance Mengajar Dosen),In : Seminar Nasional Teknologi, Yogyakarta, 24 November 2007, ISSN : 1978-9777
[5] Irwan, Budiman. 2012. Data Clustering Menggunakan Metodologi CRISP-DM Untuk Pengenalan Pola Proporsi Pelaksanaan Tridarma. Program Pascasarjana Universitas Diponegoro Semarang.
[6] Klir G. J., Yuan B., 1995. Fuzzy Sets and Fuzzy Logic, Theory and Application. Prentice Hall International, Inc.
[7] Nurjannah, dkk, 2014. Implementasi Metode Fuzzy C-Means Pada Sistem Clustering Data Varietas Padi. Jurnal Ilmu Komputer (Klik) vol.01, no.1 September 2014, issn : 2406-7857, Banjarbaru, Kalimantan Selatan
[8] Widyastuti N., Hamzah A., 2007, Penggunaan Algoritma Genetika Dalam Peningkatan Kinerja Fuzzy Clustering untuk Pengenalan Pola,In Seminar Penggunaan Algoritma Genetika, Yogyakarta
[9] Marisa Wadji, 2013.Mengenal Istillah Remunerasi
Availabble at http:// bunda-bisa.blogspot.co.id/[Accessed 15 Juli 2017]
[10] Muhardi., Nizar., 2015. Penentuan Penerima Beasiswa dengan Algoritma Fuzzy C-Means di Universitas Megow Pak Tulang Bawang, Jurnal TIM Dharmajaya vol.01 no.02 oktober 2015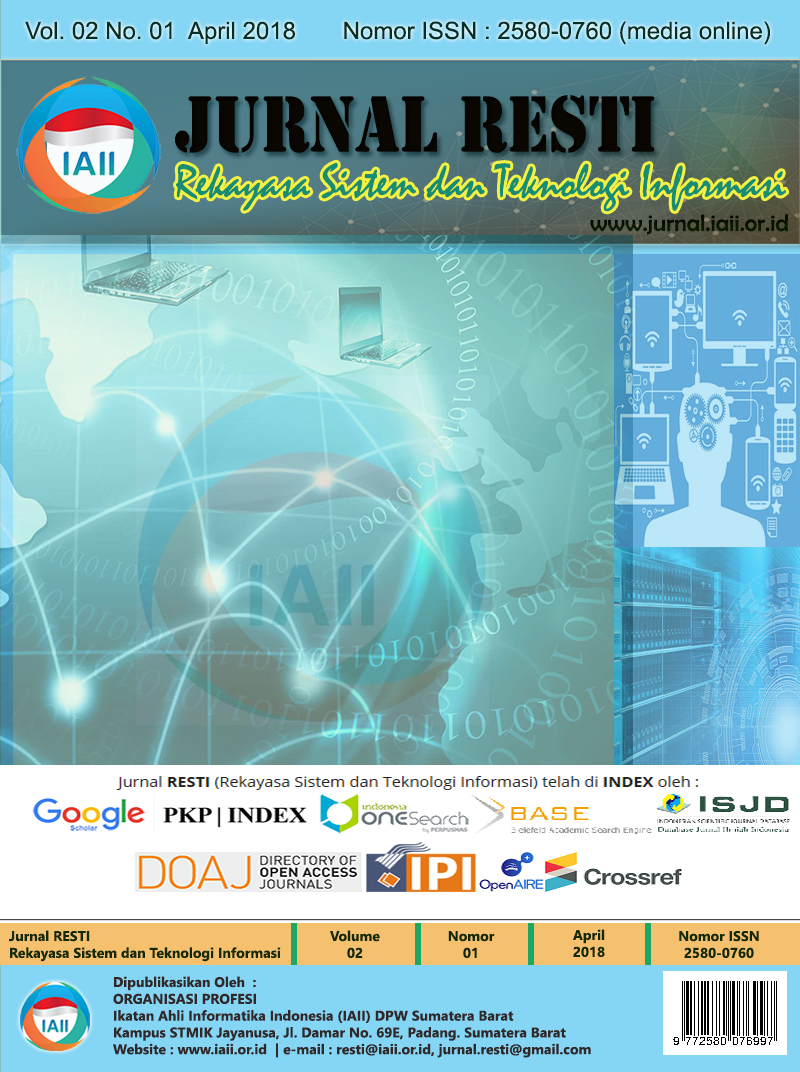 How to Cite
Mas`udiaP. E., Arinie, F., & Mustafa, L. D. (2018). Clustering Data Remunerasi Dosen Untuk Penilaian Kinerja Menggunakan Fuzzy c-Means. Jurnal RESTI (Rekayasa Sistem Dan Teknologi Informasi), 2(1), 288 - 294. https://doi.org/10.29207/resti.v2i1.97
Section
Artikel Teknologi Informasi
Copyright (c) 2018 Jurnal RESTI (Rekayasa Sistem dan Teknologi Informasi)
This work is licensed under a Creative Commons Attribution 4.0 International License.
Hak cipta pada setiap artikel adalah milik penulis.
Penulis mengakui bahwa Jurnal RESTI (Rekayasa Sistem dan Teknologi Informasi) sebagai publisher yang mempublikasikan pertama kali dengan lisensi Creative Commons Attribution 4.0 International License.
Penulis dapat memasukan tulisan secara terpisah, mengatur distribusi non-ekskulif dari naskah yang telah terbit di jurnal ini kedalam versi yang lain (misal: dikirim ke respository institusi penulis, publikasi kedalam buku, dll), dengan mengakui bahwa naskah telah terbit pertama kali pada Jurnal RESTI (Rekayasa Sistem dan Teknologi Informasi) ;