Perancangan Enterprise Architecture Pada Bidang Agroforestry Menggunakan Metode Togaf 9.1 Adm
Ega Silvana Almunadia

Universitas Telkom

Tien Fabrianti Kusumasari

Universitas Telkom

Iqbal Santosa

Universitas Telkom
Keywords:
Enterprise Architecture Design, TOGAF, TOGAF ADM, Agroforestry Information System, Information System Architecture.
Abstract
Perum Perhutani is a State-Owned Enterprise (SOE) that focus on forest management. One of the Perum Perhutani's main businesses is Agroforestry. To achieve the business goals of Agroforestry, Perum Perhutani requires an information system that is capable of supporting its management activities. In developing IT, Perum Perhutani has a reference, that is the SOE Regulation Number: PER-03 / MBU / 02/2018 regarding the Information Technology Management Preparation Guide that every BUMN must align business strategy with the IT strategy. So, Perum Perhutani requires the design of Enterprise Architecture. The framework that will be used in designing Enterprise Architecture is the Open Group Architecture Framework (TOGAF) and the TOGAF Architecture Development Method (ADM) method. The output of this design is a blueprint and IT Roadmap for 5 years that can be used as an implementation guide.
Downloads
Download data is not yet available.
References
[1] Foorthuis, R., Van Steenbergen, M., Brinkkemper, S., & Bruls, W.A. (2016). A theory building study of enterprise architecture practices and benefits. Information Systems Frontiers, 18(3), 541-546.
[2] The Open Group, 2011. TOGAF Version 9.1. U.S : Open Group Standard, ISBN: 978-90-8753-6.
[3] DESFRAY, Philippe; RAYMOND, Gilbert. Modelling enterprise architecture with TOGAF: A practical guide using UML and BPMN. Morgan, Kaufmann, 2014.
[4] Kurniawan, N. B. (2013, November). Enterprise Architecture design for ensuring strategic business IT alignment (integrating SAMM with TOGAF 9.1). In Rural Information & Communication Technology and Electric-Vehicle Technology (rICT & ICeV-T), 2013 Joint International Conference on (pp. 1-7). IEEE.
[5] Greefhorst, D., & Proper, E. (2011). Architecture Principles, The Enterprise Engineering series, vol. 4.
[6] Kitsios, F., & Kamariotou, M. (2018). Business strategy modelling based on enterprise architecture: a state of the art review. Business Process Management Journal.
[7] Bui, Q. (2017). Evaluating Enterprise Architecture Frameworks Using Essential Elements. Communications of the Association for Information Systems, 41(1), 6.
[8] Annual Report Perum Perhutani, Tahun 2017.
[9] Dorohyi, Y., Tsurkan, V., Telenyk, S., & Doroha-Ivaniuk, O. (2017). A comparison enterprise architecture frameworks for critical IT infrastructure design.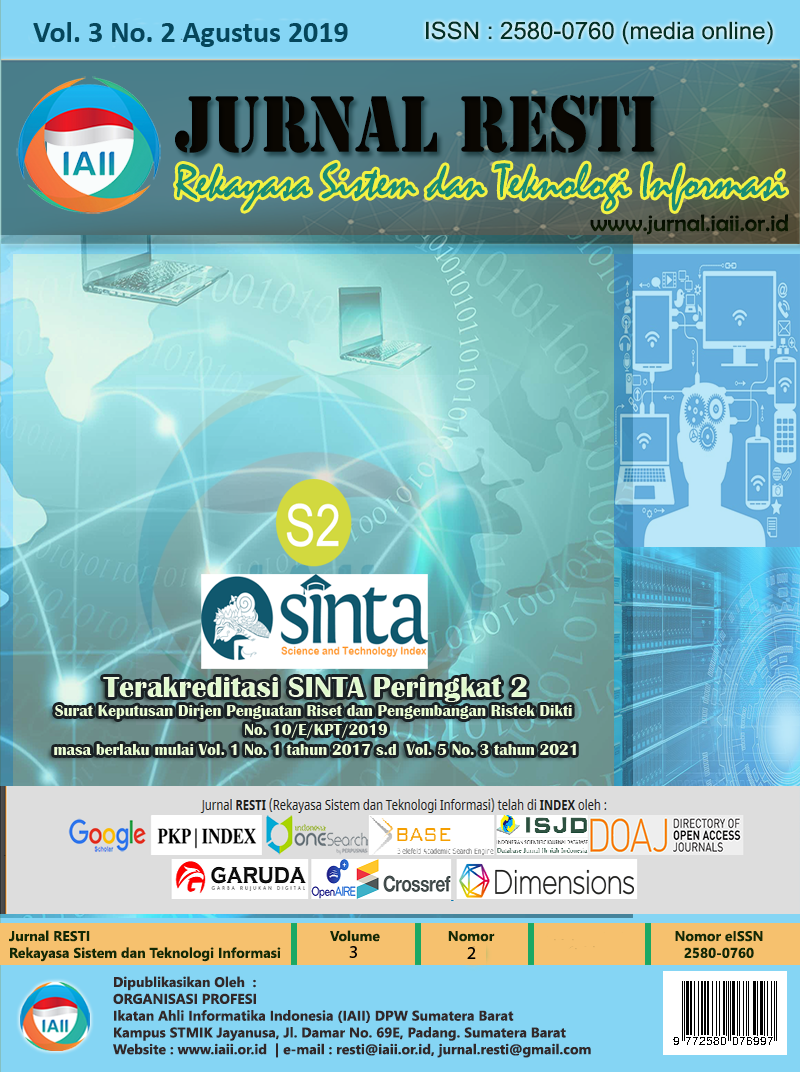 Section
Artikel Rekayasa Sistem Informasi
Copyright (c) 2019 Jurnal RESTI (Rekayasa Sistem dan Teknologi Informasi)
This work is licensed under a Creative Commons Attribution 4.0 International License.
Hak cipta pada setiap artikel adalah milik penulis.
Penulis mengakui bahwa Jurnal RESTI (Rekayasa Sistem dan Teknologi Informasi) sebagai publisher yang mempublikasikan pertama kali dengan lisensi Creative Commons Attribution 4.0 International License.
Penulis dapat memasukan tulisan secara terpisah, mengatur distribusi non-ekskulif dari naskah yang telah terbit di jurnal ini kedalam versi yang lain (misal: dikirim ke respository institusi penulis, publikasi kedalam buku, dll), dengan mengakui bahwa naskah telah terbit pertama kali pada Jurnal RESTI (Rekayasa Sistem dan Teknologi Informasi) ;