Evaluasi SDM Sistem Informasi Akademik Poltekkes Kemenkes Padang Menggunakan Framework COBIT 5
Alsri Windra Doni

poltekkespadang.ac.id
Keywords:
Sistem Informasi Akademik; COBIT 5; Tingkat Kapabilitas
Abstract
Tujuan penelitian ini adalah untuk mengetahui tingkat kapabilitas dan usulan rekomendasi perbaikan sistem informasi akademik Politeknik Kesehatan Kemenkes Padang khususnya pengelolaan sumber daya manusia (proses APO07) dengan menggunakan framework COBIT 5. Penelitian ini merupakan penelitian deskriptif kualitatif menggunakan kerangka kerja COBIT 5. Prosedur penelitian ini dimulai dengan melakukan obervasi, wawancara, kajian pustaka, memberikan kuesioner kepada pihak-pihak yang terlibat dalam pengelolaan sistem informasi akademik. Hasil penelitian diketahui bahwa tingkat kapabilitas untuk sistem informasi akademik Politeknik Kesehatan Kemenkes Padang untuk domain APO pada proses APO07 gagal mencapai level 1 dengan kategori Partially Achieved (49,67%). Hasil pengolahan data ini menjadi dasar rekomendasi untuk perbaikan pengelolaan sistem informasi akademik Poltkekkes Kemenkes Padang untuk mencapai target level 3.
Downloads
Download data is not yet available.
References
[1] Ron Weber. 1999. Information System Control and Audit. Prentice-Hall, Inc: New Jersey
[2] R, Robert; Moeller, 2008. Sarbanes-Oxley Internal Control:Effective Auditing With AS5, COBIT And ITIL.. John Wiley, USA.
[3] Jogiyanto, HM. 2011 Sistem Tatakelola Teknologi Informasi.Edisi ke-3, Penerbit Andi
[4] ISACA, 2011. COBIT Mapping: Overview of International IT Guidance, 3rd Edition.
[5] Information Technology Governance Institute. (2012). Cobit 5 : Implementation. United States America
[6] Information Technology Governance Institute.(2012).Cobit 5 : Process Assessment Model (PAM): Using COBIT® 5. United States America
[7] Syukhri., 2012. Evaluasi Tingkat Kematangan Proses Delivery and Support pada Implementasi Sistem Informasi Akademik Universitas Negeri Padang Berdasarkan Kerangka Kerja Cobit 4.0 Tahun 2012
[8] Riza Nugraha, Juli 2012. Pengukuran Tingkat Kematangan Teknologi Informasi Dengan Menggunakan Kerangka Kerja COBIT 4.1 Studi Kasus pada PT XYZ. Tesis Pogram Studi Magister Akuntansi. Jakarta.
[9] Abdul Hakim, Hoga Saragih dan Agus Suharto. 2014. Evaluasi Tata Kelola Teknologi Informasidengan Framework COBIT 5 di Kementerian ESDM (Studi Kasus pada Pusat Data dan Teknologi Informasi ESDM). Journal of Information Systems, Volume 10, Issue 2, October 2014
[10] Devi Fitrianah dan Yudho Giri Sucahyo.2013. Audit Sistem Informasi/Teknologi Informasi Dengan Kerangka Kerja Cobit Untuk Evaluasi Manajemen Teknologi Informasi di Universitas XYZ. Jurnal Sistem Informasi MTI-UI, Volume 4, Nomor 1, ISBN 1412-8896.
[11] Sugiyono,2008.Metode Penelitian Kunatitatif Kualitatif dan R&D. Bandung Alfabeta.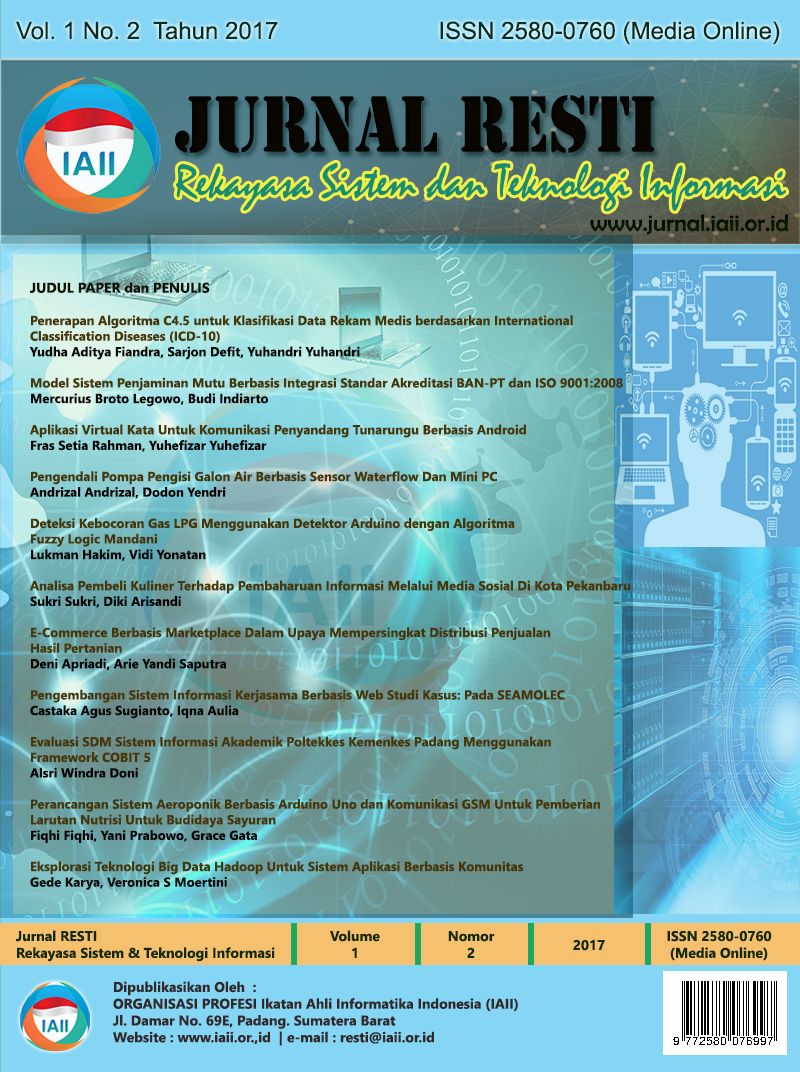 How to Cite
Doni, A. W. (2017). Evaluasi SDM Sistem Informasi Akademik Poltekkes Kemenkes Padang Menggunakan Framework COBIT 5. Jurnal RESTI (Rekayasa Sistem Dan Teknologi Informasi), 1(2), 146 - 152. https://doi.org/10.29207/resti.v1i2.62
Section
Information Technology Articles
Copyright (c) 2017 Jurnal RESTI (Rekayasa Sistem dan Teknologi Informasi)
This work is licensed under a Creative Commons Attribution 4.0 International License.
Copyright in each article belongs to the author
The author acknowledges that the RESTI Journal (System Engineering and Information Technology) is the first publisher to publish with a license

Creative Commons Attribution 4.0 International License.

Authors can enter writing separately, arrange the non-exclusive distribution of manuscripts that have been published in this journal into other versions (eg sent to the author's institutional repository, publication in a book, etc.), by acknowledging that the manuscript has been published for the first time in the

RESTI (Rekayasa Sistem dan Teknologi Informasi) journal ;