Analisa Pembeli Kuliner Terhadap Pembaharuan Informasi Melalui Media Sosial Di Kota Pekanbaru
Sukri Sukri

Universitas Abdurrab

Diki Arisandi
Keywords:
culinary product, renewal of information, social media, SEM
Abstract
Usaha kuliner dengan skala Usaha Mikro Kecil dan Menengah dengan mudah dijumpai di Kota Pekanbaru. Salah satu strategi bisnis memasarkan kuliner adalah dengan menggunakan media sosial Facebook, twitter, instagram, WeChat, Blackberry Messenger, dan Whatsapp. Pemasaran secara online dianggap lebih efisien dan efektif bisa dilakukan dimana saja. Penelitian dibahas tentang Analisa pembeli kuliner terhadap pembaharuan informasi melalui media sosial. SEM adalah teknik analisis yang digunakan untuk menentukan hubungan antar variabel. Variabel yang digunakan dalam penelitian adalah pembaharuan informasi, respon calon pembeli, kualitas dan harga, pemasaran bisnis kuliner, pemilihan media sosial. Pengambilan data menggunakan kuesioner dengan target owner pengusaha kuliner di Kota Pekanbaru. Hasil penelitian menunjukkan bahwa respon calon pembeli, pembaharuan informasi, kualitas dan harga berpengaruh positif sedangkan pemasaran bisnis tidak berpengaruh positif.
Downloads
Download data is not yet available.
References
[1] Musran Munizu, "Pengaruh Faktor-Faktor Eksternal dan Internal Terhadap Kinerja Usaha Mikro dan Kecil (UMK) di Sulawesi Selatan," J. Manaj. dan Kewirausahaan, vol. 12, no. 1, pp. pp.33–41, 2010.
[2] A. R. Setyanto, B. R. Samodra, and Y. P. Pratama, "Kajian Strategi Pemberdayaan UMKM Dalam Menghadapi Perdagangan Bebas Kawasan Asean (Studi Kasus Kampung Batik Laweyan)," Etikonomi, vol. 14, no. April, pp. 205–220, 2015.
[3] A. D. Utami and B. E. Purnama, "Pemanfaatan jejaring sosial sebagai media bisnis online (studi kasus di Batik Solo 85)," Seruni FTI UNSA, vol. 1, pp. 1–7, 2012.
[4] B. S. Andoko, "Transportasi Dan Transformasi Data Terjadwal Dengan Menggunakan Ssis ( Sql Server Integration Service )," pp. 211–216.
[5] N. M. Suki and T. Ramayah, "User acceptance of the e-Government services in Malaysia: Structural Equation Modelling approach," Interdiscip. J. Information, Knowledge, Manag., vol. 5, pp. 395–413, 2010.
[6] S. Priambada, "MANFAAT PENGGUNAAN MEDIA SOSIAL PADA USAHA KECIL MENENGAH ( UKM ) ( The benefit of Social Media for Small Medium Enterprises )," Semin. Nas. Sist. Inf. Indones., no. September, 2015.
[7] D. Septian, "Strategi Komunikasi Pemasaran Cafe Tong Susu Pekanbaru Dalam Meningkatkan Jumlah Konsumen," vol. 3, no. 1, 2016.
[8] Y. P. Sahli, P. Developing, O. The, P. Food, I. Pempek, and I. P. City, "Prospek pengembangan industri makanan olahan pempek palembang di kota pekanbaru," vol. 4, no. 1, pp. 505–517, 2017.
[9] W. Iskandar and A. Saleh, "ANALISIS KELAYAKAN USAHA STEAK," J. Online Inst. Teknol. Nas., vol. 03, no. 1, pp. 353–364, 2015.
[10] S. Wang, "A comprehensive survey of data mining-based accounting-fraud detection research," 2010 Int. Conf. Intell. Comput. Technol. Autom. ICICTA 2010, vol. 1, pp. 50–53, 2010.
[11] A. B. P. Irianto, "Pemanfaatan Social Media Untuk Meningkatkan Market Share Ukm," Teknomatika, vol. Vol. 8, No, no. 1, pp. 1–12, 2015.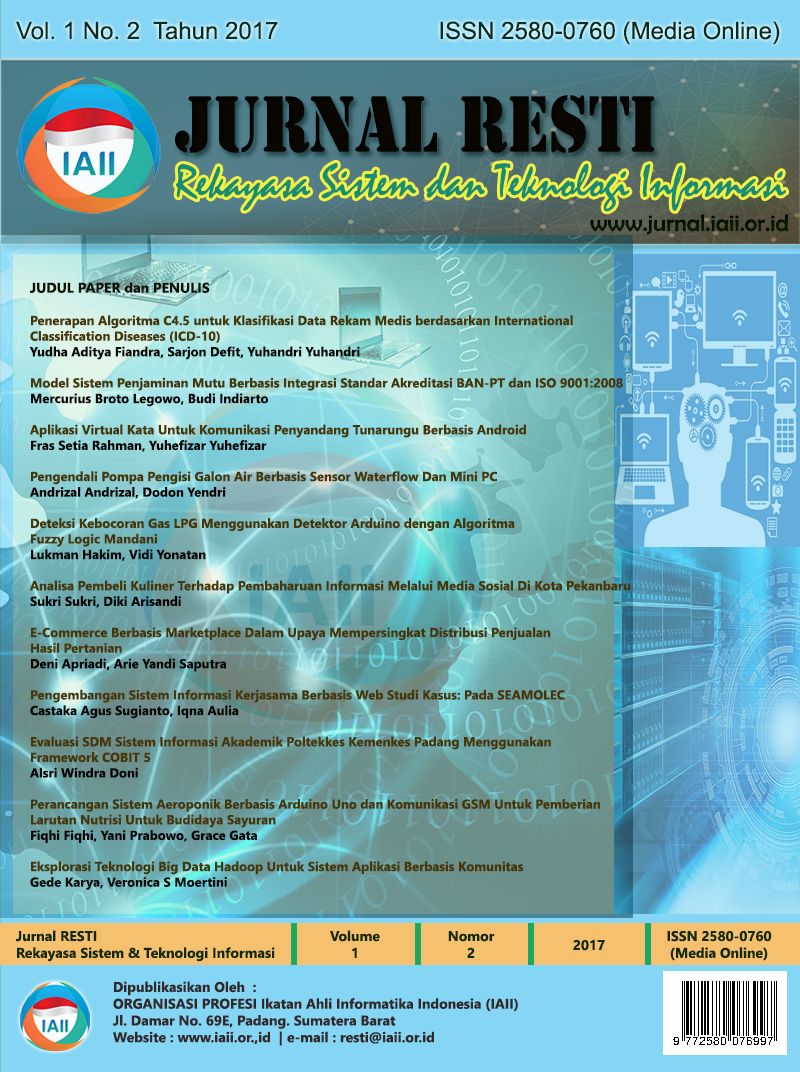 How to Cite
Sukri, S., & Arisandi, D. (2017). Analisa Pembeli Kuliner Terhadap Pembaharuan Informasi Melalui Media Sosial Di Kota Pekanbaru. Jurnal RESTI (Rekayasa Sistem Dan Teknologi Informasi), 1(2), 122 - 130. https://doi.org/10.29207/resti.v1i2.42
Section
Information Technology Articles
Copyright (c) 2017 Jurnal RESTI (Rekayasa Sistem dan Teknologi Informasi)
This work is licensed under a Creative Commons Attribution 4.0 International License.
Copyright in each article belongs to the author
The author acknowledges that the RESTI Journal (System Engineering and Information Technology) is the first publisher to publish with a license

Creative Commons Attribution 4.0 International License.

Authors can enter writing separately, arrange the non-exclusive distribution of manuscripts that have been published in this journal into other versions (eg sent to the author's institutional repository, publication in a book, etc.), by acknowledging that the manuscript has been published for the first time in the

RESTI (Rekayasa Sistem dan Teknologi Informasi) journal ;