Analysis of User Satisfaction Level and Level of Importance of SIMUTU Implementation Using PIECES Framework
Ahmad Zaky

Universitas Muhammadiyah Malang
Keywords:
Quality Management Information System, PIECES framework, importance level, level of satisfaction
Abstract
Quality Assurance for an organization is a must because the organization that guarantees the quality is an organization that always meet the needs and satisfaction of its customers, because satisfied customers will increase to be loyal customers and this means will provide benefits for the organization concerned. University of Muhammadiyah Malang (UMM) has been using Information System for Quality Assurance designed for evaluation of academic service of University of Muhammadiyah Malang. Students can easily access Quality Management Information System (SIMUTU) anywhere and anytime. Because of the importance of SIMUTU for Quality Assurance of Muhammadiyah University of Malang, this research is conducted to determine whether Quality Management Information System (SIMUTU) has been running properly. In this research, analysis and evaluation of Information System using PIECES Framework analysis model with the purpose of measuring the level of satisfaction and importance level and analyzing the components - components what need to be improved again the quality of the waiter at SIMUTU. From 40 respondents got average result of level of satisfaction 3,53 which mean SIMUTU have give satisfaction to student, meanwhile importance level 3,79 which mean SIMUTU implementation is considered important to improve academic service of University of Muhammadiyah Malang.
References
[1] N. A. B. N. Zurah Binti Abu,Fadilah Ezlina Binti Shahbudin,Mastura Binti Mansor,Nurul Zahirah Binti Abd Rahim, "I Mproving User C Omplaint M Anagement S Ystem and S Atisfaction L Evel Via R Eader -F Riendly L Inguistic F Eatures," vol. 2015, pp. 269–273, 2015.
[2] T. L. Christian and D. Jaya, "Impact of English Online Learning Website Quality to User Satisfaction in Jakarta," no. November, pp. 278–283, 2017.
[3] F. Safiera, Y. Setyawan, and J. Statistika, "Metode Importance-Performance Analysis ( Ipa ) Dan Regresi Logistik Ordinal Untuk Mengetahui Faktor-Faktor Yang Mempengaruhi Tingkat Kepuasan," vol. 2, no. 2, pp. 84–92, 2017.
[4] S. M. H. Mahmud, A. Kabir, O. A. M. Salem, K. Ntikurako, and G. Fernand, "The Comparative Analysis of Online Shopping Information Platform ' s Security Based on Customer Satisfaction," no. 2012, pp. 157–161, 2016.
[5] N. Khan, "Important Attributes of Customer Satisfaction in Telecom Industry : A Survey Based Study." Pp. 1-7, 2017.
[6] Apriyanti Eka, Nurhayati Siti, Rahardjo Setyowati, "Evaluasi Sistem Informasi Manajemen Kepegawaian Berdasarkan Metode PIECES di Puskesmas Wilayah Kerja Dinas Kesehatan Kabupaten Cilacap Tahun 2014," vol 7, pp. 179-189, 2015.
[7] V. M. Adi Supriyatna, "Analisis Tingkat Kepuasan Pengguna dan Tingkat Kepentingan Penerapan Sistem Infomasi DJP ONLINE dengan Kerangka PIECES," Ilmu Komput. dan Inform., vol. 3, no. 2, pp. 88–94, 2017.
[8] D. Bertram, "Likert Scales… are the meaning of life :," Univ. Calagary, Dep. Comput. Sci., p. pages.cpsc.ucalgary.ca/~saul/wiki/uploads/CPSC681/, 2007.
[9] E. R. Nugrahayu, "Penerapan Metode Balance Scorecard Sebagai Tolak Ukur Penguuran Kinerja Perusahaan," J. Ilmu Dan Ris. Akunt., vol. 4, no. 10, pp. 1–16, 2015.
[10] C. S. Index, L. D. Anggraini, P. Deoranto, and D. M. Ikasari, "Analisis Persepsi Konsumen Menggunakan Metode Importance Performance Analysis Dan Customer Satisfaction Index the Analysis of Consumer Perception Used Importance Performance Analysis Method and," vol. 4, no. 2, 2015.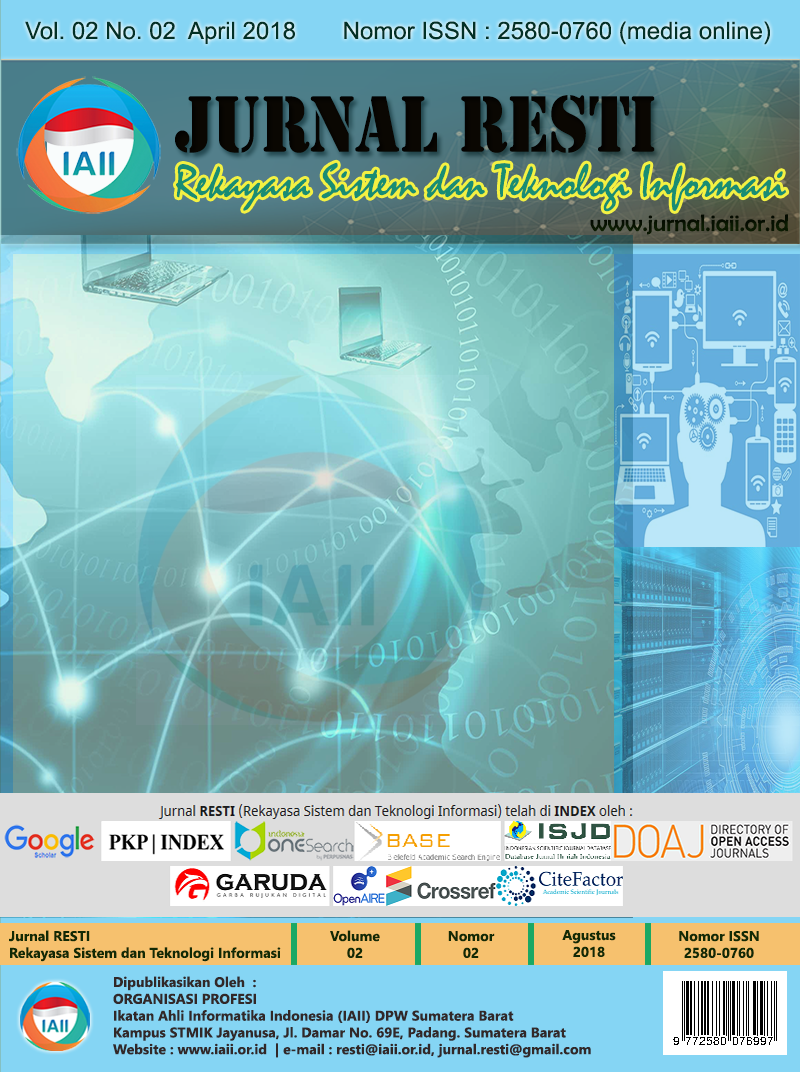 Section
Technology Information Article
This work is licensed under a Creative Commons Attribution 4.0 International License.
Jurnal RESTI menggunakan kebijakan akses terbuka. Syarat yang harus dipenuhi oleh Penulis sebagai berikut:
Penulis menyimpan hak cipta dan memberikan jurnal hak penerbitan pertama naskah secara simultan dengan lisensi di bawah Creative Commons Attribution License yang mengizinkan orang lain untuk berbagi pekerjaan dengan sebuah pernyataan kepenulisan pekerjaan dan penerbitan awal di jurnal ini.
Penulis bisa memasukkan ke dalam penyusunan kontraktual tambahan terpisah untuk distribusi non ekslusif versi kaya terbitan jurnal (contoh: mempostingnya ke repositori institusional atau menerbitkannya dalam sebuah buku), dengan pengakuan penerbitan awalnya di jurnal ini.
Penulis diizinkan dan didorong untuk mem-posting karya mereka online (contoh: di repositori institusional atau di website mereka) sebelum dan selama proses penyerahan, karena dapat mengarahkan ke pertukaran produktif, seperti halnya sitiran yang lebih awal dan lebih hebat dari karya yang diterbitkan. (Lihat Efek Akses Terbuka).