Diagnosa Penyakit Osteoporosis Menggunakan Metode Certainty Factor
Yuhandri Yuhandri

Universitas Putra Indonesia YPTK
Keywords:
Expert Ssystem, Osteoporosis, Certainty Factor, PHP
Abstract
The purpose of this research is to build an Expert System application for the diagnosis of Osteoporosis disease. This study uses Certainty Factor method because in this method there is a value of the value of trust (Measure Of Belief) and the value of distrust (Measure Of Disableief) on a symptom, where later the value can produce the value of CF (Certainty Factor) as a benchmark, the greater the value of CF (Certainty Factor) obtained the greater the chance that the disease will attack us, where the results are displayed in terms of user conditions associated with Osteoporosis. The results of this study also comes with disease and treatment solutions are displayed in the form of websites using PHP programming and is also useful to perform early diagnosis of a disease that is perceived by the userthus helping the user in recognizing the symptoms of Osteoporosis disease they feel, as well as with the existence of this expert system can be used as an alternative solution for the community to make early diagnosis of the symptoms of Osteoporosis disease they feel before doing direct consultation with experts in this case specialist bone. This system is able to store expert knowledge representation based on certainty factor with accuracy of 80%.
Downloads
Download data is not yet available.
References
[1] Hasan, Aliah B. Purwakania,"Psikologi Perkembangan Islami," RajaGrafindo Persada: Jakarta, 2008.
[2] Ministry of Health, "World Osteoporosis Day 2013," [online], tersedia dalam:
http://www.moh.gov.sa/en/HealthAwareness/healthDay/2013/Pages/HealthDay-025.aspx.
[3] Halim, S. dan Hansun, S." Penerapan Metode Certainty Factor dalam Sistem Pakar Pendeteksi Resiko Osteoporosis dan Osteoarthritis," ULTIMA Computing, Vol. VII, No. 2, 2015.
[4] Jogiyanto, H.M., " Sistem Teknologi Informasi," Yogyakarta: Andi, 2003.
[5] Gordon B. Davis, "Kerangka Dasar Sistem Informasi Manajemen Bagian 1," PT Pustaka Binamas Pressindo, Jakarta: 1991.
[6] Simon, H.A., "Artificial intelligence." In R.J. Corsini (Ed.), Concise encyclopedia of psychology, Second edition. New York, NY: Wiley, 1987.
[7] Winston dan Prendergast, "The AI Business: The Commercial Uses Of Artificial Intelligence," MIT Press, 2004.
[8] Sutojo T., Mulyanto E. dan Suhartono V., "Kecerdasan Buatan," Yogyakarta: Andi, 2011.
[9] Daniel dan Virginia, G., "Implementasi Sistem Pakar Untuk Mendiagnosis Penyakit Dengan Gejala Demam Menggunakan Metode Certainty Factor," Jurnal Informatika. Vol. 6, No. 1, hal. 26-36, 2010.
[10] Kusumadewi, S., "Artificial Intelligence (Teknik & Aplikasi)," Yogyakarta : Graha Ilmu, 2003.
[11] Infodatin, "Data dan Kondisi Penyakit Osteoprosis di Indonesia," Pusat Data dan Informasi Kementerian Kesehatan RI, Jakarta, ISSN 2442-7659, 2015
[12] Tandra, H., "Segala Sesuatu Yang Harus Anda Ketahui Tentang Osteoporosis Mengenal, Mengatasi, dan Mencegah," Jakarta: Gramedia Pustaka Utama, 2009.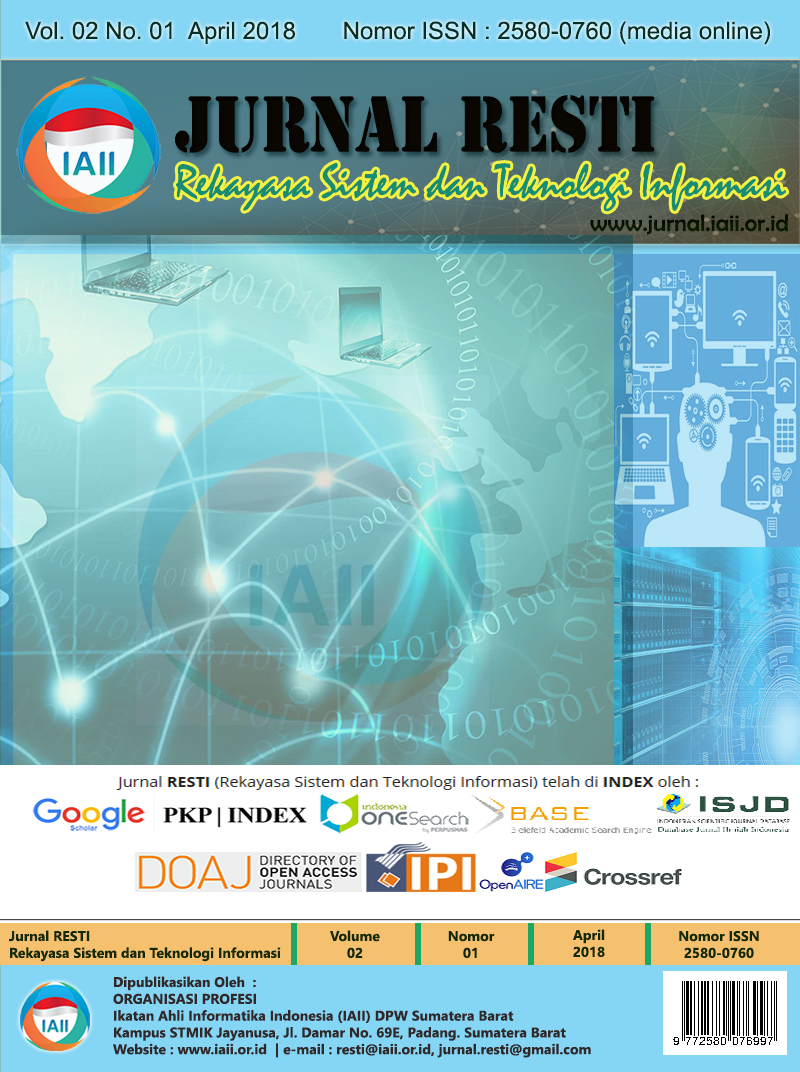 How to Cite
Yuhandri, Y. (2018). Diagnosa Penyakit Osteoporosis Menggunakan Metode Certainty Factor. Jurnal RESTI (Rekayasa Sistem Dan Teknologi Informasi), 2(1), 422 - 429. https://doi.org/10.29207/resti.v2i1.349
Section
Artikel Teknologi Informasi
Copyright (c) 2018 Jurnal RESTI (Rekayasa Sistem dan Teknologi Informasi)
This work is licensed under a Creative Commons Attribution 4.0 International License.
Hak cipta pada setiap artikel adalah milik penulis.
Penulis mengakui bahwa Jurnal RESTI (Rekayasa Sistem dan Teknologi Informasi) sebagai publisher yang mempublikasikan pertama kali dengan lisensi Creative Commons Attribution 4.0 International License.
Penulis dapat memasukan tulisan secara terpisah, mengatur distribusi non-ekskulif dari naskah yang telah terbit di jurnal ini kedalam versi yang lain (misal: dikirim ke respository institusi penulis, publikasi kedalam buku, dll), dengan mengakui bahwa naskah telah terbit pertama kali pada Jurnal RESTI (Rekayasa Sistem dan Teknologi Informasi) ;