Implementasi Sistem Informasi Penggajian Untuk Membantu Manajemen Keuangan Dalam Pengolahan Usaha
Mira Susanti

Amik Bukittinggi

Rasman Hidayatullah
Keywords:
Payroll, Information Systems, Financial Management
Abstract
The era of globalization also affects the business environment in data processing in the form of transactions such as payroll. If the process of payroll calculation is slow and prone to error can lead to discontinuity between employees and management and the use of conventional systems also lead to data security is not guaranteed then the required system that supports management needs in the form of payroll information system to minimize errors that can be used in decision making and influence to smooth business. The method used is the System Development Life Cycle (SDLC) which is a guide in designing and developing information systems. Implemented payroll information systems are able to generate accurate payroll reports in the form of loan evidence, employee salary recaps making it easier to control profits-related businesses to create sound financial management.
Downloads
Download data is not yet available.
References
] Jogiyanto.H,Sistem Teknologi Informasi, Yogyakarta : Andi Offset , 2008
[2] Titin,P., 2013, Journal Speed – Sentra Penelitian Engineering dan Edukasi, Pembangunan Sistem Informasi Pengolahan Data Pegawai Dan Penggajian Pada Unit Pelaksana Teknis Taman Kanak-Kanak Dan Sekolah Dasar Kecamatan Pringkuku, Vol 5 No 2,pp. 1-6.
[3] Kani, Firmansyah, dan Sufandi, U. U. (2010). Pemrograman Database menggunakan Delphi (Delphi Win32 dan MySQL 5.0 Database Microsoft SQL Server. Jakarta: Elek Media Komputindo.
[4] Sutabri, Tata. Sistem Informasi Manajemen. Yogyakarta. Andi Offset. 2005
[5] Leon, A. A., 2006, Jurnal Ilmiah MATRIK, Perancangan Basisdata Sistem Informasi Penggajian, Vol.8 No.2,pp.135-152.
[6] Dwi, J., dan Siska, I , 2014 , Journal Speed Sentra Penelitian Engineering dan Edukasi ,Sistem Informasi Penggajian Pada CV. Blumbang Sejati Pacitan, Vol 6 No 3.pp.36-43
[7] Madcom.(2004).Aplikasi Database Visual Basic 6.0 dengan Crystal Report.Yogyakarta: Andi Offset
[8] Yanuar, Y., dan Hakim, L. (2004). Pemrograman Delphi dengan Optimalisasi Komponen ZeosDBO). Graha Ilmu: Jakarta.
[9] Scroggins,richard.2014, Journal Of Computer Science and Technology, SDLC and Development Methodologies.14,7.
[10] Supri Andoko, 2013, Speed Journal Indonesian Jurnal on Computer Science Pembuatan Sistem Komputerisasi Manajemen Penggajian Pada Comanditer Venoschaf (CV) Mobile Cell Pacitan, Vol 10 No.3.pp. 50-58.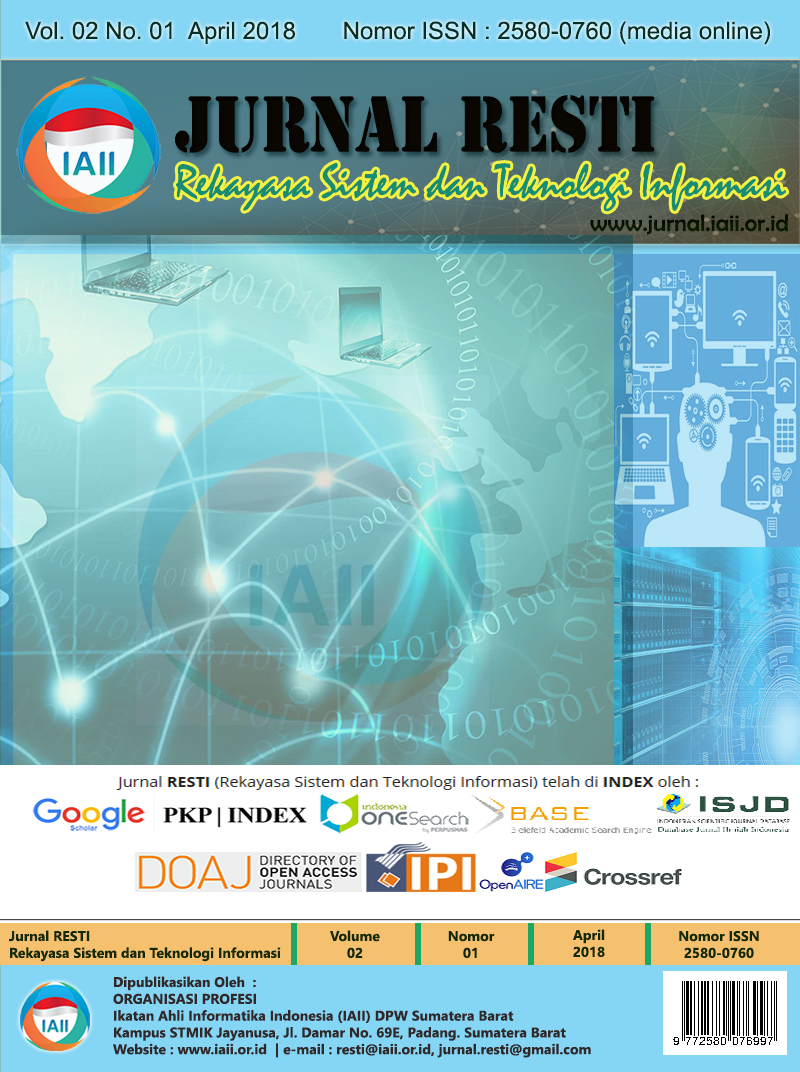 How to Cite
Susanti, M., & Hidayatullah, R. (2018). Implementasi Sistem Informasi Penggajian Untuk Membantu Manajemen Keuangan Dalam Pengolahan Usaha. Jurnal RESTI (Rekayasa Sistem Dan Teknologi Informasi), 2(1), 416 - 421. https://doi.org/10.29207/resti.v2i1.33
Section
Artikel Teknologi Informasi
Copyright (c) 2018 Jurnal RESTI (Rekayasa Sistem dan Teknologi Informasi)
This work is licensed under a Creative Commons Attribution 4.0 International License.
Hak cipta pada setiap artikel adalah milik penulis.
Penulis mengakui bahwa Jurnal RESTI (Rekayasa Sistem dan Teknologi Informasi) sebagai publisher yang mempublikasikan pertama kali dengan lisensi Creative Commons Attribution 4.0 International License.
Penulis dapat memasukan tulisan secara terpisah, mengatur distribusi non-ekskulif dari naskah yang telah terbit di jurnal ini kedalam versi yang lain (misal: dikirim ke respository institusi penulis, publikasi kedalam buku, dll), dengan mengakui bahwa naskah telah terbit pertama kali pada Jurnal RESTI (Rekayasa Sistem dan Teknologi Informasi) ;