Sistem Informasi Geografis Dalam Pemetaan Lahan Gambut di Kabupaten Musi Banyuasin
Alek Wijaya

Universitas Bina Darma

Eka Puji Agustini

Universitas Bina Darma

Eko Nardo

Universitas Bina Darma
Keywords:
Geographic Information Systems, Classic Life Cycle Model, ArcGis, Peatland
Abstract
Conservation of nature is a central issue at this time, this is caused by the increasing number of natural damages that occur because of human ignorance to keep the nature of the world remains a friendly place for our lives. One of the important factor of nature conservation is the sustainability of peatlands which is capable of storing carbon gases that serve to withstand the rate of earth temperature rise. One of the efforts undertaken to maintain the sustainability of peatlands is the availability of the lastest and comprehensive data and information about peatland conditions that can be accessed by stakeholders that related to peatland conditions. For that reason, we need a Geographic Information System that is designed and built using the Classic Life Cycle Model approach and supported by ArcGIS software, UML Model and PHP programming language. Geographic information system provides peatland mapping information such as: location of peatlands, peatland categories, peatlands category that already managed and peatland category not yet managed.
Downloads
Download data is not yet available.
References
] Jurnal Bumi, 2017. Lahan Gambut [Online] (Update 2 Maret 2018)
Available at:https://jurnalbumi.com/lahan-gambut/ (accessed 19 februari 2018)
[2]Environmental System Research Institute, 2017. What is GIS (A framework to organize, communicate, and understand the science of our world).[Online]
Available at: https://www.esri.com/en-us/what-is-gis/overview (Accessed 12 Februari 2018)
[3] Eddy,P, 2009. Sistem Informasi Geografis konsep-konsep dasar (perspektif geodesi & Geomatika, Informatika, Bandung.
[4]Kennet,E.F,Margaret,L, 2015. Geographic Information System as an Integrating Technology: Context,,Concepts, and Definition [Online]
Available at: https://www.colorado.edu/geography/gcraft/notes/intro/intro.html (Accessed 15 Januari 2018)
[5] Abdul,R,A.Pilouk,M, 2008. Spatial Data Modelling for 3D GIS, Springer: New york
[6] Zanzad, FH. 2005. Teknik Pengolahan Video dengan Windows Movie Maker. Indah Surabaya
[7] Arief M R. 2011. Pemrograman Web Dinamis menggunakan PHP dan MySQL,C.V ANDI OFFSET.
Yogyakarta
[8] Martin,F,2005. UML Distilled,Edisi 3, Andi, Yogjakarta
[9] National Geografic,2017. Map, [Online]
Availabel at: https://www.nationalgeographic.org/encyclopedia/map/
(Accesed 15 Desember 2017)
[10] Awaluddin, N 2010. Geopraphical Information System with ArcGis 9.x edisi 1, Andi, Yogyakarta.
[11] Lembaran Negara Republik Indonesia,2014,Peraturan Pemerintah Republik Indonesia No.71 Tahun 2014. [Online] Available at: http://www.kemendagri.go.id/media/documents/2014/11/13/p/p/pp_no.71-2014.pdf (Accessed 18 Januari 2018)
[12] Arikunto,2002. Metodelogi penelitian suatu pendekan proposal. Jakarta,PT. Rineka Cipta
[13] Roger S. P, 2002. Rekayasa Perangkat Lunak Pendekatan Praktisi, Andi, Yogyakarta.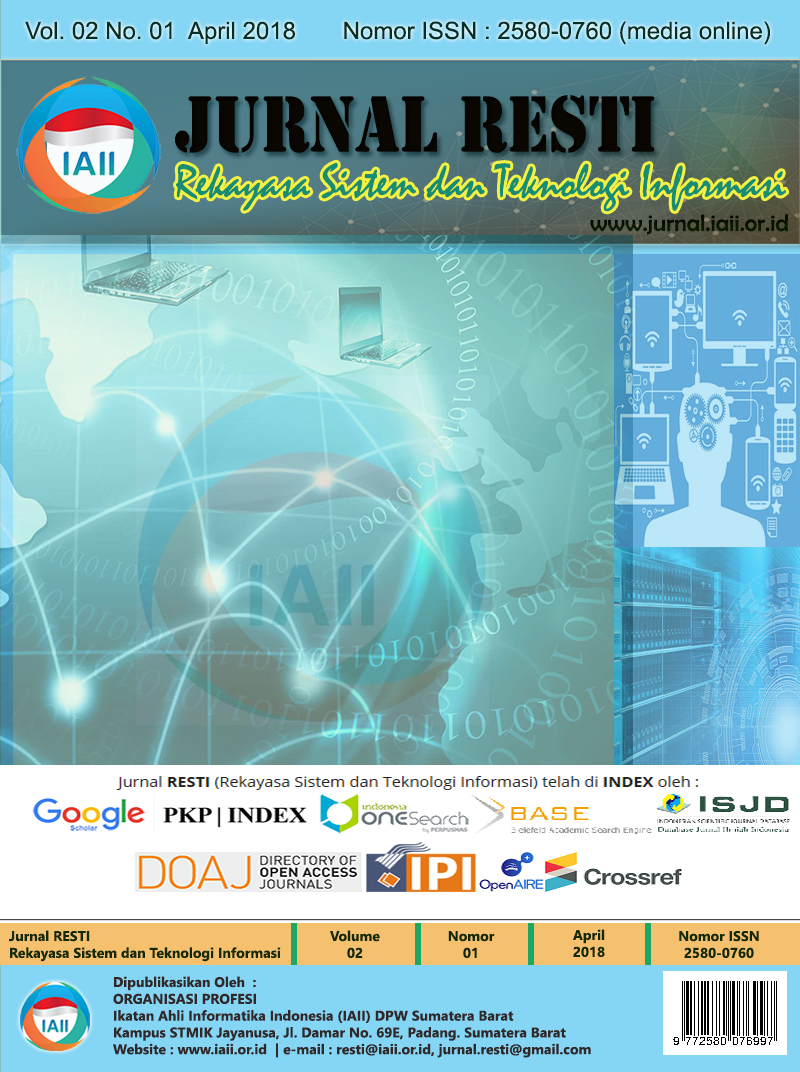 How to Cite
Wijaya, A., Agustini, E. P., & Nardo, E. (2018). Sistem Informasi Geografis Dalam Pemetaan Lahan Gambut di Kabupaten Musi Banyuasin. Jurnal RESTI (Rekayasa Sistem Dan Teknologi Informasi), 2(1), 330 - 336. https://doi.org/10.29207/resti.v2i1.298
Section
Artikel Teknologi Informasi
Copyright (c) 2018 Jurnal RESTI (Rekayasa Sistem dan Teknologi Informasi)
This work is licensed under a Creative Commons Attribution 4.0 International License.
Hak cipta pada setiap artikel adalah milik penulis.
Penulis mengakui bahwa Jurnal RESTI (Rekayasa Sistem dan Teknologi Informasi) sebagai publisher yang mempublikasikan pertama kali dengan lisensi Creative Commons Attribution 4.0 International License.
Penulis dapat memasukan tulisan secara terpisah, mengatur distribusi non-ekskulif dari naskah yang telah terbit di jurnal ini kedalam versi yang lain (misal: dikirim ke respository institusi penulis, publikasi kedalam buku, dll), dengan mengakui bahwa naskah telah terbit pertama kali pada Jurnal RESTI (Rekayasa Sistem dan Teknologi Informasi) ;