Implementation of Data Mining Estimation of Land Availability of Garbage Disposal using Simple Linear Regression Algorithm
Data Mining, Trash, Linear Regression
Robi Yanto

STMIK Bina Nusantara Jaya Lubuklinggau
Keywords:
Data Mining, Trash, Linear Regression
Abstract
The high consumption activity done by the community is directly proportional to the increase of waste production. One of the problems of high waste production is the low public awareness of waste management. This is a problem encountered in big cities. Garbage has a negative impact on changes in existing natural conditions, namely the occurrence of air pollution, water and soil that causes the environment to become unhealthy. Waste management activities through the socialization of the 3R (Reduce, Reuse, Recycle) program on waste, but this program has not maximized the public awareness about the importance of a healthy environment. as population increases have an impact on increasing waste production. So that requires sufficient land disposal land in the long term. To overcome these problems, data analysis of long-term waste land disposal estimation using data mining techniques is used. from the data mining analysis using a simple linear regression algorithm with respect to population growth from 2018 until 2025 by 201484 people, it is known that the increase of waste from 2018 to 2025 is 36,052,326 tons. So from the land area of ​​30000 M2 only available land disposal until the year 2025 of 5,965.1 M2.
Downloads
Download data is not yet available.
References
[1] Undang‐Undang RI Nomor 18 Tahun 2008 tentang Pengelolaan Sampah. Pemerintah Republik Indonesia, 2008.
[2] Harahap, A., Naria, E., dan Santi, D. N., 2013. Analisis Kualitas Air Sungai Akibat Pencemaran Tempat Pembuangan Akhir Sampah Batu Bola dan Karakteristik serta Keluhan Kesehatan Pengguna Air Sungai Batang Ayumi di Kota Padangsidimpuan Tahun 2012. Jurnal Kesehatan Lingkungan dan Keselamatan Kerja. Vol 2. No. 2. Hal. 1-9.
[3] Ditjen Cipta Karya. 2015. Panduan Praktis Penataan Kelembagaan Sistem Pengelolaan Persampahan. Kementerian Pekerjaan Umum dan Perumahan Rakyat. Jakarta.[3]
[4] Damanhuri, E., dan Padmi, T. 2010. Diktat Kuliah TL - 3104 Pengelolaan Sampah. Institut Teknologi Bandung. Bandung[4]
[5] Anggraini, D., Pertiwi, B. M., Dahrin, D., 2012. Pengaruh Jenis Sampah, Komposisi Masukan dan Waktu Tinggal Terhadap Komposisi Biogas dari Sampah Organik., Jurnal Teknik Kimia, Vol.18 No.1, Januari 2012, Hal 17-23.
[6] Yanto, R., Kesuma, H. D., 2017. Pemanfaatan Data Mining untuk Penempatan Buku di Perpustakaan Menggunakan Assosiation Rule, Jurnal Jatisi, Vol.4 No.1, November 2017, Hal 1-10.
[7] Fadhilah, A., Dkk., 2011. Kajian Pengelolaan Sampah Kampus Jurusan Arsitektur Fakultas Teknik Universitas Diponogoro, MODUL, Vol.11 No.2, Agustus 2011, Hal 62-71.
[8] Arni., Labania, D. M. H., Nismayanti., 2014. Studi Uji Karakteristik Fisik Briket Biorang sebagai Sumber Energi Alternatif, Journal Of Natural Science, Vol.3 No.1, Maret 2014, Hal. 89-98.
[9] Artiningsih, A., 2008. Peran Serta Masyarakat dalam Pengelolaan Sampah Rumah Tangga, Tesis Pasca Sarjana, Universitas Diponogoro, Smarang.
[10] Suyoto, B., 2008. Fenomena Gerakan Mengelola Sampah. Jakarta: PT Prima Infosarana Media.
[11] Undang‐Undang RI Nomor 12 Tahun 2006 tentang Kewarganegaraan Republik Indonesia. Pemerintah Republik Indonesia, 2006.
[12] Astno, W., Purwaningrum, P., Wahyudyanti, R., 2015. Perencanaan Tempat Pembuangan Akgir Sampah demgan menggunakan Metode Sanitary Landfill, Jurnla JTL, Vol.7 No.1, Juni 2015, Hal 7-16.
[13] Susanto, S., Suryadi, D., 2010. Pengantar Data Mining "Menggali Pengetahuan dari Bongkahan Data, Penerbit Andi Offset, Yogyakarta.
[14] Mustafa, S. M., 2017. Implementasi Data Mining untuk Evaluasi Kinerja Akademik Mahasiswa menggunakan Algoritma Naive Bayes Classifier, Jurnal Citec, Vol. 4 No. 2, Februari-April 2017, Hal. 151-162.
[15] Saleh, A., 2015. Implementasi Metode Klasifikasi Naive Bayer dalam Memprediksi Besarnya Penggunakan Listrik Rumah Tangga, Jurnal Citec, Vol.2 No.3, Mei–Juli 2015, Hal 207-217.[15]
[16] Xin Yan, & Xiao Gang Su., 2009. Linear regression analysis. London: World Scientific Publishing Co. Pte. Ltd., Covent Garden.
[17] Dinas Kependudukan dan Catatan Sipil Kota Lubuklinggau, 2017. Buku Profil Kependudukan Kota Lubuklinggau 2017. Lubuklinggau.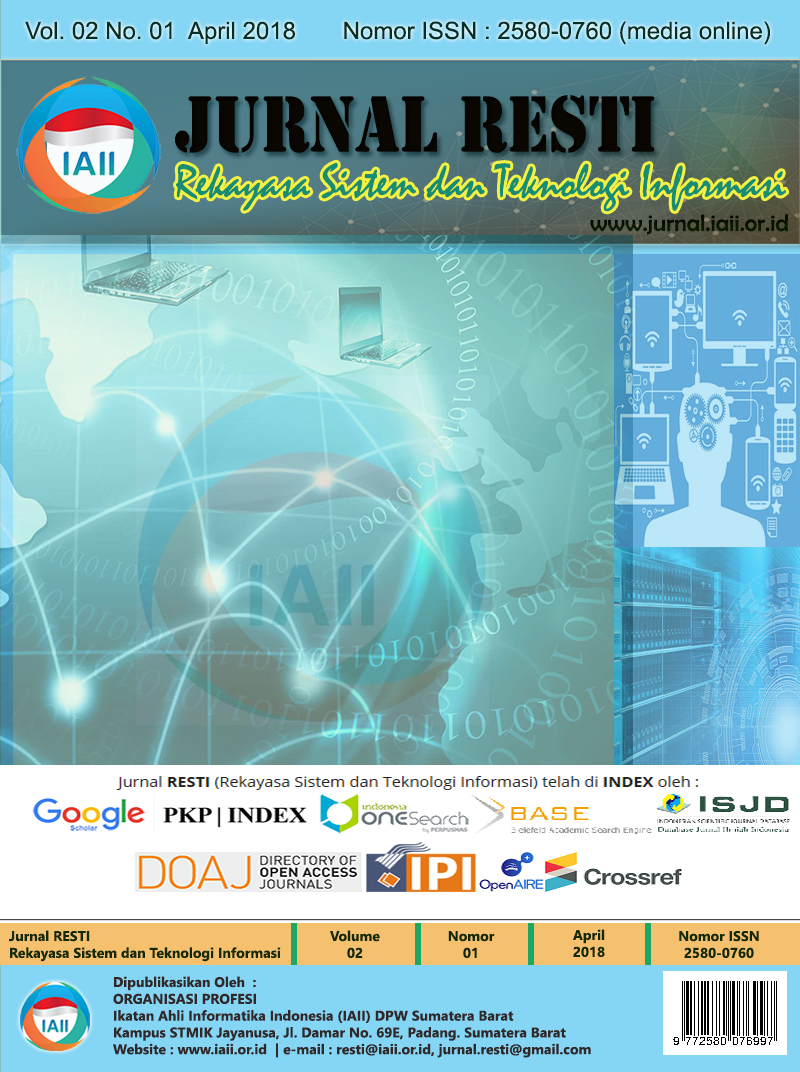 How to Cite
Yanto, R. (2018). Implementation of Data Mining Estimation of Land Availability of Garbage Disposal using Simple Linear Regression Algorithm. Jurnal RESTI (Rekayasa Sistem Dan Teknologi Informasi), 2(1), 361 - 366. https://doi.org/10.29207/resti.v2i1.282
Section
Artikel Teknologi Informasi
Copyright (c) 2018 Jurnal RESTI (Rekayasa Sistem dan Teknologi Informasi)
This work is licensed under a Creative Commons Attribution 4.0 International License.
Copyright in each article belongs to the author
The author acknowledges that the RESTI Journal (System Engineering and Information Technology) is the first publisher to publish with a license

Creative Commons Attribution 4.0 International License.

Authors can enter writing separately, arrange the non-exclusive distribution of manuscripts that have been published in this journal into other versions (eg sent to the author's institutional repository, publication in a book, etc.), by acknowledging that the manuscript has been published for the first time in the

RESTI (Rekayasa Sistem dan Teknologi Informasi) journal ;