Autonomous Sales Robot untuk Pengenal Produk Berbasis Barcode dan Arduino ATMega328
Ikhsan Ikhsan

AMIK-STMIK Jayanusa

Ade Afdhika Putra

STMIK Jayanusa Padang
Keywords:
Robot, sales, Barcode, Arduino, Atmega328
Abstract
This paper discusses similar machines of people who are categorized as robots that function as product identifier sales. This research is used as a substitute for shop assistants who sometimes have an emotional attitude when the consumer asks many things. By utilizing this robot, is expected to provide more services to consumers, consumers only need to show the goods that will be desired to the robot by closing the barcode, and the robot will provide information to the product in detail. In the process of this research is made by waterfall method with the necessary changes. From the results of the study concluded that the robot system can provide information services to consumers
Downloads
Download data is not yet available.
References
[1] W. Budiharto, "Intelligent Surveillance Robot with Obstacle Avoidance Capabilities Using Neural Network," Comput. Intell. Neurosci., vol. 2015, 2015.
[2] P. . Ramaiah, M. Venkateswara Rao, and G. V Satyanarayana, "A Microcontroller Based Four Fingered Robotic Hand," Int. J. Artif. Intell. Appl., vol. 2, no. 2, pp. 90–102, 2011.
[3] S. C. Jacobsen et al., "Research robots for applications in artificial intelligence, teleoperation and entertainment," Int. J. Rob. Res., vol. 23, no. 4–5, pp. 319–330, 2004.
[4] S. Kaputama and J. V. No, "Perancangan Robot Pembaca Garis Hitam Berbasis Mikrokontroler," vol. 7, no. 2, pp. 28–37, 2014.
[5] R. H. Sudhan, M. G. Kumar, A. U. Prakash, S. A. R. Devi, and S. P., "Arduino Atmega-328 Microcontroller," Ijireeice, vol. 3, no. 4, pp. 27–29, 2015.
[6] R. H. M. Ganesh, K. A. Udhaya, and P. P. Sathya, "Stepper Motor Control using ARDUINO ATMEGA - 328 Micro- Controller saranathan College of Engineering," Int. J. Sci. Res. Dev., vol. 2, no. 12, pp. 778–780, 2015.
[7] M. Hammoudeh and M. Arioua, "Sensors and Actuators in Smart Cities," J. Sens. Actuator Networks, vol. 7, no. 1, p. 8, 2018.
[8] F. Wahyutama, F. Samopa, and H. Suryotrisongko, "Penggunaan Teknologi Augmented Reality Berbasis Barcode sebagai Sarana Penyampaian Informasi Spesifikasi dan Harga Barang yang Interaktif Berbasis Android, Studi Kasus pada Toko Elektronik ABC Surabaya," J. Tek. ITS, vol. 2, no. 3, pp. A481–A486, 2013.
[9] J. Phaniteja and P. D. J. Tom, "Evolution of barcode," Int. J. Develompment Comput. Sci. Technol., vol. 7884, 2010.
[10] R. Article and B. Sciences, "Classification of Dna Barcodes Based on Image Processing Techniques : a Study," Int. J. Pharma Bio Sci., vol. 7, no. 3, pp. 773–780, 2016.
[11] W. A. L. Didik Darmadi, Suharyono, "PENGARUH PROMOSI PENJUALAN TERHADAP PENJUALAN (Studi Kasus PT . Astra Internasional Tbk-TSO Cabang Soetoyo Malang )," J. Adm. Bisnis, vol. 2, no. 1, pp. 21–28, 2013.
[12] Y. Suherman, "Sistem Informasi Kearsipan Tata Kelola Surat Pada Kantor Inspeksi Kota Padang," J. Resti, vol. 1, no. 1, pp. 9–18, 2017.
[13] R. A. Mahessya, L. Mardianti, and R. Sovia, "Pelanggan Menggunakan Metode Monte Carlo Pada Pt Pos Indonesia ( Persero ) Padang," J. Ilmu Komput., vol. 6, no. 1, pp. 15–24, 2017.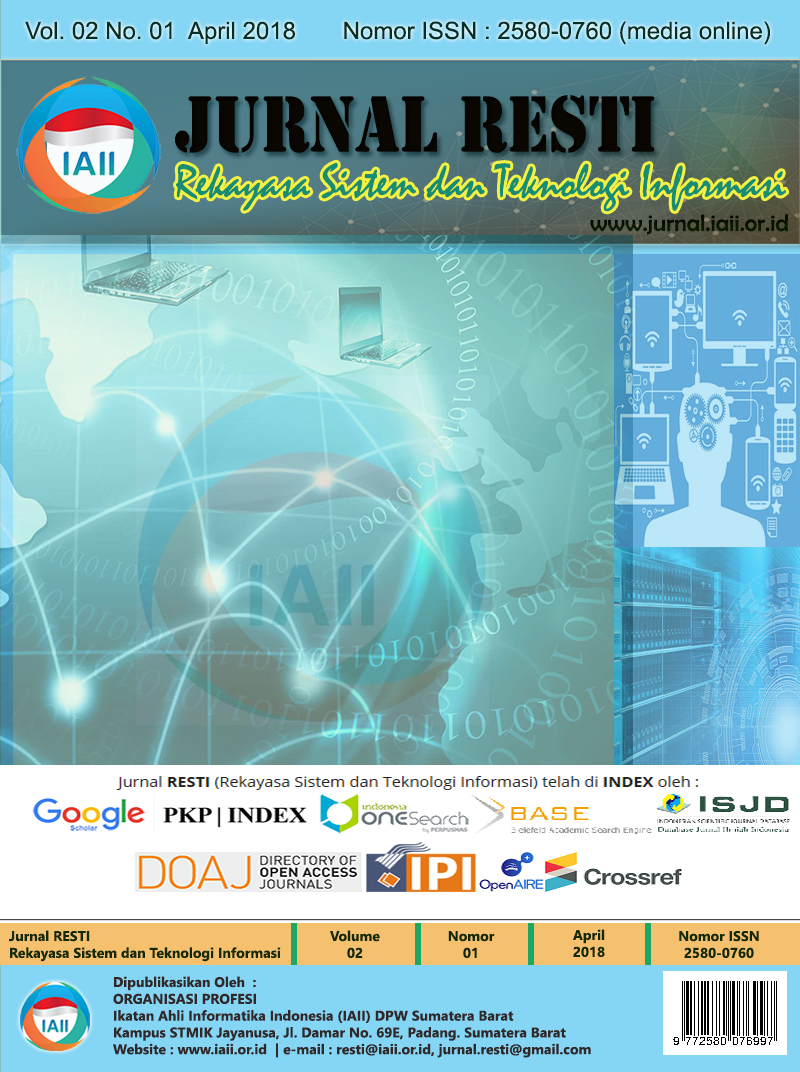 How to Cite
Ikhsan, I., & Putra, A. A. (2018). Autonomous Sales Robot untuk Pengenal Produk Berbasis Barcode dan Arduino ATMega328. Jurnal RESTI (Rekayasa Sistem Dan Teknologi Informasi), 2(1), 397 - 402. https://doi.org/10.29207/resti.v2i1.264
Section
Artikel Teknologi Informasi
Copyright (c) 2018 Jurnal RESTI (Rekayasa Sistem dan Teknologi Informasi)
This work is licensed under a Creative Commons Attribution 4.0 International License.
Hak cipta pada setiap artikel adalah milik penulis.
Penulis mengakui bahwa Jurnal RESTI (Rekayasa Sistem dan Teknologi Informasi) sebagai publisher yang mempublikasikan pertama kali dengan lisensi Creative Commons Attribution 4.0 International License.
Penulis dapat memasukan tulisan secara terpisah, mengatur distribusi non-ekskulif dari naskah yang telah terbit di jurnal ini kedalam versi yang lain (misal: dikirim ke respository institusi penulis, publikasi kedalam buku, dll), dengan mengakui bahwa naskah telah terbit pertama kali pada Jurnal RESTI (Rekayasa Sistem dan Teknologi Informasi) ;