Sistem Informasi Geografis Daerah Yang Layak Menerima Daging Qurban Di Wilayah Kota Padang
Sotar Sotar

STMIK Indonesia Padang

Dani Mardianto

STMIK Indonesia Padang
Keywords:
Keywords: Information System, Geographic, Qurban
Abstract
Qurban is one of the worship that is held every year in the month dzulhijjah, the goal is closer to the creator. One of the functions of Qurban worship is as a form of concern to the dhuafa 'or the needy means that people who can slauchetering qurban animals can share the people who can not afford. In the city of Padang there are still many suburbs worthy of receiving Qurban meat, while in urban areas there are many sacrifices of Qurban animals and many excess meat quotas, but they only distribute them in urban areas with relatively good economy and certain orphanages, this results in the meat of Qurban accumulate in certain locations only. One of the causes of the Committee is difficult to get clear information about the location or area that really deserves the meat Qurban. The geographic information system built can provide solutions and information to the Qurban Committee or Mosque Board and other institution of Qurban meat distributor to the lack of information about the area, place, trip route, distance, number of people, the number of Qurban animals in each mosque in Padang city as well as areas categorized as worthy to receive the meat of Qurban. Thus the distribution of Qurban meat distributed evenly, the right target and the function of the Qurban worship achieved.
Downloads
Download data is not yet available.
References
[1] R. E. Ida Bagus Made Yogie Adnyana1, 2014, "Rancang Bangun Sistem Informasi Geografis Persebaran Lokasi Obyek Pariwisata Berbasis Web Dan Mobile Android (Studi Kasus Di Dinas Pariwisata Kabupaten Gianyar)," Teknol. Inf. dan Komun., vol. 5, pp. 16.
[2] M. S. Safuwan, M.Psi & Subhani, S.Sos., 2013, "Pemberdayaan Kepribadian muslim Melalui Psikologi Qurban," Suwa, vol. XI, no. 1, pp. 77–82.
[3] S. Redjeki, M. Guntara, and P. Anggoro, 2014, "Perancangan Sistem Identifikasi Dan Pemetaan Potensi Kemiskinan Untuk Optimalisasi Program Kemiskinan Kemiskinan Merupakan Masalah Multidimensi dan Lintas Sektor Yang Dipengaruhi Oleh Berbagai Faktor Yang Saling Berkaitan , Antara Lain : Tingkat Pendapatan," J. Sist. Inf., vol. 6, no. 2, pp. 731–743.
[4] E. Prahasta, 2014, Sistem Informasi Geografis : Konsep-Konsep Dasar (Perspektif Geodesi dan Geomatika), Bandung, Informatika Bandung.
[5] T. S. dan J. Fahana, 2010, "Pengembangan Aplikasi Untuk Menentukan Daerah Pencemaran Limbah Home Industry Berbasis Sistem Informasi Geografis," Informatika, vol. 4, no. 2, pp. 488–495.
[6] R.Noviati, 2017, "Praktik Kurban Online Dalam Perspektif Islam Tebar Hewan Kurban THK Di Dompet Dhuafa," Syarikah, vol. 3, no.1, pp.343-356.
[7] H. Wathan, 2017, "Pandangan Ulama Kota Medan Tentang Pelaksanaan Iddikhar Daging Qurban Di Rumah Zakat Medan -Sumatera Utara," Hum. Falah, vol. 4., no. 1, pp. 35–50.
[8] Y. Bustomi, M. A. Ramdhani, and R. Cahyana, 2012,"Rancang Bangun Sistem Informasi Geografis Sebaran Tempat Riset Teknologi Informasi Di Kota Garut," STT-Garut All Right Reserv., vol. 9, no. 20, pp. 1–7.
[9] V. Motumona, U. Lestari, E. Fatkhiyah, and P. T. Informatika, 2016,"Sistem Informasi Geografis Lokasi Perguruan Tinggi Di Daerah Istimewa Yogyakarta Berbasis Mobile Android," Script, vol. 4, no. 1, pp. 72–78.
[10] D. Novaliendry, 2013 "Aplikasi Game Geografi Berbasis Multimedia Interaktif (Studi Kasus Siswa Kelas IX SMPN Rao)," JTeknologi Dan Pendidik., vol. 6, no. 2, pp. 106–118.
[11] B. Santosa, 2011,"Pemanfaatan Sistem Informasi Geografis Open Source Untuk Pelayanan Kesehatan Masyarakat Di Yogyakarta," Penelit. dan Pengemb. Pemerintah Provinsi DIY, vol. III, no. 4, pp. 1–8.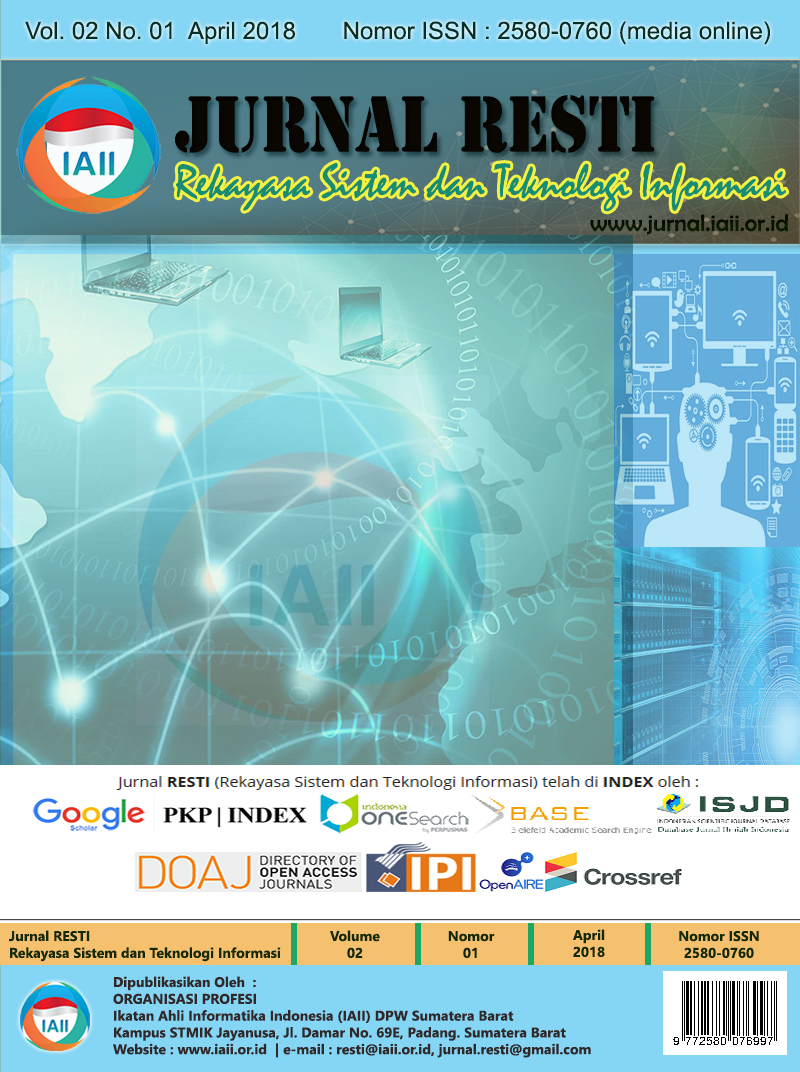 How to Cite
Sotar, S., & Mardianto, D. (2018). Sistem Informasi Geografis Daerah Yang Layak Menerima Daging Qurban Di Wilayah Kota Padang. Jurnal RESTI (Rekayasa Sistem Dan Teknologi Informasi), 2(1), 384 - 390. https://doi.org/10.29207/resti.v2i1.244
Section
Artikel Teknologi Informasi
Copyright (c) 2018 Jurnal RESTI (Rekayasa Sistem dan Teknologi Informasi)
This work is licensed under a Creative Commons Attribution 4.0 International License.
Hak cipta pada setiap artikel adalah milik penulis.
Penulis mengakui bahwa Jurnal RESTI (Rekayasa Sistem dan Teknologi Informasi) sebagai publisher yang mempublikasikan pertama kali dengan lisensi Creative Commons Attribution 4.0 International License.
Penulis dapat memasukan tulisan secara terpisah, mengatur distribusi non-ekskulif dari naskah yang telah terbit di jurnal ini kedalam versi yang lain (misal: dikirim ke respository institusi penulis, publikasi kedalam buku, dll), dengan mengakui bahwa naskah telah terbit pertama kali pada Jurnal RESTI (Rekayasa Sistem dan Teknologi Informasi) ;