Penerapan Algoritma C4.5 untuk Klasifikasi Data Rekam Medis berdasarkan International Classification Diseases (ICD-10)
Yudha Aditya Fiandra

UNIVERSITAS PUTRA INDONESIA

Sarjon Defit

Yuhandri Yuhandri
Keywords:
Data Mining, Classification, C4.5, Medical Records, ICD-10
Abstract
Abstract
The medical record data is the patient's current record of medical records, the medical record data only being data stacked and not traced to generate useful knowledge for the hospital. This study can process the medical record data to classify the disease that occurs in sleeping sickness based on  ICD-10. The method used in this research is C4.5 algorithm method by using attribute of international disease code as attribute of destination label as many as 21 international disease group, that is: A00-B99 up to Z00-Z99. This study yields a decision of the value code, C4.5 code can represent as many as 14 attribute values ​​of disease code objectives and data percentage that read more than 66%. The conclusion of this research is C4.5 algorithm help classify international disease code based on ICD-10 and decision tree making which can give information of any disease that often happened at hospital
 Keywords: data mining, classification, C4.5, medical records, ICD-10
Downloads
Download data is not yet available.
References
[1] Pupezescu, V., 2016. The Influence of Data Replication in the Knowledge Discovery in Distributed Databases Process. ECAI 2016 International Conference Electronics (Computers and Artificial Intelligence), 8th Edition, pp.17
[2] Priyadharsini, C., 2014. An Overview of Knowledge Discovery Database and Data mining Techniques. International Journal of Innovative Research in Computer and Communication Engineering, Vol.2 (Special Issue 1), pp.1571-1572
[3] Veenita K., 2016. Chronic Kidney Disease Analysis Using Data Mining Classification Techniques. IEEE, pp.300-305
[4] Harvinder C. and Anu C., 2013. Implementation of decision tree C4.5 algorithm. International Journal of Scientific and Research Publications, Vol. 3(10)
[5] Chauhan H. and Chauhan A., 2013. Implementation of decision tree C4.5 algorithm. International Journal of Scientific and Research Publications, Vol. 3(Issue 10)
[6] Wenefrida, T.I., 2013. Klasifikasi Data Rekam Medis Berdasarkan Kode Penyakit Internasional Menggunakan Algoritma C4.5. Jurnal Media Elektro, Vol.1(3), pp.105
[7] Yulia, E.K., Adhistya E.P., Silmi F., 2016. Comparative Study on Data Mining Classification Methods for Cervical Cancer Prediction Using Pap Smear Results. 1st International Conference on Biomedical Engineering (IBIOMED), pp.1
[8] Sucipto, Kusrini, Emha L.T., 2016. Classification Method of Multi-class on C4.5 Algorithm for Fish Diseases. 2016 2nd International Conference on Science in Information Technology (ICSITech), pp.5
[9] WHO. 2010. International Statistical Classification of Diseases and Related Health Problems (ICD-10).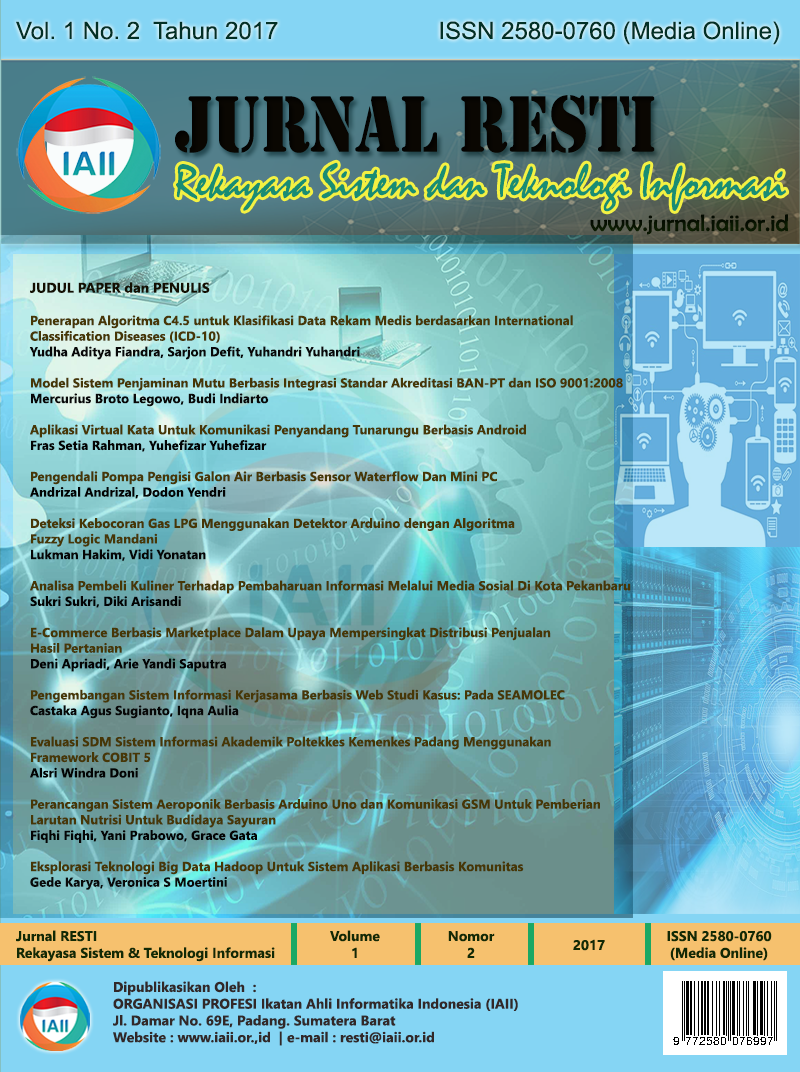 How to Cite
Fiandra, Y. A., Defit, S., & Yuhandri, Y. (2017). Penerapan Algoritma C4.5 untuk Klasifikasi Data Rekam Medis berdasarkan International Classification Diseases (ICD-10). Jurnal RESTI (Rekayasa Sistem Dan Teknologi Informasi), 1(2), 82 - 89. https://doi.org/10.29207/resti.v1i2.48
Section
Artikel Teknologi Informasi
Copyright (c) 2017 Jurnal RESTI (Rekayasa Sistem dan Teknologi Informasi)
This work is licensed under a Creative Commons Attribution 4.0 International License.
Hak cipta pada setiap artikel adalah milik penulis.
Penulis mengakui bahwa Jurnal RESTI (Rekayasa Sistem dan Teknologi Informasi) sebagai publisher yang mempublikasikan pertama kali dengan lisensi Creative Commons Attribution 4.0 International License.
Penulis dapat memasukan tulisan secara terpisah, mengatur distribusi non-ekskulif dari naskah yang telah terbit di jurnal ini kedalam versi yang lain (misal: dikirim ke respository institusi penulis, publikasi kedalam buku, dll), dengan mengakui bahwa naskah telah terbit pertama kali pada Jurnal RESTI (Rekayasa Sistem dan Teknologi Informasi) ;