Penerapan Metode Localization Tampering dan Hashing untuk Deteksi Rekayasa Video Digital
Indonesia
Alfiansyah Imanda Putra Alfian

Universitas Ahmad Dahlan

Rusydi Umar

Universitas Ahmad Dahlan

Abdul Fadlil

Universitas Ahman Dahlan
Keywords:
Forensics, Video, Localization tampering, Manipulation.
Abstract
The development of digital video technology which is increasingly advanced makes digital video engineering crimes prone to occur. The change in digital video has changed information communication, and it is easy to use in digital crime. One way to solve this digital crime case is to use the NIST (National Institute of Standards and Technology) method for video forensics. The initial stage is carried out by collecting data and carrying out the process of extracting the collected results. A local hash and noise algorithm can then be used to analyze the resulting results, which will detect any digital video interference or manipulation at each video frame, and perform hash analysis to detect the authenticity of the video. In digital video engineering, histogram analysis can be performed by calculating the histogram value metric, which is used to compare the histogram values ​​of the original video and video noise and make graphical comparisons. The results of the difference in frame analysis show that the results of the video show that the 2nd to 7th frames experience an attack while the histogram calculation of the original video centroid value and video tampering results in different values ​​in the third frame, namely with a value of 124.318 and the 7th frame of the video experiencing a difference in the value of 105,966 videos. tampering and 107,456 in the original video. Hash analysis on video tampering results in an invalid SHA-1 hash, this can prove that the video has been manipulated.
Downloads
Download data is not yet available.
References
J. Xiao, S. Li, and Q. Xu, "Video-Based Evidence Analysis and Extraction in Digital Forensic Investigation," IEEE Access, vol. 7, pp. 55432–55442, 2019, doi: 10.1109/ACCESS.2019.2913648.
I. Riadi, A. Yudhana, and W. Y. Sulistyo, "Analisis Perbandingan Nilai Kualitas Citra pada Metode Deteksi Tepi," Rekayasa Sist. dan Teknol, vol. 4, no. 2, pp. 345–351, 2020.
K. D. Wandani and S. Sinurat, "Implementasi Secure Hash Algoritma Untuk Pengamanan Pada File Video," Maj. Ilm. INTI, vol. 5, no. 3, pp. 165–168, 2018.
N. F. Hasan, C. N. Dengen, and D. Ariyus, "Analisis Histogram Steganografi Least Significant Bit Pada Citra Grayscale," Digit. Zo. J. Teknol. Inf. dan Komun., vol. 11, no. 1, pp. 20–29, 2020, doi: 10.31849/digitalzone.v11i1.3413.
Y. Fernando, "Identifikasi Ancaman PCI ( Positif Clandestine Intelligence ) Berbentuk Cyber Terrorism Terhadap Keamanan Nasional," no. 1, pp. 31–40, 2019.
M. Rifauddin and A. N. Halida, "Waspada Cybercrime dan Informasi Hoax pada Media Sosial Facebook," Khizanah al-Hikmah J. Ilmu Perpustakaan, Informasi, dan Kearsipan, vol. 6, no. 2, p. 98, 2018, doi: 10.24252/kah.v6i2a2.
F. P. Ambarita, "Penanggulangan Tindak Pidana Terorisme," Binamulia Huk., vol. 7, no. 2, pp. 141–156, 2018, doi: 10.37893/jbh.v7i2.29.
E. Chintia, R. Nadiah, H. N. Ramadhani, Z. F. Haedar, A. Febriansyah, and N. A. Rakhmawati S.Kom., M.Sc.Eng, "Kasus Kejahatan Siber yang Paling Banyak Terjadi di Indonesia dan Penanganannya," J. Inf. Eng. Educ. Technol., vol. 2, no. 2, p. 65, 2019, doi: 10.26740/jieet.v2n2.p65-69.
T. Yuridis, T. Penerapan, D. A. N. Transaksi, E. Bagi, and P. Tindak, "Juridicic Review Of The Application Of Law Number 11 Of 2008 Concerning Information And Electronic Transactions For Criminal Actions Of Hate Achievements ( Case Study Perkara Number : 370 / PID . SUS / 2018 / PN . JKT," pp. 245–262, 2020.
H. A. Gani and A. W. Gani, "Penyelesaian Kasus Kejahatan Internet ( Cybercrime ) dalam Perspektif UU ITE No . 11 TAHUN 2008 dan UU No . 19 Tahun 2016," Pros. Semin. Nas. LP2M UNM - 2019, no. 11, pp. 121–129, 2019.
I. Riadi, S. Sunardi, and S. Sahiruddin, "Analisis Forensik Recovery pada Smartphone Android Menggunakan Metode National Institute Of Justice (NIJ)," J. Rekayasa Teknol. Inf., vol. 3, no. 1, pp. 87–95, 2019.
W. Y. Sulistyo, I. Riadi, and A. Yudhana, "Penerapan Teknik SURF pada Forensik Citra untuk Analisa Rekayasa Foto Digital," JUITA J. Inform., vol. 8, no. 2, p. 179, 2020, doi: 10.30595/juita.v8i2.6602.
J. P. Soepomo, "Analisis Forensik Bukti Digital Pada Frozen Solid State Drive Dengan Metode National Institute of Standards and Technology ( Nist )," J. Insa. Comtech, vol. 2, no. 2, pp. 33–40, 2017.
R. Umar, A. Yudhana, and M. N. Faiz, "Experimental analysis of web browser sessions using live forensics method," Int. J. Electr. Comput. Eng., vol. 8, no. 5, pp. 2951–2958, 2018, doi: 10.11591/ijece.v8i5.pp.2951-2958.
I. Riadi and I. M. Nasrulloh, "Analisis Forensik Solid State Drive ( Ssd ) Menggunakan Framework Grr Rapid Response Forensic Analysis of Solid State Drives ( Ssd ) Using the Grr Rapid Response Framework," vol. 6, no. 5, pp. 509–518, 2019, doi: 10.25126/jtiik.201961516.
A. Putra Justicia, "Analysis of Forensic Video in Storage Data Using Tampering Method," Int. J. Cyber-Security Digit. Forensics, vol. 7, no. 3, pp. 328–335, 2018, doi: 10.17781/p002471.
G. Hendita, A. Kusuma, and I. N. Prawiranegara, "Analisa Digital Forensik Rekaman Video CCTV dengan Menggunakan Metadata dan Hash," Pros. Semin. Nas. Sist. Inf. dan Teknol., vol. 3, no. 1, pp. 223–227, 2019.
J. Bakas and R. Naskar, "A Digital Forensic Technique for Inter–Frame Video Forgery Detection Based on 3D CNN," Int. Conf. Inf. Syst. Secur., pp. 304–317, 2018, [Online]. Available: https://doi.org/10.1007/978-3-030-05171-6_16.
M. Iuliani, D. Shullani, M. Fontani, S. Meucci, and A. Piva, "A Video Forensic Framework for the Unsupervised Analysis of MP4-Like File Container," IEEE Trans. Inf. Forensics Secur., vol. 14, no. 3, pp. 635–645, 2019, doi: 10.1109/TIFS.2018.2859760.
E. S. Nasution, "Mendeteksi Orisinalitas File Video Menerapkan Metode Md5," vol. 3, pp. 156–163, 2019, doi: 10.30865/komik.v3i1.1583.
W. Zhang, X. Tang, Z. Yang, and S. Niu, "Multi-scale segmentation strategies in PRNU-based image tampering localization," Multimed. Tools Appl., vol. 78, no. 14, pp. 20113–20132, 2019, doi: 10.1007/s11042-019-7288-y.
H. Sembiring, S. Utara, F. Y. Manik, S. Utara, and S. Utara, "Penerapan Algoritma Secure Hash Algorithm ( SHA ) Keamanan Pada Citra," vol. 4, no. 1, pp. 33–36, 2019.
D. García-Retuerta, Á. Bartolomé, P. Chamoso, and J. M. Corchado, "Counter-terrorism video analysis using hash-based algorithms," Algorithms, vol. 12, no. 5, pp. 1–9, 2019, doi: 10.3390/a12050110.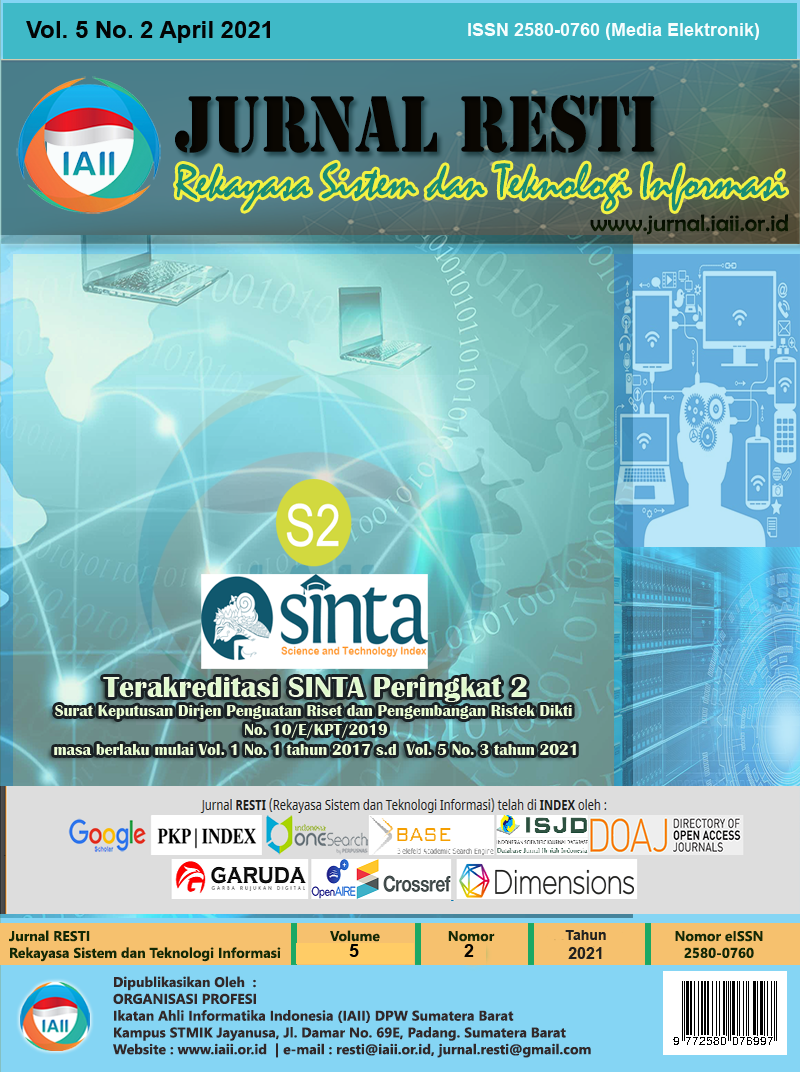 How to Cite
Alfian, A. I. P., Umar, R., & Fadlil, A. (2021). Penerapan Metode Localization Tampering dan Hashing untuk Deteksi Rekayasa Video Digital. Jurnal RESTI (Rekayasa Sistem Dan Teknologi Informasi), 5(2), 400 - 406. https://doi.org/10.29207/resti.v5i2.3015
Section
Artikel Teknologi Informasi
Copyright (c) 2021 Jurnal RESTI (Rekayasa Sistem dan Teknologi Informasi)
This work is licensed under a Creative Commons Attribution 4.0 International License.
Hak cipta pada setiap artikel adalah milik penulis.
Penulis mengakui bahwa Jurnal RESTI (Rekayasa Sistem dan Teknologi Informasi) sebagai publisher yang mempublikasikan pertama kali dengan lisensi Creative Commons Attribution 4.0 International License.
Penulis dapat memasukan tulisan secara terpisah, mengatur distribusi non-ekskulif dari naskah yang telah terbit di jurnal ini kedalam versi yang lain (misal: dikirim ke respository institusi penulis, publikasi kedalam buku, dll), dengan mengakui bahwa naskah telah terbit pertama kali pada Jurnal RESTI (Rekayasa Sistem dan Teknologi Informasi) ;