Embedded Device Berbasis PLC pada Miniatur Konveyor untuk Pengoperasian Simulator Rejection System
Muhamad Wildan

PT Cisarua Mountain Dairy, Kampung Babakan Rawahaur, Sentul, Babakan Madang, Bogor

Arief Goeritno

Program Studi Teknik Elektro, Universitas Ibn Khaldun Bogor

Joki Irawan

Program Studi Teknik Elektro, Universitas Ibn Khaldun Bogor
Keywords:
embedded device, PLC, miniature of conveyor, rejection system simulator.
Abstract
A PLC-based embedded device on a miniature conveyor machine for operating a rejection system has been designed and constructed. The research objectives, namely (i) design and manufacture of an integrated system, (ii) making program structure based on a ladder diagram, and (iii) measuring the performance of an integrated system. Integrated system assembled from a miniature of the conveyor machines and belt installation, and installing the dc motor, while the rejection system assembly by placing several sensors, installing stepper motor, and wiring to the PLC system. Programming based on ladder diagram carried out by determining algorithms, compiling the ladder diagram, addressing the input/output, and compiling and uploading the program from PC to PLC. The performance of the integrated system was observed when (a) observation during synchronization, (b) observations of sensor readings while the rejection system simulator is operating, and (c) observation and measurement of the processing time of the rejection arm. Overall results have been obtained in the form of a PLC-based embedded device for the rejection system simulator on observations of the condition of the bottle caps for beverage packaging. Based on the overall observation, the PLC-based embedded device has functioned to operate the rejection system can be implemented at a manufacturing scale.
Downloads
Download data is not yet available.
References
E.R. Alphonsus, and M.O. Abdullah, "A review on the applications of programmable logic controllers (PLCs)," Renewable and Sustainable Energy Reviews, 60 (C), pp. 1185-1205, July 2016. https://doi.org/10.1016/j.rser.2016.01.025
R. Pawar, and N.R. Bhasme, "Application of PLC's for Automation of Processes in Industries," Int. Journal of Engineering Research and Applications, vol. 6, no.6, pp. 53-59, 2016.
R. Langmann, and M. Stiller, "The PLC as a Smart Service in Industry 4.0 Production Systems," Applied Science, vol. 9, no. 3815, pp. 1-22, 2019.
S.Y. Dimpudus, V.C. Poekoel, and P.D.K. Manembu, "Sistem Pengepakan Botol Minuman Kemasan Berbasis Programmable Logic Controller," E-Journal Teknik Elektro dan Komputer, vol. 4, no. 7, hlm. 65-72, 2015.
S. Sridevi, P. Karthikeyan, C.A. Prakash, A. Jaganathan, and A. Mani, "Bottle Cap Inspection Based on Machine Vision," International Journal of Engineering Research and Technology (IJERT), vol. 4, no. 26, pp. 1-4, 2016.
I. Morishita, and M. Okumura, "Automated Visual Inspection Systems for Indutrial Applications," Measurement, vol. 1, no. 2, pp. 59-67, 1983.
S.P. Kumar, and H.V. Ramakrishna, "Automated Bottle Cap Inspection Using Machine Vision System,"International Journal of Innovative Research in Technology, vol. 2, no. 2, pp. 131-136, 2015.
F. Vanderweyst, "Beverage Filling System," Canada Patent CA2510251A1, Jun. 20, 2005.
W. Bolton, Programmable Logic Controllers, 4th edition, Burlington, MA: Elsevier Newnes, 2006, pp. 1-14.
OMRON, The CP1E Programmable Controller: Economical, Easy to Use, and Efficient, Tokyo, Japan, 2013, pp. 1-48.
F.G. Airlangga, A. Triwiyatno, and Sumardi, "Perancangan Sistem Automasi pada Pengemasan Susu Dalam Botol dengan Programmable Logic Controller (PLC) Omron CP1E terhadap Purwarupa Filling Bottle and Capping Machine," Transient, vol. 6, no. 1, hlm. 103-109, 2017.
A. Goeritno, and S. Pratama, "Rancang-Bangun Prototipe Sistem Kontrol Berbasis Programmable Logic Controller untuk Pengoperasian Miniatur Penyortiran Material," Jurnal Rekayasa Elektrika, vol. 16, no. 3, hlm. 198-206, Desember 2020. http://dx.doi.org/10.17529/jre.v16i3.14905
S. Tirta, dan A. Goeritno, "Simulator Berbasis PLC untuk Pengaturan Lalu-lintas Jalan Raya pada Perlintasan Jalur Kapal," Jurnal RESTI (Rekayasa Sistem dan Teknologi Informasi), vol. 4, no. 6, hlm. 1007-1016, Desember 2020. https://doi.org/10.29207/resti.v4i6.2668
A. Goeritno, dan Y. Herutama, "Sistem Elektronis Berbantuan PC untuk Pemantauan Kondisi Pasokan Daya Listrik," Jurnal Rekayasa Elektrika, vol. 14, no. 2, hlm. 96-104, Agustus 2018. http://dx.doi.org/10.17529/jre.v14i2.10904
D. Suhartono, dan A. Goeritno, "Prototipe Sistem Berbasis Mikrokontroler untuk Pengkondisian Suhu pada Analogi Panel dengan Analogi Sistem Air Conditioning," Jurnal EECCIS (Electrics, Electronics, Communications, Controls, Informatics, Systems), vol. 13, no. 1, hlm. 22-30, April 2019.
L. Hardian, dan A. Goeritno, "Pabrikasi Unit Kontrol Berbasis Web pada Smarthome System untuk Pengoperasian Pintu Gerbang," Jurnal RESTI (Rekayasa Sistem dan Teknologi Informasi), vol. 5, no. 1, hlm. 163-173, Februari 2021. https://doi.org/10.29207/resti.v5i1.2879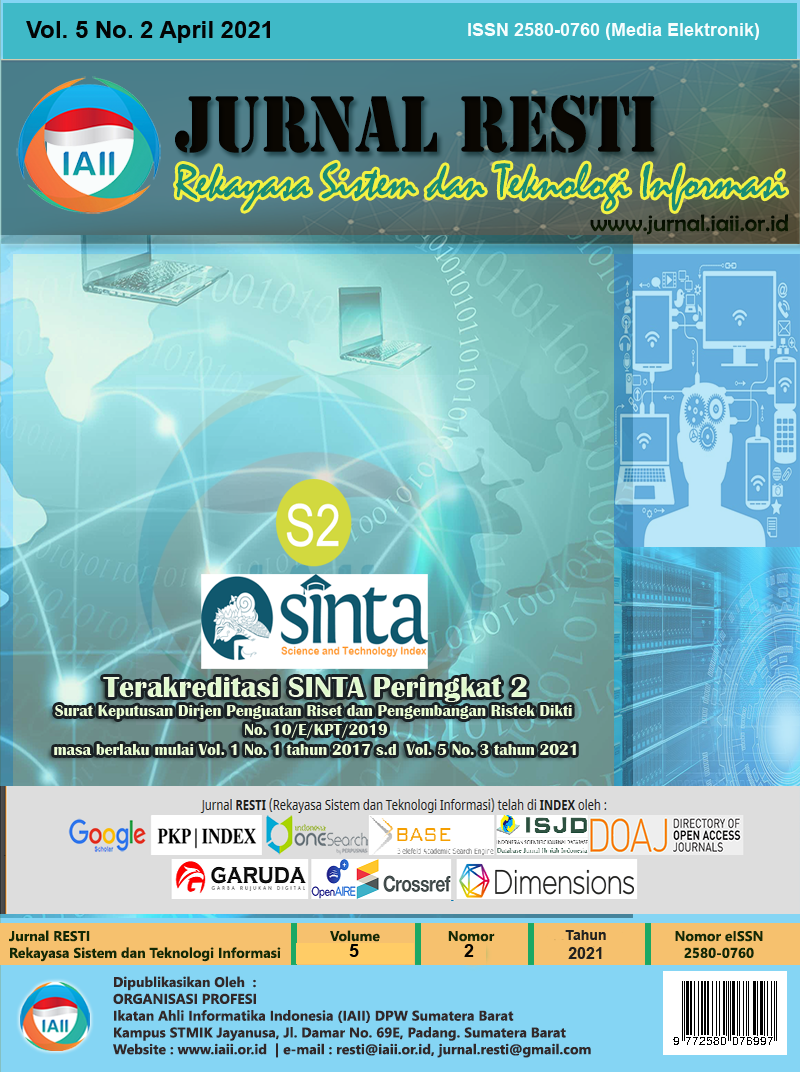 How to Cite
Wildan, M., Goeritno, A., & Irawan, J. (2021). Embedded Device Berbasis PLC pada Miniatur Konveyor untuk Pengoperasian Simulator Rejection System. Jurnal RESTI (Rekayasa Sistem Dan Teknologi Informasi), 5(2), 301 - 311. https://doi.org/10.29207/resti.v5i2.2994
Section
Artikel Rekayasa Sistem Informasi
Copyright (c) 2021 Jurnal RESTI (Rekayasa Sistem dan Teknologi Informasi)
This work is licensed under a Creative Commons Attribution 4.0 International License.
Hak cipta pada setiap artikel adalah milik penulis.
Penulis mengakui bahwa Jurnal RESTI (Rekayasa Sistem dan Teknologi Informasi) sebagai publisher yang mempublikasikan pertama kali dengan lisensi Creative Commons Attribution 4.0 International License.
Penulis dapat memasukan tulisan secara terpisah, mengatur distribusi non-ekskulif dari naskah yang telah terbit di jurnal ini kedalam versi yang lain (misal: dikirim ke respository institusi penulis, publikasi kedalam buku, dll), dengan mengakui bahwa naskah telah terbit pertama kali pada Jurnal RESTI (Rekayasa Sistem dan Teknologi Informasi) ;