Forecasting Cases of Dengue Hemorrhagic Fever Using the Backpropagation, Gaussians and Support-Vector Machine Methods
I Made Yudha Arya Dala

udayana university

I Ketut Gede Darma Putra

Udayana University

Putu Wira Buana

Udayana University
Keywords:
Dengue Fever, Data Mining, Backpropagation, Gaussians, Support-Vector Machine, MAPE
Abstract
Dengue disease has been known to the people of Indonesia since 1779. The Aedes mosquito has two types, namely Aedes aegypti and Aedes albopictus. Aedes aegypti is a mosquito that carries the dengue virus. The dengue fever cases in Bali province tend to increase from year to year, especially when approaching the rainy season. The government's preventive action is needed to tackle the spread of the dengue virus and casualties. Data mining attempts to extract known knowledge or use historical data to find regularity patterns and relationships in a set of data. In this study, data mining predicts the number of dengue cases in Bali's province. The prediction uses several database variables to predict future variables' values, which are not currently known. The process of estimating predictive values ​​based on patterns in a data set. This forecasting aims to assist the government in predicting dengue fever cases in the coming period to prepare appropriate prevention efforts. Forecasting dengue fever cases are carried out using three methods: backpropagation, gaussians, and support-vector machine. The amount of data used was 528 sample data, from 2008 to 2018. The results obtained are that the backpropagation method is better at predicting dengue fever cases with a MAPE error rate of 0.025. Simultaneously, the gaussian method has a MAPE error rate of 0.035, and support-vector machine has a MAPE error rate of 0.060.
Downloads
Download data is not yet available.
References
N. K. Iin, "Keterkaitan Antara Kondisi Lingkungan Dan Perilaku Masyarakat Terhadap Keberadaan Vektor Demam Berdarah Dengue (DBD)," Journal of Borneo Holistic Health, vol. 3, 2020.
R. wowor, " Pengaruh Kesehatan Lingkungan terhadap Perubahan Epidemiologi Demam Berdarah di Indonesi," vol. 5, 2017.
T. NurAkmalinaMatJusoh, "Performance Evaluation of Commercial Dengue Diagnostic Tests for Early Detection of Dengue in Clinical Samples," Journal of Tropical Medicine 2017.
Y. W. Wahdi, "Implementasi Data Mining Untuk Analisa Tingkat Pelanggaran Lalu Lintas Dengan Algoritma Association Rule " vol. 1, 2018.
N. E.-K. Mohamed, "Artificial Neural Networks in Data Mining " Journal of Computer Engineering 2016.
R. Aulia, "Penerapan Metode Backpropagation Untuk Memprediksi Jumlah Kunjungan Wisatawan Berdasarkan Tingkat Hunian Hotel," JURTEKSI (Jurnal Teknologi dan Sistem Informasi), vol. 4, 2018.
A. Kori, "Comparative Study of Data Classifiers Using Rapidminer," 2017.
A. Muqtadir, "The Implementation of Grey Forecasting Model for Forecast Result's Food Crop Agricultural " Scientific Journal of Informatics 2016.
A. Wanto, "Analysis of Artificial Neural Network Backpropagation Using Conjugate Gradient Fletcher Reeves In The Predicting Process " International Conference on Information and Communication Technology 2018.
W. Saputra, "Analysis Resilient Algorithm on Artificial Neural Network Backpropagation " International Conference on Information and Communication Technology, 2017.
J. Zhao, "Gaussian Process Regression for Prediction of Sulfate Content in Lakes of China " Journal of Engineering and Technological Sciences, vol. 51, pp. 198-215, 2019.
R. R. Fiska, "Penerapan Teknik Data Mining dengan Metode Support Vector Machine (SVM) untuk Memprediksi Siswa yang Berpeluang Drop Out " Jaringan Sistem Informasi Robotik 2017.
M. D. Yalidhan, "Implementasi Algoritma Backpropagation Untuk Memprediksi Kelulusan Mahasiswa," Kumpulan jurnaL Ilmu Komputer, vol. 5, 2018.
P. Suksawang, "Electricity Consumption Forecasting in Thailand using Hybrid Model SARIMA and Gaussian Process with Combine Kernel Function Technique," International Journal of Energy Economics and Policy 2018.
N. N. Putriwijaya, "Peramalan Jumlah Pemakaian Air di PT. Pembangkitan Jawa Bali Unit Pembangkit Gresik Menggunakan Support Vector Regression," 2018.
D. A. Nasution, "Perbandingan Normalisasi Data Untuk Klasifikasi Wine Menggunakan Algoritma K-Nn," Journal of Computer Engineering System and Science, vol. 4, pp. 78-82, 2019.
N. M. Ashar1, "Penerapan Metode Extreme Learning Machine (ELM) Untuk Memprediksi Jumlah Produksi Pipa Yang Layak (Studi Kasus Pada PT. KHI Pipe Industries)," Jurnal Pengembangan Teknologi Informasi dan Ilmu Kompute, vol. 2, pp. 4621-4628 2018.
U. Khair1, "Forecasting Error Calculation with Mean Absolute Deviation and Mean Absolute Percentage Error," International Conference on Information and Communication Technology 2017.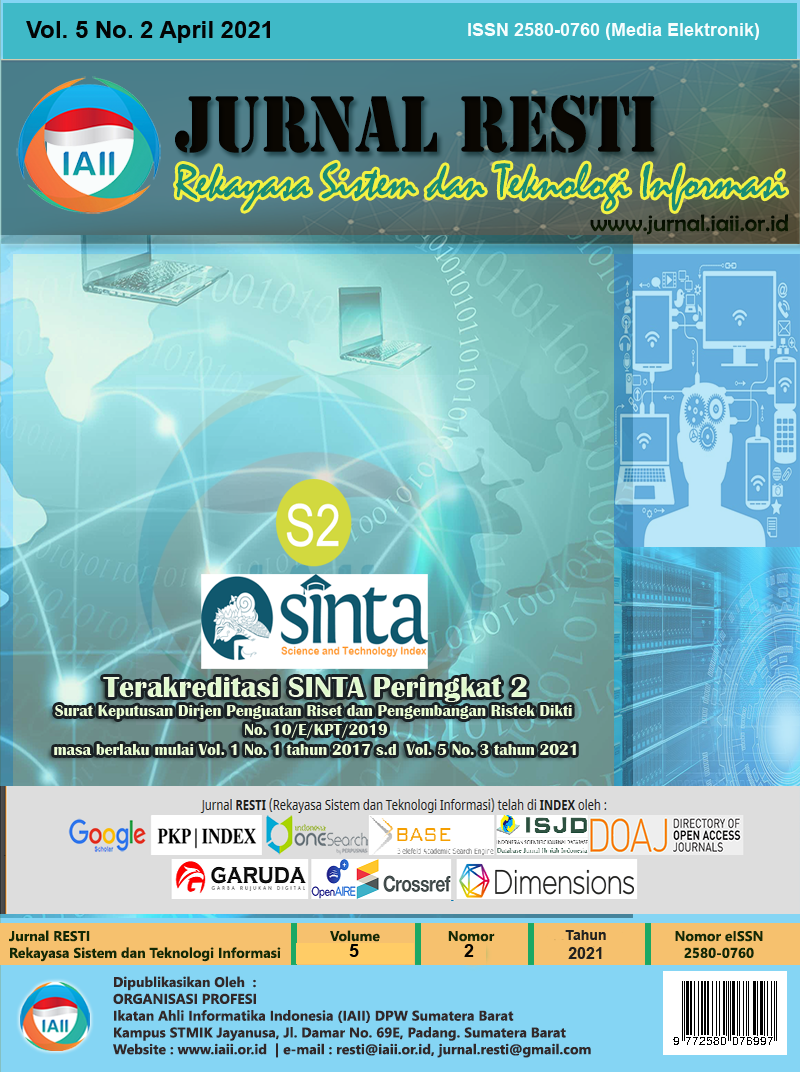 How to Cite
Yudha Arya Dala, I. M., Gede Darma Putra, I. K., & Wira Buana, P. (2021). Forecasting Cases of Dengue Hemorrhagic Fever Using the Backpropagation, Gaussians and Support-Vector Machine Methods. Jurnal RESTI (Rekayasa Sistem Dan Teknologi Informasi), 5(2), 335 - 341. https://doi.org/10.29207/resti.v5i2.2936
Section
Artikel Teknologi Informasi
Copyright (c) 2021 Jurnal RESTI (Rekayasa Sistem dan Teknologi Informasi)
This work is licensed under a Creative Commons Attribution 4.0 International License.
Hak cipta pada setiap artikel adalah milik penulis.
Penulis mengakui bahwa Jurnal RESTI (Rekayasa Sistem dan Teknologi Informasi) sebagai publisher yang mempublikasikan pertama kali dengan lisensi Creative Commons Attribution 4.0 International License.
Penulis dapat memasukan tulisan secara terpisah, mengatur distribusi non-ekskulif dari naskah yang telah terbit di jurnal ini kedalam versi yang lain (misal: dikirim ke respository institusi penulis, publikasi kedalam buku, dll), dengan mengakui bahwa naskah telah terbit pertama kali pada Jurnal RESTI (Rekayasa Sistem dan Teknologi Informasi) ;