Implementation of Rotoscoping Technique in the making of the Hang Tuah Ksatria Melayu 3D Animated Film
Muhammad Adha Fajri Jonison

Politeknik Caltex Riau

Anggy Trisnadoli

Politeknik Caltex Riau
Keywords:
rotoscoping, tracing, 3d, film, animation
Abstract
The development of information technology in the multimedia field is growing very rapidly today. Multimedia development is often found in making animated films. Animation is an image that moves and is arranged so that it makes inanimate objects appear to be moving. Animation initially has a problem, where it is difficult for an animator to create animation with complex movements to imagine directly and sometimes the results will look stiff. Max Fleischer also saw it as a problem, so he invented rotoscoping. Rotoscoping is a technique for making animation by tracing the movements of an actor. This technique is used to create movements that are complex to imagine directly so that the animation movement is realistic. In implementing rotoscoping techniques in an animated film, a folk tale entitled Hang Tuah Ksatria Melayu was adopted. This folktale will be packaged into a 3D animated film using rotoscoping techniques. With the creation of a 3D animated film, the folklore of Hang Tuah Ksatria Melayu, an animated film was created with realistic character movements and people get moral messages of Hang Tuah Ksatria Melayu.
Downloads
Download data is not yet available.
References
A. O. Gde Putu, Media dan Multimedia Pembelajaran. DEEPUBLISH, 2017.
Y. Mudijiono, "Kajian Semiotika Dalam Film," JIK, vol. 1, no. 1, pp. 125–138, 2020.
J. A. Wright, Animation Writing and Development, : From Script Development to Pitch (Focal Press Visual Effects And Animation), 1st Editio. Burlington: Focal Press, 2013.
G. Prakosa, Animasi: Pengetahuan Dasar Film Animasi Indonesia. FFTV IKJ Press & Yayasan Seni Visual Indonesia, 2010.
B. Bratt, Rotoscoping Techniques and Tools for the Aspiring Artist. Taylor & Francis, 2011.
R. Parent et al., Computer Animation Complete: All-in-One: Learn Motion Capture, Characteristic, Point-Based, and Maya Winning Techniques. San Francisco: Morgan Kaufmann Publishers Inc., 2009.
M. Maher, "Rotoscoping: From Early Animation to Blockbuster VFX," rocketstock.com, 2015. https://www.rocketstock.com/blog/rotoscoping-from-early-animation-to-blockbuster-vfx/.
R. Mahendra, A. Trisnadoli, and E. S. Nugroho, "Implementasi Teknik Sinematografi dalam Pembuatan Film Animasi 3D Cerita Rakyat 'Batu Belah Batu Betangkup,'" J. RESTI (Rekayasa Sist. dan Teknol. Informasi), 2018, doi: 10.29207/resti.v2i2.483.
F. Rahman, "'Burnout' Animasi Dua Dimensi Dengan Teknik Rotoscope," J. Animat. Games Stud., 2018, doi: 10.24821/jags.v3i2.1859.
O. Bayu Pamungkas, "PEMBUATAN ANIMASI 2 D DENGAN TEKNIK ROTOSCOPING," STMIK AMIKOM YOGYAKARTA, 2011.
S. Milah, "Pengembangan Film Animasi 3D ' Hitam Kucingmu Putih Kucingku ,'" J. Integr., vol. 6, no. 01, 2014.
R. Nidiansyah, A. Sulistiyono, and P. P. Purwacandra, "Penciptaan Karya Film Animasi 2D 'Miliv' Dengan Teknik Hybrid," J. Animat. Games Stud., 2019, doi: 10.24821/jags.v5i1.2800.
Catur Arrahman, "Penggabungan Animasi 2D dan Video Dengan Teknik Rotoscoping Menggunakan Toon Boom Harmony," J. Chem. Inf. Model., 2014, doi: 10.1017/CBO9781107415324.004.
N. W. Eka Putri Suantari, Dunia Animasi. Despansar: Miia Art, 2016.
M. I. Setiawan, A. Trisnadoli, and E. S. Nugroho, "Application of UV Mapping Technique and Painting Texture in Making 3D Animation Movie 'Bujang Buta (Blind Youth),'" Tek. Vol 40, No. 1 Mei 2019DO - 10.14710/teknik.v39i3.22758 , May 2019, [Online]. Available: https://ejournal.undip.ac.id/index.php/teknik/article/view/22758.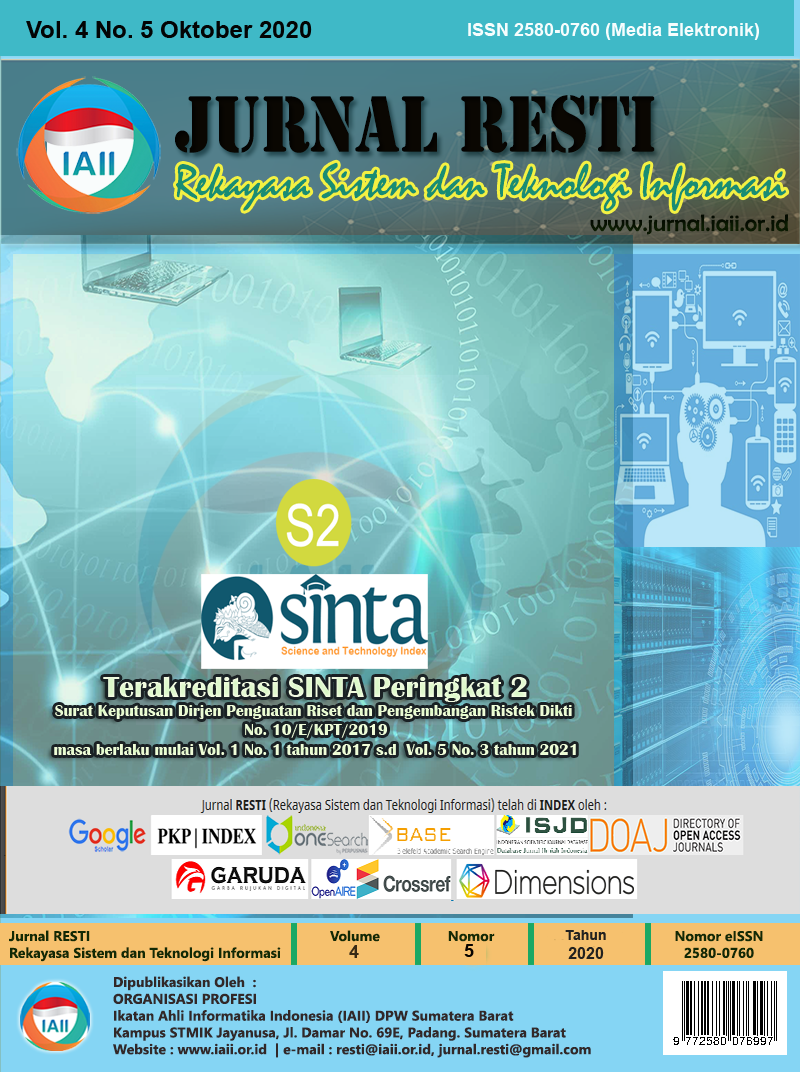 How to Cite
Jonison, M. A. F., & Anggy Trisnadoli. (2020). Implementation of Rotoscoping Technique in the making of the Hang Tuah Ksatria Melayu 3D Animated Film. Jurnal RESTI (Rekayasa Sistem Dan Teknologi Informasi), 4(5), 943-950. https://doi.org/10.29207/resti.v4i5.2404
Section
Artikel Rekayasa Sistem Informasi
Copyright (c) 2020 Jurnal RESTI (Rekayasa Sistem dan Teknologi Informasi)
This work is licensed under a Creative Commons Attribution 4.0 International License.
Hak cipta pada setiap artikel adalah milik penulis.
Penulis mengakui bahwa Jurnal RESTI (Rekayasa Sistem dan Teknologi Informasi) sebagai publisher yang mempublikasikan pertama kali dengan lisensi Creative Commons Attribution 4.0 International License.
Penulis dapat memasukan tulisan secara terpisah, mengatur distribusi non-ekskulif dari naskah yang telah terbit di jurnal ini kedalam versi yang lain (misal: dikirim ke respository institusi penulis, publikasi kedalam buku, dll), dengan mengakui bahwa naskah telah terbit pertama kali pada Jurnal RESTI (Rekayasa Sistem dan Teknologi Informasi) ;