Educational Game in Learning Arabic Language for Modern Islamic Boarding School
Game Edukasi dalam Belajar Bahasa Arab untuk Pondok Pesantren Modern
Hasna Azizah

universitas muhammadiyah surakarta

Fatah Yasin Irsyadi

Muhammadiyah University of Surakarta
Keywords:
Educational Game, Arabic, Modern Islamic Boarding School, 2013 Curriculum (K13), Student
Abstract
Modern Islamic Boarding Schools began to implement the 2013 Curriculum without overriding the cottage materials sourced from Kitab. The Kitab used is written in Arabic. Even some Kitab are written without harakat, or commonly called bald Arab. Therefore, students have demands to memorize a lot of mufrodat (Arabic vocabulary) and have a heavier learning burden. Arabic is the key to understanding students in the matter of the lodge. Though the learning process is carried out conventionally and theoretically without interesting learning media. The purpose of making educational games in learning Arabic that is adapted to the Arabic curriculum is so that students can balance K13-based learning with teaching processes that are more effective, efficient, and enjoyable. Researchers chose Grade VII students as users in this educational game because they are the first level in the junior high school unit and to increase the attractiveness of students in learning Arabic. The application creation process uses Construct 2 software, Adobe Illustrator 2019 and Adobe Photoshop CS6. The results of this study, based on the results of User Acceptance Testing (UAT) show the average value of interpretation or user ratings of 89.92% which shows that the level of acceptance of respondents in the category of "Strongly Agree". The application can help students in memorizing mufrodat shown with an average percentage of 95.2%. This result is supported by the research instrument in 9 questions about valid and reliable questionnaires that were tested using IBM SPSS Statistics 25 software.
Downloads
Download data is not yet available.
References
U. Sholihah, "Peran Ict Dalam Modernisasi Pendidikan Pondok Pesantren," Cendekia J. Kependidikan dan Kemasyarakatan, vol. 10, no. 1, p. 15, 2012.
M. Arif, "Perkembangan Pesantren Di Era Teknologi," J. Pendidik. Islam, vol. 28, no. 2, p. 307, 2016.
B. B. Manti, A. Husaini, E. Mujahidin, and D. Hafidhuddin, "Konsep Pendidikan Modern Mahmud Yunus dan Kontribusinya Bagi Lembaga Pendidikan Islam di Indonesia," Ta'dibuna J. Pendidik. Islam, vol. 5, no. 2, p. 151, 2016.
N. Agus, "Integrasi kurikulum 2013 dan kurikulum pondok pesantren serta implementasinya di MTs Fadllillah Tambak Sumur Waru Sidoarjo," 2017.
J. Paminto, T. Rosiana, and H. Triluqman Budisantoso, "Indonesian Journal of Curriculum and Educational Technology Studies Implementasi Kurikulum 2013 di Sekolah Pesantren dengan Sistem Boarding School," Ijcets, vol. 6, no. 1, pp. 41–52, 2018.
D. Rumahlatu, E. K. Huliselan, and J. Takaria, "An analysis of the readiness and implementation of 2013 curriculum in the west part of Seram District, Maluku Province, Indonesia," Int. J. Environ. Sci. Educ., vol. 11, no. 12, pp. 5662–5675, 2016.
P. Masalah et al., "Aregina Nabella Abstrak," no. 111, pp. 71–78, 2014.
M. Barseli and I. Ifdil, "Konsep Stres Akademik Siswa," J. Konseling dan Pendidik., vol. 5, no. 3, p. 143, 2017.
; Y I Kurniawan F Y Al Irsyadi; R Annas, "Game Edukasi Pembelajaran Bahasa Inggris untuk Pengenalan Benda-Benda di Rumah bagi Siswa Kelas 4 Sekolah Dasar," vol. 9, no. September, pp. 78–92, 2019.
S. Gree and D. Bevalier, "Action Video Game Modifies Visual Selective Attention," Nature, vol. 423, no. May, pp. 534–537, 2003.
L. Pannese and D. Morosini, "Serious Games to support Reflection in the HealthCare Sector," Int. J. Serious Games, vol. 1, no. 3, pp. 5–14, 2014.
M. S. Khairy, D. Herumurti, and I. Kuswardayan, "Analisis Pengaruh Penggunaan Game Edukasi pada Penguasaan Kosakata Bahasa Asing dengan Studi Kasus Game Edukasi Bahasa Arab," Khazanah Inform. J. Ilmu Komput. dan Inform., vol. 2, no. 2, p. 42, 2016.
M. rivai, I. sani wijaya, and M. Istoningtias, "PERANCANGAN APLIKASI GAME EDUKASI PENGENALAN BAHASA ARAB BERBASI ANDROID (Studi Kasus : Sekolah Dasar Islam Terpadu An-Nahl)," J. Process. Vol 10 No 1 Process., Aug. 2017.
D. A. Puspa Putri, "Rancang Bangun Media Pembelajaran Bahasa Arab Untuk Anak Usia Dini Berbasis Android," Technol. J. Ilm., vol. 10, no. 3, p. 156, 2019.
F. Y. Al Irsyadi and Y. S. Nugroho, "Game Edukasi Pengenalan Anggota Tubuh Dan Pengenalan Angka Untuk Anak Berkebutuhan Khusus (ABK) Tunagrahita Berbasis Kinect," Pros. SNATIF, vol. 2, pp. 1–8, 2015.
L. Husniah, F. Fannani, A. S. Kholimi, and A. E. Kristanto, "Game Development to Introduce Indonesian Traditional Weapons using MDA Framework," Kinet. Game Technol. Inf. Syst. Comput. Network, Comput. Electron. Control, vol. 4, no. 1, pp. 27–36, 2018.
J. Arjoranta, "How to Define Games and Why We Need to," Comput. Games J., vol. 8, no. 3–4, pp. 109–120, 2019.
D. Masa and K. Masa, "Kajian Pustaka Perkembangan Genre Games Dari Masa Ke Masa," vol. 1, no. 2, pp. 113–1134, 2015.
R. Ramadan and Y. Widyani, "Game development life cycle guidelines," 2013 Int. Conf. Adv. Comput. Sci. Inf. Syst. ICACSIS 2013, pp. 95–100, 2013.
R. A. Krisdiawan, "Implementasi Model Pengembangan Sistem Gdlc Dan Algoritma Linear Congruential Generator Pada Game Puzzle," Nuansa Inform., vol. 12, no. 2, pp. 1–9, 2018.
L. Husniah, B. F. Pratama, and H. Wibowo, "Gamification And GDLC (Game Development Life Cycle) Application For Designing The Sumbawa Folklore Game "The Legend Of Tanjung Menangis (Crying Cape)"," Kinet. Game Technol. Inf. Syst. Comput. Network, Comput. Electron. Control, vol. 3, no. 4, pp. 351–358, 2018.
M. Larrea, "Black-Box Testing Technique for Information Visualization. Sequencing Constraints with Low-Level Interactions," J. Comput. Sci. Technol., vol. 17, no. 1, pp. 37–48, 2017.
SUSAN VERNER, "Making the Shift: Moving from a Teacher Centered Classroom to a Student Centered Classroom," vol. 12, no. June, pp. 13–14, 2018.
R. Sistem, H. Prasetiyo, I. Widaningrum, and I. P. Astuti, "Game Edukasi Math & Trash Berbasis Android dengan Menggunakan," J. RESTI (Rekayasa Sist. dan Teknol. Informasi), vol. 1, no. 10, pp. 5–11, 2021.
A. Febtriko and I. Puspitasari, "Mengukur Kreatifitas Dan Kualitas Pemograman Pada Siswa Smk Kota Pekanbaru Jurusan Teknik Komputer Jaringan Dengan Simulasi Robot," Rabit J. Teknol. dan Sist. Inf. Univrab, vol. 3, no. 1, pp. 1–9, 2018.
W. S. Wardhono, L. P. Kusuma, and W. S. Wardhono, "Evaluasi User Acceptance Augmented Reality Triage Mobile Pada Sistem Kedaruratan Medis," J. Sentar, pp. 978–979, 2015.
F. Yusup, "Uji Validitas dan Reliabilitas Instrumen Penelitian Kuantitatif," J. Tarb. J. Ilm. Kependidikan, vol. 7, no. 1, pp. 17–23, 2018.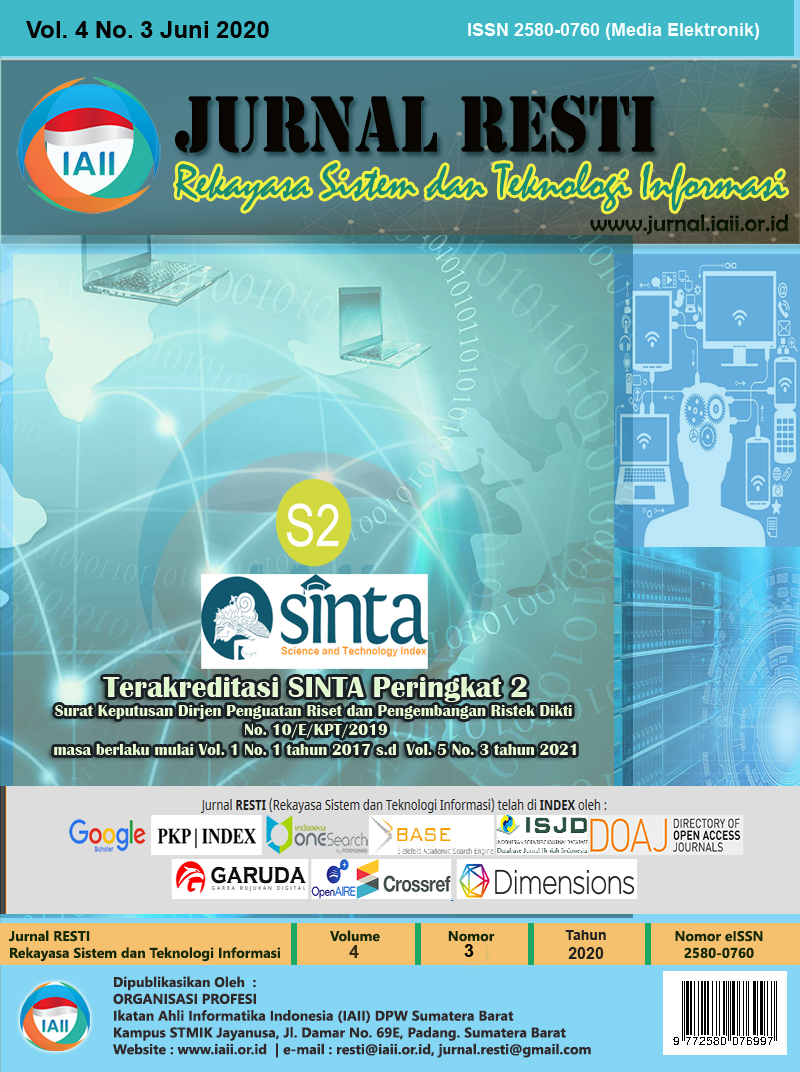 How to Cite
Hasna Azizah, & Fatah Yasin Irsyadi. (2020). Educational Game in Learning Arabic Language for Modern Islamic Boarding School. Jurnal RESTI (Rekayasa Sistem Dan Teknologi Informasi), 4(3), 489 - 496. https://doi.org/10.29207/resti.v4i3.1894
Section
Artikel Rekayasa Sistem Informasi
Copyright (c) 2020 Jurnal RESTI (Rekayasa Sistem dan Teknologi Informasi)
This work is licensed under a Creative Commons Attribution 4.0 International License.
Hak cipta pada setiap artikel adalah milik penulis.
Penulis mengakui bahwa Jurnal RESTI (Rekayasa Sistem dan Teknologi Informasi) sebagai publisher yang mempublikasikan pertama kali dengan lisensi Creative Commons Attribution 4.0 International License.
Penulis dapat memasukan tulisan secara terpisah, mengatur distribusi non-ekskulif dari naskah yang telah terbit di jurnal ini kedalam versi yang lain (misal: dikirim ke respository institusi penulis, publikasi kedalam buku, dll), dengan mengakui bahwa naskah telah terbit pertama kali pada Jurnal RESTI (Rekayasa Sistem dan Teknologi Informasi) ;