English Edugame Application for Childhood base on Android
Dony Novaliendry

Universitas Negeri Padang

Sisca Andriani

Universitas Negeri Padang
Keywords:
english, edugame, application, android, children
Abstract
apply arithmetic with play compared to without playing. Play and child is an inseparable unity. Play activities carried out children and children's activities always indicate play activities. In childhood the comprehension is very high, more activities a child does, the ability to remember will also be higher. There are several factors make it difficult for children to recite and remember the object, color around them, it is less interested in the media used.  Childhood always follows the rhyme of its development. at an early age, language development is very important, because at this age it is a sensitive period for children. The English language is the International language. English language for children starts from introducing vocabulary that is closest to the child, the goals to make it easier for children to remember. One way to maximal comprehension by giving learning fun involves learning with the game. The research resulted in an English game application based on android. In this application, there are education and game features. The education features an exciting good and gets the sound from the lesson that is available. Game features available are guessed pictures, guess sounds, and puzzles. The purpose of English edugame application to teach children vocabulary of English and make children not bored to learn.
Downloads
Download data is not yet available.
References
T. EMS, Pemograman Android dalam Sehari. 2015.
D. Novaliendry, "Aplikasi Game Geografi Berbasis Multimedia Interaktif (Studi Kasus Siswa Kelas IX SMPN 1 RAO)," J. Teknol. Inf. dan Pendidkan, vol. 6, no. 2, pp. 106–116, 2013.
W. Ramansyah, "Pengembangan Education Game ( Edugame ) Berbasis Android Pada Mata Pelajaran Bahasa Inggris Untuk Peserta Didik Sekolah Dasar," J. Ilmiaah Edutic, vol. 2, no. November, pp. 1–9, 2015.
G. N. A. Krisnawan, "Rancang Bangun Aplikasi Game Edukasi Bahasa Inggris Untuk Anak Berbasis Android," Konf. Nas. Sist. dan Inform., no. 86, pp. 955–960, 2015.
Y. Erfayliana, "Aktivitas Bermain dan Perkembangan Jasmani Anak," Terampil J. Pendidik. dan Pembelajaran Dasar, vol. 3, no. 1, pp. 145–158, 2016.
Rakimahwati, "Model Pembelajaran Sambil Bermain Pada anak Usia DIni." pp. 1–178, 2012.
Alfitriani Siregar, "Metode Pengajaran Bahasa Inggris Anak Usia Dini." pp. 1–171, 2018.
Chrisantus Tristanto, "Penggunaan Metode Waterfall Untuk Pengembangan Sistem Monitoring Dan Evaluasi Pembangun Pedesaan," Gooseberry, vol. XII, no. 01, pp. 41–56, 2018, doi: 10.5749/j.cttttv6b.5.
R. S.Pressman, Rekayasa Perangkat Lunak. 2012.
R. K. Judisseno, Jadilah Pribadi yang Kompoten di Tempat Kerja. 2013.
M. Rosa dan Shalahuddin, Rekayasa Perangkat Lunak Terstruktur dan Berorientasi Objek Informatika. 2013.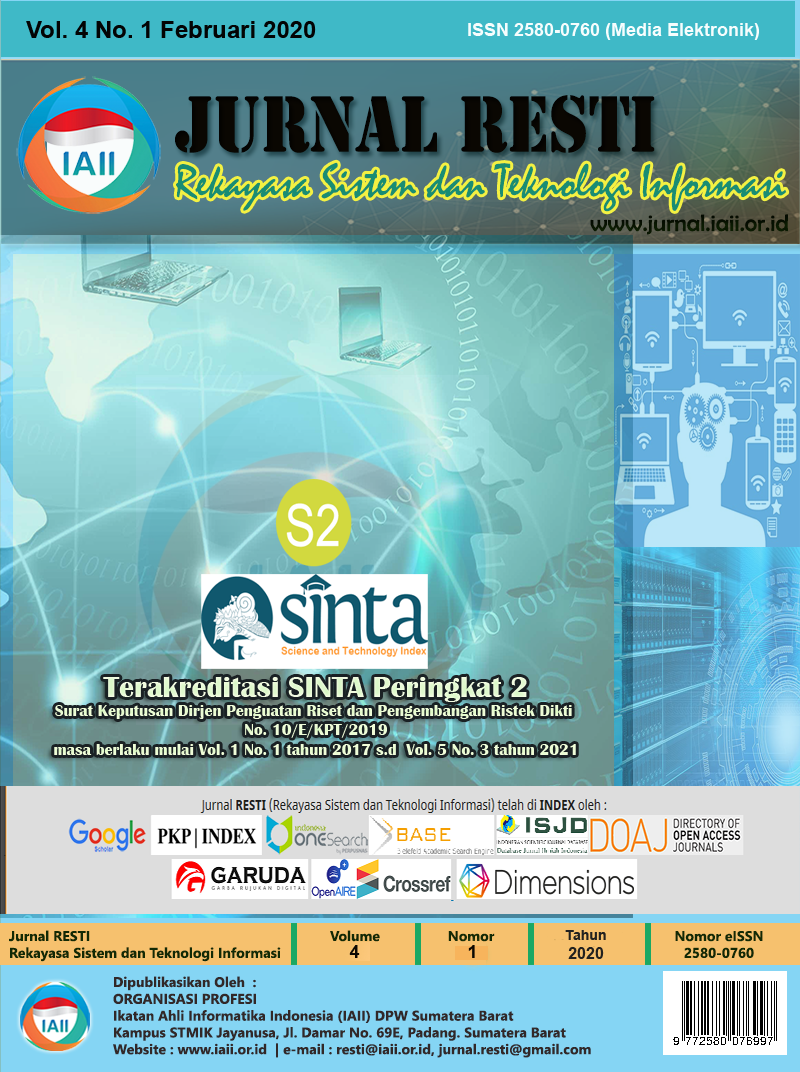 How to Cite
Dony Novaliendry, & Andriani, S. (2020). English Edugame Application for Childhood base on Android. Jurnal RESTI (Rekayasa Sistem Dan Teknologi Informasi), 4(1), 187-192. https://doi.org/10.29207/resti.v4i1.1622
Section
Artikel Teknologi Informasi
Copyright (c) 2020 Jurnal RESTI (Rekayasa Sistem dan Teknologi Informasi)
This work is licensed under a Creative Commons Attribution 4.0 International License.
Hak cipta pada setiap artikel adalah milik penulis.
Penulis mengakui bahwa Jurnal RESTI (Rekayasa Sistem dan Teknologi Informasi) sebagai publisher yang mempublikasikan pertama kali dengan lisensi Creative Commons Attribution 4.0 International License.
Penulis dapat memasukan tulisan secara terpisah, mengatur distribusi non-ekskulif dari naskah yang telah terbit di jurnal ini kedalam versi yang lain (misal: dikirim ke respository institusi penulis, publikasi kedalam buku, dll), dengan mengakui bahwa naskah telah terbit pertama kali pada Jurnal RESTI (Rekayasa Sistem dan Teknologi Informasi) ;