Android Based Math & Trash Educational Game Using Scirra Construct 2 and Adobe Phonegap
Game Edukasi Math & Trash Berbasis Android dengan Menggunakan Scirra Construct 2 dan Adobe Phonegap
Ida Widaningrum

Universitas Muhammadiyah Ponorogo

Hardi Prasetiyo

Universitas Muhammadiyah Ponorogo

Indah Puji Astuti

Universitas Muhammadiyah Ponorogo
Keywords:
Construct 2, math learning, knowledge of organic and inorganic waste, Educational games
Abstract
Educational games can be used as an effective learning method, especially for children, because children can gain knowledge in a fun way. Here the game is designed for young children to practice arithmetic and knowledge to separate organic and inorganic wastes. This game is based on Android using Construct 2 software, design using UML and Game Development Life Cycle (GDLC). At the end of the manufacturing process, software tests or tests consist of unit tests, integration tests and system tests. From the test results, the game "Math & Trash" can be run on several versions of Android with a variety of different screen sizes. The educational game "Math & Trash" is expected to have a positive impact on children on the importance of math subjects and the importance of protecting the surrounding environment.
Downloads
Download data is not yet available.
References
M. R. Rahadi, K. I. Satoto, and I. P. Windasari, "Perancangan Game Math Adventure Sebagai Media Pembelajaran Matematika Berbasis Android," J. Teknol. dan Sist. Komput., vol. 4, no. 1, p. 44, 2016.
A. Vega, "Game edukasi sebagai media pembelajaran pendidikan anak usia dini," Inform, vol. I, no. 1, pp. 1–8, 2016.
P.-M. Noemí and S. H. Máximo, "Educational games for learning," Univers. J. Educ. Res., vol. 2, no. 3, pp. 230–238, 2014.
A. Budianto, "Analisis Dan Perancangan Game Edukasi ' Need for Safety ' Sebagai Sarana Pengenalan Rambu-Rambu Lalu Lintas Untuk Anak Usia 6-12 Tahun," J. Pendidik. Tek. Inform., pp. 1–7, 2014.
A. F. Chow, K. C. Woodford, and J. Maes, "Deal or no deal: Using games to improve student learning, retention and decision-making," Int. J. Math. Educ. Sci. Technol., vol. 42, no. 2, pp. 259–264, 2011.
T. official reference from Scirra, User Manual Construct 2. scirra.com, 2019.
W. C. S, "Rancang Bangun Game Edukasi Matematika Kelas 4 - 6 Sd Berbasis Android Menggunakan Construct 2," UN PGRI Kediri :, 2017.
D. N. Molina, Melia, and H. Sopryadi, "Rancang Bangun Edugame Untuk Pembelajaran Profil Negara-Negara Asean Berbasis Android," STIMIK GI MDP. Palembang., 2014.
G. Kiryakova, N. Angelova, and L. Yordanova, "Gamifcation in Education," Proc. 9th Int. Balk. Educ. Sci. Conf., pp. 1–5, 2014.
C. Aliferi, Android Programming Cookbook. 2016.
W. A. Rifai, "Pengembangan Game Edukasi Lingkungan Berbasis Android," Universitas Negeri Yogyakarta, 2015.
G. Play, "Top categories Most popular Google Play categories," 2019. [Online]. Available: https://www.appbrain.com/stats/android-market-app-categories.
R. C. Putra, "Pembuatan Game Edukasi Pintar Memilih Sampah Berbasis Android," Universitas Muhammadiyah Surakarta, 2016.
B.-S. Indonesia, Statistik Lingkungan Hidup Indonesia Environment Statistics of Indonesia 2017. Badan Pusat Statistik/BPS – Statistics Indonesia, 2017.
M. Ahsan and I. Faud, "Game Edukasi Memilih Sampah Berbasis Android Menggunakan Algoritma a-Star (a*)," JIMP - J. Inform. Merdeka Pasuruan, vol. 3, no. 1, pp. 1–13, 2016.
M. Adiwijaya, K. I. S, and Y. Christyono, "Perancangan Game Edukasi Platform Belajar Matematika Berbasis Android Menggunakan Construct 2," Transient, vol. 4, no. 1, pp. 128–133, 2015.
I. D. Putu, A. Sudiatmika, A. A. K. A. Cahyawan, and P. W. Buana, "Aplikasi Game Edukasi Trash Grabber Untuk Mengenal Jenis-Jenis Sampah Pada Smartphone Berbasis Android," Merpati, vol. 2, no. 2, pp. 215–225, 2014.
Pemerintah Republik Indonesia, "Undang-Undang Republik Indonesia Nomor 20 Tahun 2003 Tentang Sistem Pendidikan Nasional," 2003.
I. G. Rasagama, "Memahami Implementasi 'Educational Research and Development,'" Bandung, 2011.
H. Maxwell Candler, The Game Production Handbok third ed., 3rd ed. Burlington, MA 01803: Jones and Bartlett Publishers, 2013.
P. Nguyen, "Game Production and Role of Game Producer," SAVONIA UNIVERSITY OF APPLIED SCIENCES, 2014.
R. Ramadan and Y. Widyani, "Game development life cycle guidelines," in 2013 International Conference on Advanced Computer Science and Information Systems, ICACSIS 2013, 2013, no. September 2013, pp. 95–100.
L. Husniah, B. F. Pratama, and H. Wibowo, "Gamification And GDLC (Game Development Life Cycle) Application For Designing The Sumbawa Folklore Game "The Legend Of Tanjung Menangis (Crying Cape)"," Kinet. Game Technol. Inf. Syst. Comput. Network, Comput. Electron. Control, vol. 3, no. 4, p. 351, 2018.
Romeo, Testing dan implementasi sistem, 1st ed. Surabaya: STIKOM Surabaya, 2003.
H.-E. Eriksson, M. Penker, B. Lyons, and D. Fado, UMLTM 2 Toolkit. Indianapolis, Indiana: Wiley Publishing, Inc., 2004.
J. Rumbaugh, I. Jacobson, and G. Booch, The Unified Modeling Language Reference Manual. Canada.: Addison Wesley Longman, Inc., 1999.
R. S. Pressman, Rekayasa Perangkat Lunak (Pendekatan Praktisi), 7th ed. AndiPublisher, 2012.
Sugiyono, Metode Penelitian Kuantitatif, Kualitatif dan R&D, 22nd ed. Bandung: Alfabeta Bandung, 2015.
F. G. H. Saputro, "Rancang Bangun Game Pertualangan Satwa Langka Di Indonesia Mengunakan Construct 2 Berbasis Android," Universitas Stikubank (UNISBANK) Semarang, 2017.
R. S. Pressman, Software Engineering A Practitioner's Approach 5th ed. 2001.
M. S. Mustaqbal, R. F. Firdaus, and H. Rahmadi, "Penggunaan Aplikasi Menggunakan Black Box Testing Boundary Value Analysis (Studi Kasus : Aplikasi Prediksi Kelulusan SNMPTN)," J. Ilm. Teknol. Inf. Terap., vol. I, no. 3, pp. 31–36, 2015.
S. S. Ghuman, "Software Testing Techniques," Int. J. Comput. Sci. Mob. Comput., vol. 3, no. 10, pp. 988–993, 2014.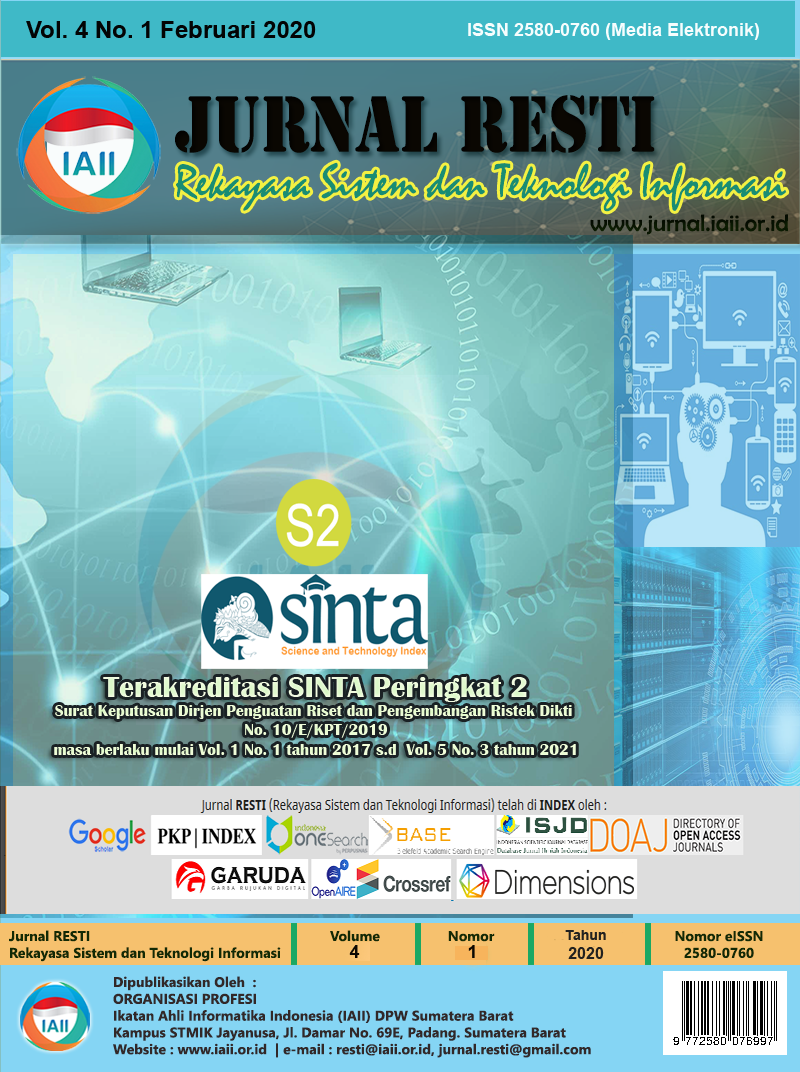 How to Cite
Widaningrum, I., Hardi Prasetiyo, & Indah Puji Astuti. (2020). Android Based Math & Trash Educational Game Using Scirra Construct 2 and Adobe Phonegap. Jurnal RESTI (Rekayasa Sistem Dan Teknologi Informasi), 4(1), 37 - 49. https://doi.org/10.29207/resti.v4i1.1385
Section
Artikel Rekayasa Sistem Informasi
Copyright (c) 2020 Jurnal RESTI (Rekayasa Sistem dan Teknologi Informasi)
This work is licensed under a Creative Commons Attribution 4.0 International License.
Hak cipta pada setiap artikel adalah milik penulis.
Penulis mengakui bahwa Jurnal RESTI (Rekayasa Sistem dan Teknologi Informasi) sebagai publisher yang mempublikasikan pertama kali dengan lisensi Creative Commons Attribution 4.0 International License.
Penulis dapat memasukan tulisan secara terpisah, mengatur distribusi non-ekskulif dari naskah yang telah terbit di jurnal ini kedalam versi yang lain (misal: dikirim ke respository institusi penulis, publikasi kedalam buku, dll), dengan mengakui bahwa naskah telah terbit pertama kali pada Jurnal RESTI (Rekayasa Sistem dan Teknologi Informasi) ;