Employee Performance Evaluation Decision Support System with the SMART (Simple Multi-Attribute Rating Technique) Method
Sistem Pendukung Keputusan Evaluasi Kinerja Karyawan dengan Metode SMART (Simple Multi Attribute Rating Technique)
Wawan Setiawan

Student

Nurwahid Pranoto

Universitas Budi Luhur

Khoirul Huda

Universitas Budi Luhur
Keywords:
DSS, employee evaluation, SMART Method, Confusion Metrix Method
Abstract
Every company needs an employee performance appraisal system, for the evaluation of its employees in terms of quality and responsibility for their work. In evaluating the performance of employees at PT. MMC Group is still manually so it takes a long time and the impact on decision making time also takes a long time. Besides evaluation only on aspects of the strengths and weaknesses of employees, so the results of decisions taken are not accurate and subjective. Therefore we need a decision support system that can do calculations quickly, precisely and accurately based on predetermined criteria. The calculation method used in this study is the SMART (Simple Multi Attribute Rating Technique) method. There are 5 assessment criteria used, namely quality of work, integrity, loyalty, discipline and personality, while for alternative data as many as 10 employees are taken by cluster random sampling. To test the performance of the SMART method calculation results using the Confusion Metrix method. The results of this study are an accuracy rate of 90%, a precission of 100%, a recall of 88.88% and a specificity of 94.12%.
Downloads
Download data is not yet available.
References
Subagyo, Hamzah D., Ariyani and Qoriani, Hersa F. 2017. Analisa Sistem Penunjang Keputusan Penilaian Kinerja Karyawan Universitas Narotama dengan metode Simple Additive Weighting. Jurnal Link Vol. 26/No. 2 September 2017, ISSN 1858-4667.
MMC Group. 2019. Buku Peraturan Perusahaan. Tangerang: PT. MMC Group.
Adhar, Deny. 2014. Sistem Pendukung Keputusan Pengangkatan Jabatan Karyawan pada PT.Ayn dengan Metode Profile Matching. Jatisi, Vol. 1 No. 1 September 2014. ISSN : 2407-4322.
Sahlan S. A., Setiyadi D. 2017. Sistem Penilaian Kinerja Frontliner dengan Metode Perbandingan Eksponensial (MPE) Pada Bank Bukopin Capem Kelapa Gading. Information Management For Educators and Professionals, Vol.1, No. 2, Juni 2017, 109 - 124. E-ISSN: 2548-3331.
Berutu, S. S. N., Na'am J., Sumijan. 2019. Sistem Pendukung Keputusan Penilaian Kinerja Pegawai Untuk Kenaikan Jabatan Menggunakan Metode Simple Multi Attribute Retting Tech (SMART). Jurnal EKOBISTEK Fakultas Ekonomi , Vol.8, No. 1, April 2019, Hal 60 – 67 ISSN : 2301-5268, E-ISSN : 2527-9483.
Permana, Galih, Rahmatulloh, A., Rianto. 2018. Sistem Pendukung Keputusan Layanan Verifikator Pengadaan dengan Metode Simple Multi Attribute Rating Technique (SMART). JUITA Volume VI, Nomor 2, November 2018, p-ISSN: 2086 - 9398, e-ISSN: 2579-9801.
Wadly, Fachrid, Prihandoko. 2019. Perbandingan Metode AHP dan SMART pada Performance Appraisal Dosen untuk Pemberian Insentif Kinerja (Studi Kasus : Universitas Pembangunan Panca Budi). Jurnal Teknik Dan Informatika, Vol. 6 Nomor 1, Januari 2019. ISSN: 2089-5490.
Suryanto1, Safrizal M.,. 2015. Sistem Pendukung Keputusan Pemilihan Karyawan Teladan dengan Metode SMART (Simple Multi Attribute Rating Technique). Jurnal CoreIT, Vol.1, No.2, Desember 2015. ISSN: 2460-7388.
Auliya M., Watequlis Y., Fahrur I., 2015. Aplikasi Penilaian Kinerja Karyawan Menggunakan Metode SMART (Simple Multi- Attribute Rating Technique). Jurnal Informatika Polinema, Volume: 1, No: 4, Agustus 2015. ISSN:2407-070X.
Widhi A. K., Puspitaningtyas Z., 2016. Metode Penelitian Kuantitatif. Yogyakarta: Pandiva Buku. ISBN: 978-602-73748-2-9.
Yonata L., 2018. Perancangan Sistem Pendukung Keputusan Kenaikan Jabatan Karyawan dengan metode SMART pada PT. Invilon Sagita Medan. JUSIKOM PRIMA (Junal Sistem Informasi Ilmu Komputer Prima), Vol. 1 No. 2, Februari 2018. e-ISSN : 2580-2879.
Bendesa S. I. G., Wirawan, I. M. A., Sunarya I. M. G., 2015. Pengembangan Sistem Pendukung Keputusan Pemilihan Pegawai Terbaik Menggunakan metode Simple Additive Weighting (SAW) di PT Tirta Jaya Abadi Singaraja. KARMAPATI, Volume 4, Nomor 5, Tahun 2015. ISSN: 2252-9063.
Ulandari N. W. A., Dantes G. R., Divayana D. G. H., 2018. Implementasi Metode AHP dan SAW dalam Sistem Pendukung Keputusan Prediksi Potensi Akademik Mahasiswa STMIK STIKOM Bali.SENAPATI, Bali, 08 September 2018. ISSN: 2087-2658.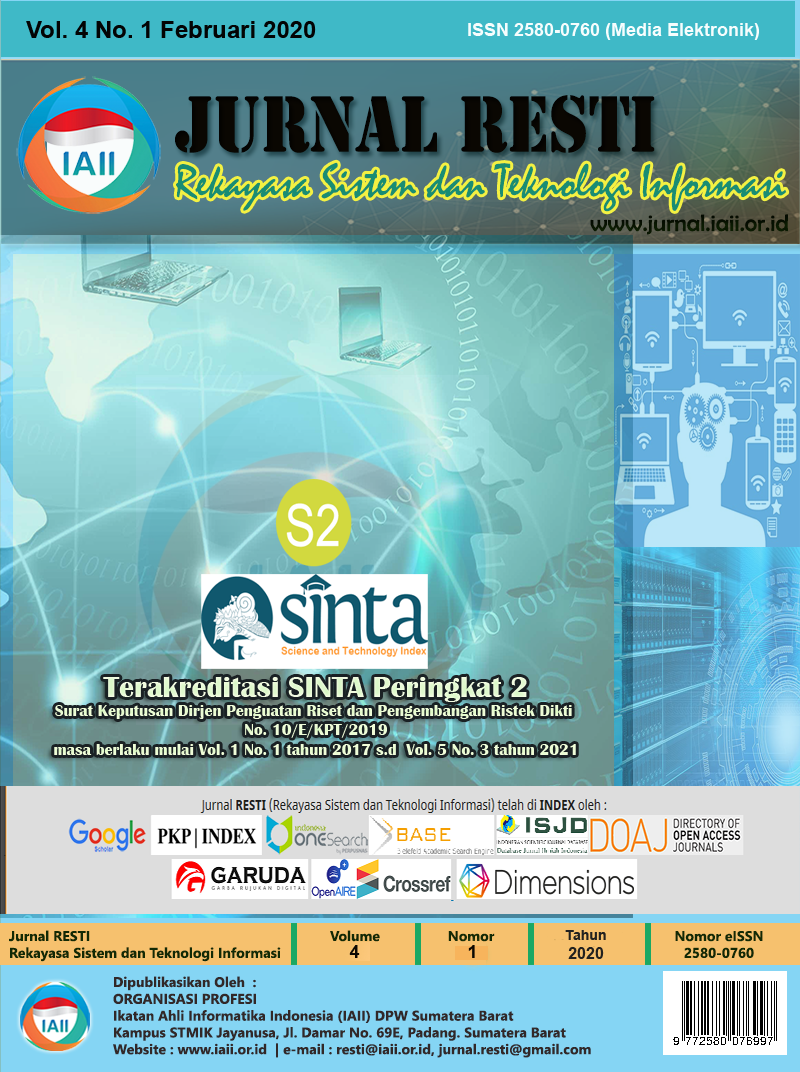 How to Cite
Setiawan, W., Nurwahid Pranoto, & Khoirul Huda. (2020). Employee Performance Evaluation Decision Support System with the SMART (Simple Multi-Attribute Rating Technique) Method. Jurnal RESTI (Rekayasa Sistem Dan Teknologi Informasi), 4(1), 50 - 55. https://doi.org/10.29207/resti.v4i1.1384
Section
Artikel Teknologi Informasi
Copyright (c) 2020 Jurnal RESTI (Rekayasa Sistem dan Teknologi Informasi)
This work is licensed under a Creative Commons Attribution 4.0 International License.
Hak cipta pada setiap artikel adalah milik penulis.
Penulis mengakui bahwa Jurnal RESTI (Rekayasa Sistem dan Teknologi Informasi) sebagai publisher yang mempublikasikan pertama kali dengan lisensi Creative Commons Attribution 4.0 International License.
Penulis dapat memasukan tulisan secara terpisah, mengatur distribusi non-ekskulif dari naskah yang telah terbit di jurnal ini kedalam versi yang lain (misal: dikirim ke respository institusi penulis, publikasi kedalam buku, dll), dengan mengakui bahwa naskah telah terbit pertama kali pada Jurnal RESTI (Rekayasa Sistem dan Teknologi Informasi) ;