Implementation of Analytic Network Process Algorithm in E-Lowker System
Herry Derajad Wijaya

Universitas Mercu Buana

Wawan Gunawan

Universitas Mercu Buana
Keywords:
Job Vacancies, ANP, Web, Research.
Abstract
Job vacancies information system at this time that there are still many companies that use the manual method to get the best employees and the number of job applicants who have not used the internet as a medium of information, but in this case the research aims to facilitate companies in getting the best employees, namely using the ANP Method in a web-based job information system and facilitate job applicants in utilizing internet media as a source of information that has been provided by the company. The ANP method is to find the weighted sum of the performance ratings for each alternative on all attributes, in this study the programming languages ​​used are PHP, MySQL database, CSS and Java Script. The criteria used in this study are education, experience, age and expertise. In this study shows that the Implementation of the ANP Method in the Web-Based Job Vacancy Information System is able to produce the best prospective workers for the company in accordance with the criteria
Downloads
Download data is not yet available.
References
"Badan Pusat Statistik," https://www.bps.go.id/dynamictable/2019/02/08/1583/banyaknya-desa-kelurahan-menurut-jenis-bencana-alam-dalam-tiga-tahun-terakhir-2014-2018.html, 2019. .
J. Hanaysha, "Testing the Effects of Employee Empowerment, Teamwork, and Employee Training on Employee Productivity in Higher Education Sector," Int. J. Learn. Dev., vol. 6, no. 1, pp. 164–178, 2016.
D. R. Swamy and S. Rashmi, "Quality of Work Life: Scale Development and Validation," Int. J. Caring Sci., vol. 8, no. 2, 2018.
P. Bolander and J. Sandberg, "How Employee Selection Decisions are Made in Practice," Organ. Stud., vol. 34, no. 3, pp. 285–311, 2013.
I. S. Baron, M. Melania, and H. Agustina, "The Role of Psychological Testing As an Effort to Improve Employee Competency," GATR J. Manag. Mark. Rev., vol. 5, no. 1, pp. 1–15, 2020.
I. Nikolaou, "Social Networking Web Sites in Job Search and Employee Recruitment," Int. J. Sel. Assess., vol. 22, no. 2, pp. 179–189, 2014.
M. Abdillah, Ilhamsyah, and R. Hidayati, "Penerapan Metode Analytic Network Process (Anp) Berbasis Android Sebagai Sistem Pendukung Keputusan Dalam Pemilihan Tempat Kos," J. Coding, Rekayasa Sist. Komput. Untan, vol. 6, no. 03, pp. 12–22, 2018.
M. M. Ullah, "A systematic approach of conducting employee selection interview," Int. J. Bus. Manag., vol. 5, no. 6, pp. 106–112, 2010.
A. H. Azhar, R. A. Destari, L. Wahyuni, and F. Harahap, "Improvement accuracy of oil meal packaging with method ANP," 2017 5th Int. Conf. Cyber IT Serv. Manag. CITSM 2017, 2017.
R. K. Vidhate and S. V. Deshmukh, "An analysis of the quality award model by AHP," Int. J. Mech. Prod. Eng. Res. Dev., vol. 9, no. 1, pp. 271–280, 2019.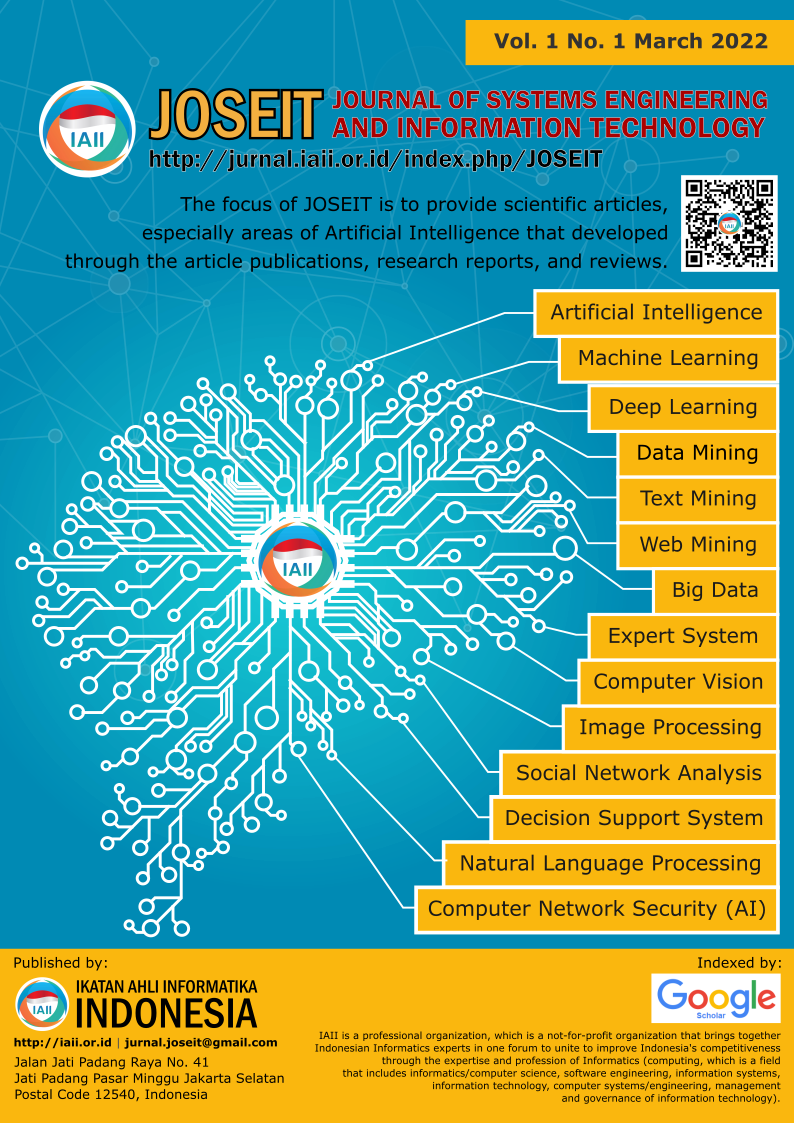 How to Cite
Wijaya, H. D., & Gunawan, W. (2022). Implementation of Analytic Network Process Algorithm in E-Lowker System. Journal of Systems Engineering and Information Technology (JOSEIT), 1(1), 18 - 26. https://doi.org/10.29207/joseit.v1i1.1901
Copyright (c) 2020 Wawan Gunawan
This work is licensed under a Creative Commons Attribution 4.0 International License.
Authors who publish with this journal agree to the following terms:
Authors retain copyright and grant the journal right of first publication with the work simultaneously licensed under Creative Commons Attribution 4.0 International License that allows others to share the work with an acknowledgment of the work's authorship and initial publication in this journal.
Authors are able to enter into separate, additional contractual arrangements for the non-exclusive distribution of the journal's published version of the work (e.g., post it to an institutional repository or publish it in a book), with an acknowledgment of its initial publication in this journal.
Authors are permitted and encouraged to post their work online (e.g., in institutional repositories or on their website) prior to and during the submission process, as it can lead to productive exchanges, as well as earlier and greater citation of published work (Refer to The Effect of Open Access).