Pengaruh Semantic Expansion pada Naïve Bayes Classifier untuk Analisis Sentimen Tokoh Masyarakat
Muhamad Satria Adhi

Institut Teknologi Telkom Purwokerto

Muhammad Zidny Nafan

Institut Teknologi Telkom Purwokerto

Elisa Usada

Institut Teknologi Telkom Purwokerto
Keywords:
accuration, naïve bayes classifier, semantic expansion, sentiment analysis, text preprocessing.
Abstract
Sentiment analysis is a field of study that analyzes one's opinions, sentiments, evaluations, attitudes and emotions that are conveyed in written text. There are several factors that cause low accuracy results from sentiment analysis. These factors such as less optimal stemming process, word negation process that does not produce maximum results, writing errors in the dataset, and others. These problems can be overcome by optimizing the process of normalizing words, negation, stemming, and adding methods of semantic expansion. The purpose of adding the Semantic Expansion method and improvement in the process is to increase the accuracy value of the Sentiment Analysis process. This study aims to create a sentiment analysis model from public comments on a public figure (Ridwan Kamil) using the Naïve Bayes Classifier algorithm. Based on the test results in the sentiment analysis model using the Naïve Bayes Classifier method with the addition of the semantic expansion method it is proven that it can improve accuracy. The accuracy obtained using the semantic expansion method is 72%. While the value of accuracy without semantic expansion is 70%.
Downloads
Download data is not yet available.
References
[1] R. Feldman dan J. Sanger, The Text Mining Handbook: Advanced Approaches in Analyzing Unstructured Data. New York: Cambridge University Press, 2007.
[2] N. Saputra, T. B. Adji, dan A. E. Permanasari, "Analisis Sentimen Data Presiden Jokowi dengan Preprocessing Normalisasi dan Stemming menggunakan Metode Naive Bayes dan SVM," J. Din. Inform., vol. 5, no. 1, 2015.
[3] G. Vinodhini dan R. M. Chandrasekaran, "A comparative performance evaluation of neural network based approach for sentiment classification of online reviews," J. King Saud Univ. - Comput. Inf. Sci., vol. 28, no. 1, hal. 2–12, 2016.
[4] A. M. Imelda Muis, "Penerapan Metode Support Vector Machine (SVM) Menggunakan Kernel Radial Basis Sunction (RBF) Pada Klasifikasi Tweet," J. Sains, Teknol. dan Ind., vol. 12, no. 2, hal. 189–197, 2015.
[5] R. F. N. Firmansyah, M. A. Fauzi, dan T. Afirianto, "Sentiment Analysis pada Review Aplikasi Mobile Menggunakan Metode Naive Bayes dan Query Expansion," DORO PTIIK, vol. 8, hal. 14, 2016.
[6] F. Afshoh, "Analisa Sentimen Menggunakan Naïve Bayes Untuk Melihat Persepsi Masyarakat Terhadap Kenaikan Harga Jual Rokok Pada Media Sosial Twitter," Dr. Diss. Univ. Muhammadiyah Surakarta, 2017.
[7] P. Antinasari, R. S. Perdana, dan M. A. Fauzi, "Analisis Sentimen Tentang Opini Film pada Dokumen Twitter Berbahasa Indonesia Menggunakan Naive Bayes dengan Perbaikan Kata Tidak Baku," J. Pengemb. Teknol. Inf. dan Ilmu Komput., vol. 1, no. 12, hal. 1733–1741, 2017.
[8] N. D. Mentari, M. A. Fauzi, dan L. Muflikhah, "Analisis Sentimen Kurikulum 2013 Pada Sosial Media Twitter Menggunakan Metode K-Nearest Neighbor dan Feature Selection Query Expansion Ranking," J. Pengemb. Teknol. Inf. dan Ilmu Komput. Univ. Brawijaya, vol. 2, no. 8, hal. 2739–2743, 2018.
[9] S. Fanissa, M. A. Fauzi, dan S. Adinugroho, "Analisis Sentimen Pariwisata di Kota Malang Menggunakan Metode Naive Bayes dan Seleksi Fitur Query Expansion Ranking," J. Pengemb. Teknol. Inf. dan Ilmu Komput., vol. 2, no. 8, hal. 2766–2770, 2018.
[10] C. D. Manning, P. Raghavan, dan H. Schütze, An Introduction to Information Retrieval. Cambridge: Cambridge University Press, 2009.
[11] S. Robertson, "Understanding inverse document frequency: On theoretical arguments for IDF," J. Doc., vol. 60, no. 5, hal. 503–520, 2004.
[12] J. Aldrich, "R. A. Fisher on Bayes and Bayes' Theorem. Bayesian Analysis," Bayesian Anal., vol. 3, no. 1, hal. 161–170, 2008.
[13] R. Zacharski, A Programmer's Guide to Data Mining: The Ancient Art of the Numerati, 1 ed. Beijing: The People's Posts and Telecommunications Press, 2015.
[14] Destuardi dan S. Sumpeno, "Klasifikasi Emosi Untuk Teks Bahasa Indonesia," Semin. Nas. Pascasarj. IX Inst. Teknol. Sepuluh Novemb., 2009.
[15] A. Rahman, "Online News Classification Using Multinomial Naive Bayes," Itsmart, vol. 6, no. 1, hal. 32–38, 2017.
[16] E. N. Efthimiadis, Query Expansion, 4 ed., vol. 31. Medford: Annual Review of Information Science and Technology (ARIST), 1996.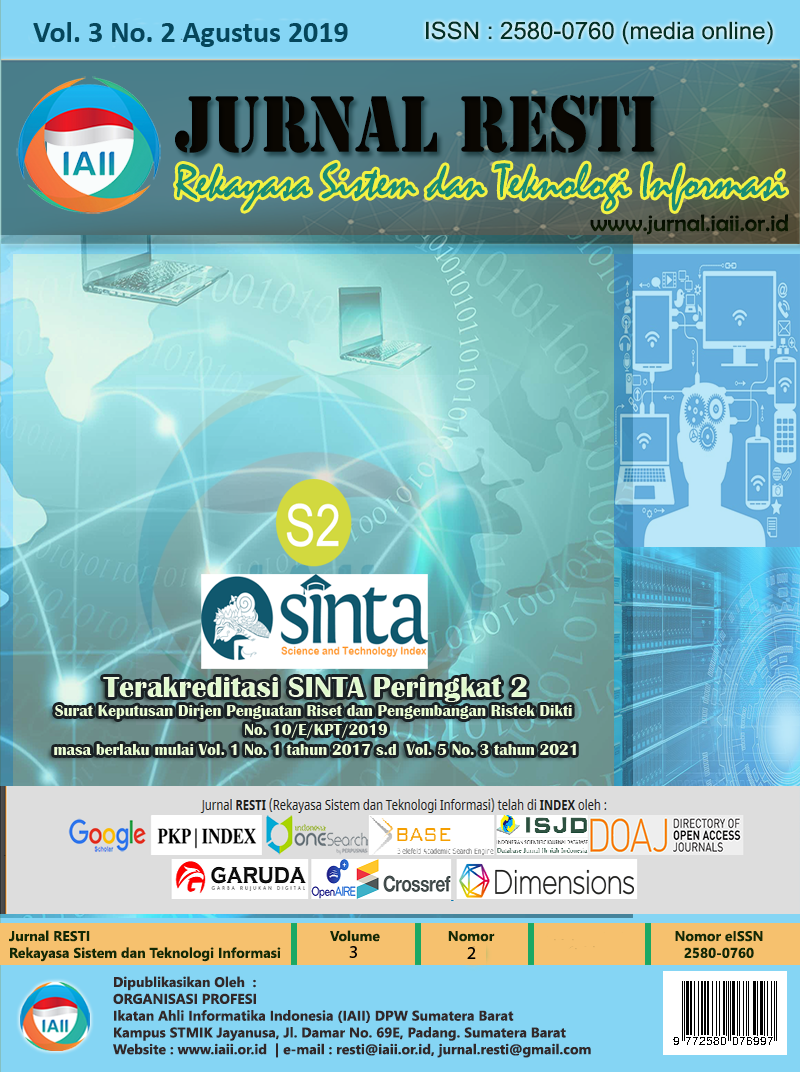 Section
Artikel Teknologi Informasi
Copyright (c) 2019 Jurnal RESTI (Rekayasa Sistem dan Teknologi Informasi)
This work is licensed under a Creative Commons Attribution 4.0 International License.
Hak cipta pada setiap artikel adalah milik penulis.
Penulis mengakui bahwa Jurnal RESTI (Rekayasa Sistem dan Teknologi Informasi) sebagai publisher yang mempublikasikan pertama kali dengan lisensi Creative Commons Attribution 4.0 International License.
Penulis dapat memasukan tulisan secara terpisah, mengatur distribusi non-ekskulif dari naskah yang telah terbit di jurnal ini kedalam versi yang lain (misal: dikirim ke respository institusi penulis, publikasi kedalam buku, dll), dengan mengakui bahwa naskah telah terbit pertama kali pada Jurnal RESTI (Rekayasa Sistem dan Teknologi Informasi) ;