Pengujian Sistem Pendukung Keputusan Penjurusan SMA di Banten menggunakan Metode Black Box
Tri Yani Akhirina

Universitas Indraprasta PGRI

Dwi Yulistyanti

Universitas Indraprasta PGRI

Ana Rusmardiana

Universitas Indraprasta PGRI

Ulfa Pauziah

Universitas Indraprasta PGRI
Keywords:
decision support system, SMA major, Fuzzy Tsukamoto, Black Box Method
Abstract
Abstract
The Decision Support System (DSS) of SMA major which had been tested in Banten was a system obtained from the former research, as it was expected to help private schools in Banten for students' major. This system has been developed through Fuzzy Tsukamoto's method in obtaining students' major. Fuzzy Tsukamoto requires three determinant factors, namely: skill, interest and aptitude. Fuzzyfication is carried out to get a firmed score of IPA and IPS. After the two scores are obtained, the comparison of those highest scores is conducted to determine the recommendation. In the process of manual data testing, Fuzzy Tsukamoto can be applied in students' major in Banten, with 98% of its accuracy level. After manual testing, Decision Support System of SMA major is designed by using Research and Development (R & D) as its developing system and by Unified Modeling Language (UML) as its designing analysis. The objective of this research aims at measuring the quality testing process of the application that is based on the aspects of functionality, reliability, usability, dan efficiency testingby employing the black box method. Based on the measurement Black Box Method, the Decision Support System of SMA major gets very goodvield, as it can be applied to be as SMA major recommendation in Banten.
Downloads
Download data is not yet available.
References
[1] A. Rusmardiana, T. Y. Akhirina, D. Yulistyanti, and U. Pauziah, "Analisis Penentuan Jurusan Sekolah Menengah Atas berdasarkan Metode Fuzzy Tsukamoto dan Algoritma K-Nearest Neighbor ( K-NN )," pp. 123–132, 2017.
[2] -, "Undang-Undang Republik Indonesia Nomor 20 Tahun 2003 Tentang Sistem Pendidikan Nasional", 2003.
[3] P. Dwi and A. Pamungkas, "ISO 9126 Untuk Pengujian Kualitas Aplikasi Perpustakaan Senayan Library Management System (SLiMS)," J. RESTI (Rekayasa Sist. dan Teknol. Informasi) , vol. 2, no. 2, pp. 465–471, 2018.
[4] F. Abror and H. Jati, "Pengembangan Dan Analisis Kualitas Aplikasi Penilaian E-Learning Smk Berbasis Iso 19796-1 Di Yogyakarta," J. Pendidik. Vokasi, vol. Vol.6, no. Universitas Negeri Yogyakarta, p. 15, 2016.
[5] R. Dunn, "software Quality." Prentice Hall, New Jersey, 1990.
[6] Yaudi; Imam, "Menilai Kualitas Perangkat Lunak [Online]," 2008. (Updated: 10 Okt 2008)
Available at : https://janeman.wordpress.com/2008/03/26/46/
[Accessed 11 Okt 2018]
[7] M. S. Mustaqbal, R. F. Firdaus, and H. Rahmadi, "( Studi Kasus : Aplikasi Prediksi Kelulusan SNMPTN )," Penguji. Apl. Menggunakan Black Box Test. Bound. Value Anal. (Studi Kasus Apl. Prediksi Kelulusan SNMPTN), vol. I, no. 3, p. 34, 2015.
[8] j Simarmata, "Rekayasa Perangkat Lunak,Ed. 1." Penerbit Andi, Yogyakarta, 2010.
[9] Bhat, A; Quadri, S.M.K, "Equivalence Class Partitioning and Boundary Value Analysis = A review," 2nd Int. Conf. Comput. Sustain. Glob. Dev., p. 2015, 2015.
[10] Turman, "Tutorial Cara Melakukan Pengujian Black Box dan Contoh Pengujiannya [Online]," 2016. (Updated: 26 Des 2016)
Available at : http://www.kuncikomputer.com/umum/tutorial-cara-melakukan-pengujian-black-box-dan-contoh-pengujiannya/ [Accessed 11 Okt 2018]
[11] Kristina, G. Hoendarto, and S. Tendean, "Penggunaan metode kotak hitam dan kotak putih dalam menguji sebuah produk sistem inormasi," J. InTekSis, vol. 4, no. 1, pp. 1–11, 2017.
[12] U. Yulistyanti, D.; Akhirina, T.Y.;Rusmardiana, A.; Pauziah, "Prototipe Sistem Pendukung Keputusan Penjurusan SMA di Banten dengan Metode Fuzzy Tsukamoto," Pros. Semin. Nas. Ris. dan Inov. Teknol. (SEMNAS RISTEK) 2018, pp. 165–170, 2018.
[13] U. Rusmardiana, Ana; Akhirina, T.Y.; Yulistyanti, D; Pauziah, "A Web-based High School Major Decision Support System in Banten Using Tsukamoto ' s Fuzzy Method," pp. 239–244, 2018.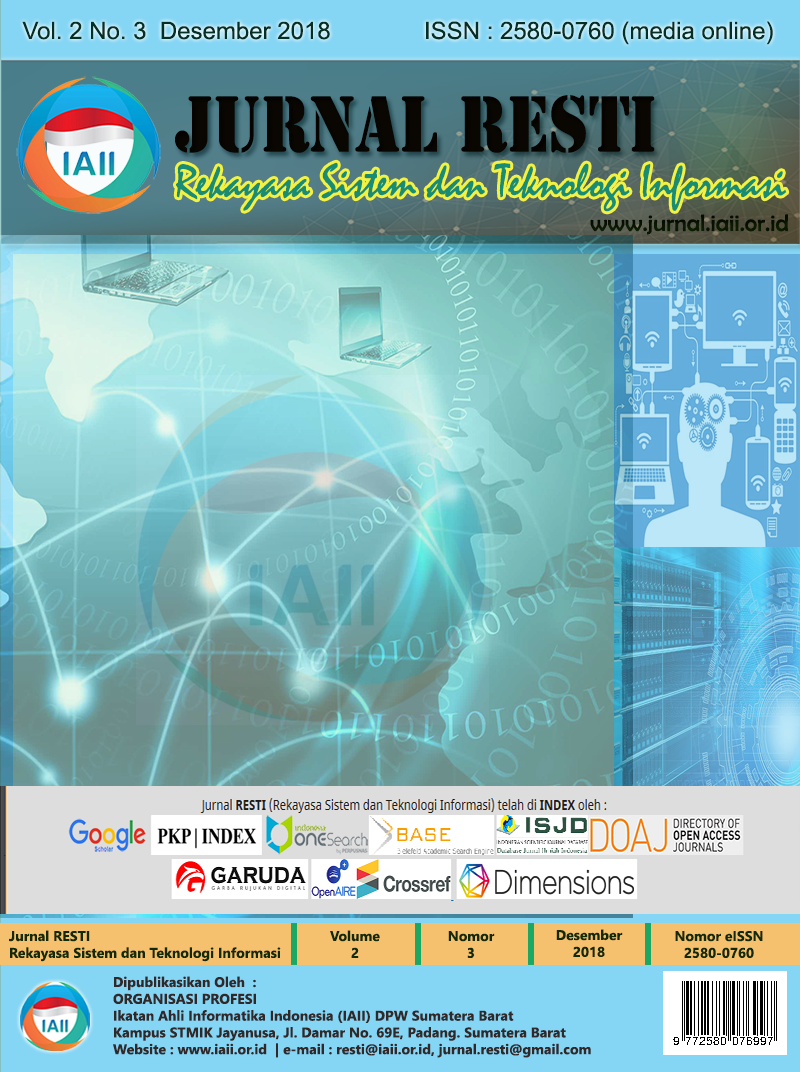 Section
Artikel Teknologi Informasi
This work is licensed under a Creative Commons Attribution 4.0 International License.
Hak cipta pada setiap artikel adalah milik penulis.
Penulis mengakui bahwa Jurnal RESTI (Rekayasa Sistem dan Teknologi Informasi) sebagai publisher yang mempublikasikan pertama kali dengan lisensi Creative Commons Attribution 4.0 International License.
Penulis dapat memasukan tulisan secara terpisah, mengatur distribusi non-ekskulif dari naskah yang telah terbit di jurnal ini kedalam versi yang lain (misal: dikirim ke respository institusi penulis, publikasi kedalam buku, dll), dengan mengakui bahwa naskah telah terbit pertama kali pada Jurnal RESTI (Rekayasa Sistem dan Teknologi Informasi) ;